Let's say that the most outlandish critics of the Fed are right -- that the Fed's number one priority is boosting the stock market. After all, Bernanke himself said the first thing he checks in the morning are futures prices on the S&P 500.
Maybe pumping up the stock market isn't such a bad idea? Bloomberg's Tom Keene highlighted this chart.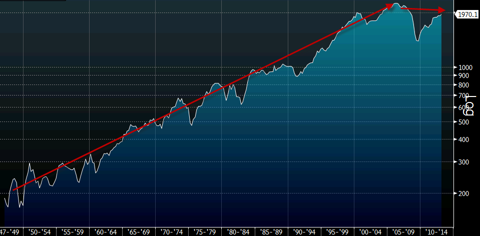 US gross private domestic investment
It shows corporate America's unwillingness to invest. If spending had followed the trend it would have meant billions of job-creating projects.
My theory on why companies haven't invested? They haven't had to. By cutting costs and sucking on the tit of low rates, executives have watched the S&P 500 rise 148% since the 2009 lows. That kind of rally gives CEOs job security and makes for some fat bonus payments. Shareholders are happy too.
Despite the rally in stocks, the S&P 500 is still trading at a reasonably low P/E. Just on a normalization, prices of stocks can continue to rise without earnings growth (something we've certainly seen over the past year).
P/E - green, S&P 500 - white
What happens when P/E gets closer to the long-run average of 18-20? For one thing, shares will no longer rise unless companies can boost earnings. Executives will feel the pressure from stockholders to stop playing it safe and build earnings. What's one way to do that? By making investments in new infrastructure and equipment.
The stock market always demands more and if Bernanke can pump it high enough, shareholders will demand that businesses start spending. The sooner we get there the better.
Disclosure: I have no positions in any stocks mentioned, and no plans to initiate any positions within the next 72 hours.