Cycle Theory is a wonderful tool in the art of Technical Analysis. Such prominent technicians as Charles Dow, Gann, Magee, Edwards, Bulkowski, and many others believed in the appropriate use of Cycles and Cycle theory as an aid to technical studies. The conventional vocabulary for a market decline or correction among these prominent analyst and used commonly at the Market Technicians Association is "Throw Back". Most notable technicians today use the S&P 500 to gage the market conditions since it represents such a larger portion of the business and the largest portion of cash committed to the markets. So, here's a quick bit of market analysis that any serious investor or market trader should know
In spite of the well know fact that the past can't predict the future the study of the February March Cycle "Throw Back" has been examined here to reveal the historical track record of the S&P 500 for the degree of market correction we might just anticipate. The chart below was generously shared with me by a Day Trader using the screen name Highfivepicks and he agree to let me share it with you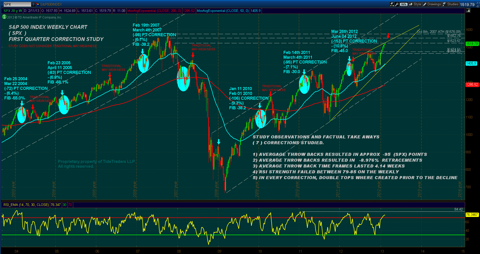 Notice the calculations for the average "Throw Back" and dates of the corresponding rally are noted in blue lettering. If Mr. Highfivepicks is correct this year's "Throw Back" could be rather significant as much as 1/3 to 1/2 the recent 2013 bull rally and about an average of -8.976% and lasts as much as four weeks. Of the seven "Throw Backs" studied Highfivepics indicated 6 of them remained above or tested the 50 EMA.
Can this method predict where the top is at...no...but can it help us keep a cool head and perhaps provide a reason for traders and investors to show a little patience if the market repeats this remarkable pattern YES.
THANK YOU Mr. HIGHFIVEPICS for this wonderful analysis. The staff of TideTraders.com certainly appreciates your efforts. For an extended view over longer period of time of this study along with additional market analysis and education join the free live daily broadcast at our website.
Disclosure: I have no positions in any stocks mentioned, and no plans to initiate any positions within the next 72 hours.