Long AAPL, Short Beta
Given (NASDAQ:AAPL) has a beta of 1.04, the article title sounds counterintuitive. Apple's beta implies tandem movement with the overall market, however as the chart comparing Apple to the S&P 500 (NYSEARCA:SPY) displays, it has done anything but that over the last 6 months:(click to enlarge)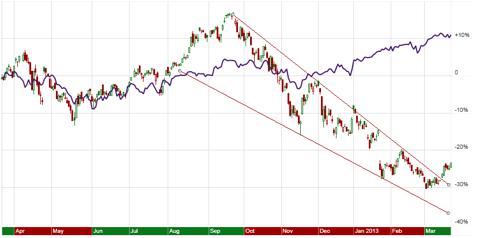 Click to enlarge
Unlike Apple, the market has been on an impressive run so far this year but is could be showing signs of fatigue. Hedging takes some of the guesswork out of predicting the duration and severity of a potential pullback. Fundamentally, the S&P 500 has a current Shiller P/E ratio is 23.27, vs. a historical mean and median P/E of 16.47 and 15.88 respectively. Furthermore, the S&P 500 is more of a global index today than it ever was with roughly 20% of it's earnings coming from Europe. According to data from FactSet, the EU GDP decreased .6% in Q4 2012, compared to growth of .8% in Q4 2011. Surely, the current Cyproit crisis can be contained however it remains to be seen if depositors in the larger debt-ridden EU countries will begin to panic. Even though I believe an implicit deposit guarantee from the ECB would prevent a further bank-runs, gaffes from Dutch finance minister Joroen Dijesselboem comparing the Cyprus solution as a model for future bailouts are likely to unnerve depositors in the EU periphery.
I suggest reading the following article originally from wallstreetrant.com summarized nicely on thereformedbroker.com, which provides a unique perspective of the current bull market compared historical bull markets relative P/E expansion, and the subsequent historical corrections.
Much has already been written in blogosphere about Apple's undervaluation. Below is the output from the Free Cash Flow to Equity model using a 4% perpetual growth rate. I feel this growth assumption is particularly conservative given that their average 5 year sustainable growth rate, measured by ROE-(1-payout ratio), is 24.29%.
Date

ROE

2008

27.4

2009

26

2010

29.3

2011

33.8

2012

35.3

 
 

Average

30.36

Payout Ratio

0.2

Growth rate

24.288

 
 

Current Earnings per share =

 
 

$44.10

-(1- Desired debt fraction)

 

100.00%

 

(Capital Spending - Depreciation)

 

$15.01

$15.01

-(1- Desired debt fraction)

 

100.00%

 

Working Capital

 
 

($0.31)

($0.31)

Free Cashflow to Equity =

 
 

$29.40

 
 
 
 
 

Cost of Equity =

 

9.20%

 
 

Expected Growth rate =

4.00%

 
 
 
 
 
 
 
 

Gordon Growth Model Value

 

$588.00
Spreadsheet template originally downloaded from pages.stern.nyu.edu/~adamodar/
Conclusion:
It's hard to ignore that at 4% growth rate, the intrinsic value of Apple is $588 a share; at 3% the value becomes $488.42 which is still discount to Friday's close. While it remains to be seen whether the market enters correction mode, a long Apple, short beta trade offers protection to the downside while still giving upside exposure to a deeply discounted, global powerhouse. It's a good bet if you believe that AAPL will once again converge with beta.
Disclosure: I am long AAPL. I wrote this article myself, and it expresses my own opinions. I am not receiving compensation for it (other than from Seeking Alpha). I have no business relationship with any company whose stock is mentioned in this article.
Additional disclosure: Short CCC, DDS, TIF