Dual Duels in Dual Fuels: Why APGI Emerges The Natural (gas) Champion
The planets have aligned, creating the ideal situation for rapid expansion in the dual-fuel / diesel-natural gas (DNG) market. Just some of the factors in this historic scenario are high petroleum fuel costs, a struggling economy, environmental concerns, the attractive price and growing supply of natural gas, solid growth in the interest for alternative fuel vehicles, meager profit margins in the freight market, and huge growth in fracking operations. Further synergy comes from a nascent natural gas infrastructure (note major infrastructure commitments by companies like Shell, Westport, Blu, Clean Energy, Keystone, Chesapeake, developments like Ford planning to market a natural gas powered F-150 and Cummins producing a 400 hp natural gas engine). Mining, pumping, energy, marine, rail, and most of all transportation/cartage companies/fleets are looking for ways to increase profit margins by taking aim at the huge expense of fueling the diesel engines that power their operations (over the road trucks, marine engines, rail engines, and stationary applications such as pumps, fracking equipment, drilling rigs, and more.)
Will many of these arenas rapidly switch to a 100% natural gas based platform? Likely not. The inhibitions stem from high upfront costs, the risks of committing to a single-fuel and concerns over the availability/infrastructure of newer fuels. Some small fleets that can address their own fuel-supply infrastructure will switch (think city bus lines, small delivery groups, Schwanns, etc.) Companies like Westport, Chesapeake, GE, and some others will have their niche there, as will, over time, trucks with natural gas OEM engines). For stationary pumps and engines used in power, pumping, and most of all, drilling, the approach that is rigorously gaining traction in the field is to retro-fit these diesel workhorses to enable the use of the optimum fuel, or blend of fuels, for the application. These would include diesel, natural gas (compressed or liquefied - CNG/LNG), and, in the case of drilling rigs, even well-head gas. It's important to note that even the very few natural gas OEM engines (basically two at this point, and of the two, neither is powerful enough for about 40% of the Class 8 duty cycle needs), run only on CNG or LNG, whereas, in keen advantage, especially in the drilling and mining realm, fumigation type systems like American Power Group's system can displace diesel with multiple fuels, including wellhead gas available right at the very site if the drilling. Is going to natural gas a huge growth market and huge movement? Surely. But that will take time…and with fossil fuels expensive now, savings are needed now. Enter the easy to install, easy to maintain, exceptionally easy to operate, unequalled in reliability, best return on investment dual fuel conversion from American Power Group…with EPA approvals of over 440 engine families - dwarfing any other competitor by leagues.
Implementing digital software driven, retro-fitted modules on these engines allows for great flexibility and optimum cost-reduction / efficiency based on the given situation. Is this a drilling rig and well head gas is available on site? Is this an over-the-road class 8 semi-tractor and a natural gas fueling station is available, sparse, or unavailable? Can we efficiently bring in CNG/LNG to the site of a given operation? Can we include the NG tank while keeping the vehicle's purpose? What is the current cost of the various fuels? The choice of the desired fuel or fuels is based on these factors.
In the case of fuel mix, the dual-fuel module takes over from there. Arguably, there really are only two viable market-ready solutions. These are Caterpillar's Dynamic Gas Blend module (which as of today is strictly for stationary engine applications, and only CAT engines at that), and the latest generation dual-fuel kits from American Power Group (OTCQB:APGI), which are for both stationary and vehicular applications (The V5000HD system). The most simple description of how it works can be found here: http://www.youtube.com/watch?v=53O9MUWuF1w
And two good, basic PDF's about the system itself and some FAQ's can be found via APG or any of their growing number of authorized installers, for example, a leader, Smith Power Products. Scroll down past the current vehicle sales list, then Click on both "Brochure" and "Frequently Asked Questions" here: http://www.smithpowerproducts.com/pre_owned_list.asp
CAT publicly acknowledged APGI as the only real viable competing unit out there. Further, in a survey of 11 natural gas or blended fracking operations compiled by Zeus Research, only CAT's and American Power Group's dual-fuel units are present. On the spreadsheet of energy companies, drilling companies, and engine companies available from Zeus, tiny American Power Group stands alongside huge names in energy like Shell, Cudd, Apache, Cummins, and Caterpillar. Absent from that list are Peake GTI,Clean Air Power, Eco-Dual, and others. None of these companies have a near-term market viable product, none have a direct avenue for the typical U.S. private retail investor, and all have vehicular conversion programs that are years behind APGI. While Eco-Dual reps like Ira Dorfman spent years spouting the superiority of Eco-Dual's system over APG's, they nevertheless admit to having to revisit their product for acknowledged problems with their software and the wiring harness. They are going in a direction that seeks full CARB compliance and not seeking IUL approvals…a time-consuming gamble for a limited application in a market that will long by then be flooded with APG products. APG, on the other hand, knew their product and its fuel-introduction method, operation, cost, and software prowess were superior, and kept steady at their business plan. They steadily solidified the stockholder base, and developed business relationships with the likes of The Wheeltime Network (who has chosen them over Eco-Dual unanimously, now shows no new interest from any partners to work further with Eco-Dual's product, and there is growing mindset change even in major member and initially Eco-Dual-friendly WW Williams in working with the APG product), Linde Energy, Valley Truck, Cudd Energy, Wasfarmers/Evol LNG, Collicutt Energy, and more. The Linde partnership is amazing. American Power Group and Linde North America have a formal business relationship to introduce and expand the use of liquefied natural gas (NYSEMKT:LNG) for APG retrofitted dual-fuel diesel engines and diesel pumps in the oil and gas industry. Linde North America is a member of The Linde Group, which is an international conglomerate and leading gas and engineering company with over 50,000 employees ni over 100 countries. As a long, I love looking at the company names of these high horsepower and natural gas and engine and energy and cartage conferences and right smack dab in the middle of all of these huge corporations, colossal energy companies, and household names is little ol' American Power Group, with CEO Lyle Jensen being consistently invited not just to the table, but to the podium.
As it turns out, APG's non-injector-invasive, read-only, elegant and super-reliable fumigation dual fuel system is getting orders, and Eco-Dual has gone back to the drawing board to develop another dual fuel system. There is no viable fumigation-type system competitor, and of the injector-invasive / prone to mechanical failure other possible competing units, they lag in development, reliability, number of engine family EPA approvals, performance under certain loads, and industry recognition. American Power Group not only has the highest number of engine models approved, (over 440 as mentioned) but more importantly has EPA approvals and conversions on CAT, Cummins, Detroit Diesel, Volvo, Mack, and Mercedes Benz (MBE) engines. No company comes even close to the diversity or number of EPA-approved engine families for APGI's pre-turbo technology. Two different competitors "conveniently" used an outdated EPA list on their websites at a time, long ago, when they briefly had more engine approvals than APG. Interestingly, two weeks after I posted that on my original SA article, both were taken off the sites. That list is updated quarterly by the EPA. The latest was just updated (November, 2013). It is best read as the Excel file, especially if you are searching for a certain company or engine group. The one related to dual fuel in heavy duty engines is about ¾ of the way down, here: http://www.epa.gov/otaq/consumer/fuels/altfuels/altfuels.htm Under the "Outside Useful Life Clean Alternative Fuel Conversion Systems (Excel)" link. APG's lead in engines is insurmountable. Moreover, it signals to me a good working relationship between EPA and APG, which bodes well for APG's soon-to-be-submitted application for the first of several Inside Useful Life engine family approvals. With this much growth in approvals, I can only surmise that not only is APG's product superior, but their methodology for testing and approval application must also be well-honed.
In my analysis and research, I've concluded that American Power Group will have the triumph, for many reasons. It also appears to be the prime time to invest in APGI for several reasons as well. The remainder of this year and early part of 2014 mark the rocket-thrusted pivot point of APGI. Why establish your long position in APGI now?
The company should be turning cash positive as we speak (if they haven't already, technically)
The company's stock is nearing a triple technical breakout, and has had some interesting volume days
The field testing of APGI's units has yielded not a single problem, breakdown or concern and the units are showing superiority exactly as APGI's principals have projected.
The company's stock is poised to be uplisted in the coming 3 quarters, ($2 price required, and note there is no talk at all of any reverse split = confidence in coming sales / material event-driven share price appreciation)
The company unlike its possible competitors, is being invited to the table of NG talks (reference CEO Lyle Jensen speaking at conferences in Houston alongside leaders from the likes of Apache, Linde (with whom APGI has a solid LNG-related business partnership), Shell, Cabot Oil and Gas, Cummins, CAT, Westport, etc.)
The mechanical elegance, technological superiority and engine and driver agnosticism of APGI's control unit.
The prowess, expertise, and dedication of APGI's leaders (especially Lyle Jensen) and the top-notch Detroit-aligned experts in their development team (like former Ford engineer and executive Bob Natkin)
The recent addition of a new IR firm and marketing director, and, for me, most of all, where the many tea leaves I have gathered lead, and the enormous role American Power Group will play in this burgeoning field, both on the highway, at the site of oil and fracking rigs, on rail, at sea, in power plants and pumping stations, and more.
The stock is cheap and due to being on the pink sheets, well under the radar.
The company has consistently conducted itself like a fully listed/regulated public company
Encouraging nods from the likes of Cudd Energy, Shell, Linde, the EPA, CAT, Wheeltime, Valley Truck, Wesfarmers / Evol LNG(Australia), and others
Outstanding convertible shares have consolidated into the hands of company-friendly holders
APGI's attractive fully-patented assets for partnership or acquisition, especially if OEM's start developing their own OEM dual-fuel engine offerings, if not an attractive buyout or squelch from the likes of CAT.
APGI's patent strength.
Lack of a superior competitor in the stationary application field, complete lack of any truly viable competitor in the vehicular field, and the results from field testing.
APGI is surrounded by bigger fish, making it either a lucrative going concern on its own, or a company with a highly attractive set of assets for acquisition. The technology already has resounding endorsements from Cudd Energy, The Wheeltime Network, and inroads overseas as well. For example, a side by side road test vehicle with APGI's unit glowed, crossing the entirety of that huge land down under without a glitch, while the competitor's unit chundered with breakdowns, not even able complete the test trip. Who can it be knocking at the door of the DNG revolution? I think it's the men at work of APGI.
But don't take my word for it. Take the word of dozens of companies (customers of Evol LNG) and Australian behemoth Wesfarmers' subsidiary Evol LNG. A novel, responsive, leading company in and of themselves, they've completed over a decade of field testing with competing dual fuel and natural gas solutions, and guess which one they've chosen? American Power Group. An email I received from Evol LNG's Heavy Duty Vehicles Sales Executive Mr. Josh Philips says it best (permission to post has been granted - parts bolded are my emphasis):
"EVOL LNG, along with several of our customers, have trialled many and various natural gas engine systems over a period of about 12 years to varying degrees of success. The severe duty cycles of Australian on-highway trucks have seen many systems enter the market and fail; unable to meet the expected performance, reliability and safety levels.
I'm not sure how familiar you are with the various technologies, but basically there are three main operating principles for dual fuel systems:
1. Fumigation - Pre-turbocharger gas induction (without control of turbocharger speed / charge air pressure). Possible to achieve ~75% peak substitution at optimum speed and load, but will average ~40-60% under typical on-highway conditions. This type of engine can revert to 100% diesel at any time. The APG system fits into this category.
2. Multi / Single Point Gas Injection - Post turbocharger gas injection with turbocharger waste-gate control (charge air pressure control) and usually with master diesel fuel injection control on common rail engines. Achieves 75-80% natural gas substitution on vehicular engines and up to ~99% on large bore medium speed engines. This type of engine can revert to 100% diesel at any time. The Clean Air Power dual fuel system fits in this category for vehicular engines while Cummins, Caterpillar, Mack, Wärtsilä and others offer similar dual fuel systems for larger engines.
3. High Pressure Direct Injection - Gas is injected directly into the combustion chamber. This allows for 95-99% natural gas substitution and practically eliminates 'knock'. This type of engine cannot revert to 100% diesel operation as the specially modified dual-needle fuel injector has limited capacity for diesel injection. Currently there is only one HPDI vehicular engine produced by Westport and it is now only offered for the Australian market. Wärtsilä also manufactures a large bore medium speed engine using direct gas injection.
We have chosen the APG system as the most versatile, robust and reliable. As a fumigation-type system it uses the simplest method for gas induction. And although there are other fumigation-type dual fuel systems on the market with similar hardware, we have found the APG control system to be the most sophisticated. It has comprehensive fail-safe engine protections, "tuneable" fuel mapping (for optimizing engine performance & natural gas substitution), and very fine control of gas induction. The hard part is not getting natural gas into the engine - the hardware required for this is quite simple. The real challenge is being able to precisely control the amount of natural gas being inducted into the engine to ensure the engine responds properly to the driver's demand for torque / power, and combusts the natural gas safely without causing unwanted 'knock' or over fuelling.
So in a nutshell, I would say we have chosen the APG system because of the simplicity of its hardware and its sophisticated software. We also feel it offers good value in terms of cost Vs performance.
I hope that answers your query. Let me know if you would like any further info or advice.
Kind Regards,
Josh Phillips | LNG Sales Manager - Heavy Duty Vehicles
I have spoken as well directly with other vehicular and stationary use entities who have field-tested APG's system alongside several competitors, and the responses are invariably, and I mean to a one, the same comments:
1. APG's system required the least amount of time and human resources to install
2. APG's system had a lower upfront cost by far.
3. APG's system had no breakdowns, or, in one case, an adjustment was needed that caused just 35 minutes of down time, compared to significant complaints about major breakdowns and substantial down-time from the other approaches (basically any of them that mess with the injection system in any way. )
4. That the non-fumigation systems required 3 to 4 times as much time and double the number of technicians to install. One vendor even said they had to hire a whole other mechanic just for the field testing, just for the competitor's system.
5. That APG's system achieves a lower diesel fuel replacement under some loads, and that on paper it appeared it would be inferior, but that in reality (which is what this is being tested for, remember…real life, real over the road conditions, real fracking) in final analysis of downtime versus operating time, cost, installation costs, and maintenance, American Power Group's system emerged the hands-down winner. Just like Evol LNG said, they note how incredibly simple the system is for installer and especially or the operator/ driver, but how superior in sophistication the software and fuel adjustment system works behind the scenes. One vendor said "in then end we're looking at fuel costs, of course, and a product that saves fuel on paper does us no good. We need these machines operating, in some cases 24 hours a day, so in our tests we looked closely at reliability and downtime and the math bears it out." Couldn't get permission to quote him, nor could I get permission to quote the very nice lady executive from Shell with whom I spoke, or the one from Cabot, but I know what I know, and I am squarely long APG, period. Do your dd like Yogi Bera…"you can see a whole lot just by looking." Follow the tea leaves, talk to people in the field. Put the information together and use your coconut a little and you'll come to your own investment conclusion. If you do it well, I believe that conclusion will be taking a long position in APGI.
But Odaat, seriously, a tiny company outperforming the likes of Chesapeake Energy's Peake? Is that even possible? Indeed. If you put your ear to the street you'll quickly find out that Chesapeake has been trying to unload Peake and its flailing dual-fuel conversion assets. While I have a great deal of respect for Peake's Meredith Griffin, the company fails to make any compelling argument over APGI. Their claim to fame is being the only one with approval for the newest class of engines, but even a market analysis done on the back of a napkin shows that the initial uptake and large market is in the "Outside of Useful Life" engine families. Those are the trucks on the road…those are the trucks operated by entities most in need of immediate fuel cost relief. In fact, the math shows logical support for the idea, based on the capital resources of a given fleet or cartage operation, they are most likely not to buy a new truck with one of these new inside useful life diesel engines like the ISX series with their meager improvements in fuel use and then add to that the cost of dual fuel conversion. Rather, three logical plays emerge: 1. Retrofit the OUL trucks, 2. Buy a natural gas vehicle (not yet widely available, plus, costly), or 3: Buy a dual-fuel-fitted Glider Truck (discussed more later.) In many cases, especially with smaller fleets, the means to afford transitioning to full NG vehicles later will come from the money saved through converting their current fleet to dual fuel…and overwhelmingly those fleets have OUL engines, not IUL's.
I see two reasons why we have not seen many IUL approvals. First is financial. Most of this realm is still driven by small companies with limited capital resources, and they could commercialize OUL engines much quicker with a larger addressable market. IUL test are close to a CARB/CERT without the expensive durability tests required of a new OEM engine. IUL EPA testing currently costs 4X to 5X more than the cost of an OUL test. I like APGI because even the most simple view of the EPA approvals list favors them by a wide, if not insurmountable, margin. They have like 208 OUL engine family approvals, which include CAT, Cummins, Detroit Diesel, Mack, Big Mac (that was a joke), Mercedes Benz and Volvo for a wide manufacture date span. They are testing for IUL and seeking approval for Cummins, Detroit Diesel, and Volvo, to pick up the key 2010-2012 SCR technology engines. That will pick up another 15% of the market which is another $250 million dollars of addressable market at a 5% market penetration (which, in all of these estimations, I see as conservative, especially when groups with the conversion start winning cartage bids due to their lower fuel costs, and the competitors will be scrambling to stay alive by also getting APGI's conversions.)
Keep in mind, only 10% of the trucks on the road are less than two years old, meaning, even if APGI doesn't (yet) have approval for like the ISX-15 family, we're talking 10% of the market "missed" - and even those engines will then be eligible for conversion after just two years on the road or so.
As for California, the situation, like their breathing air, is hazy. The goal of eradicating old diesel engines may make sense in theory but is not a practical goal across the U.S. Many experts project that by 2030 , dedicated natural gas engines will capture 30% of the market. Good for you, Westport and Chesapeake or GE or others. But at, say, 200,000 new trucks per year today, that means that 140,000 new diesel trucks still hit the road every year and when they are two years old, can become a significant perpetual source of conversion opportunities. Further, these companies have to look at the cost/benefit ratio, too, and converting an older engine to one that meets emission requirements AND saves significant amounts of fuel with a speedy ROI time makes most sense. There is also range anxiety / infrastructure concerns and the fact that NG is still a commodity subject to price variation, that going 100% NG presents more risk than a conversion system that optimizes NG use / savings, but allows for instant 100% diesel / biodiesel when required or when preferred.
Those same arguments are making APG the winner in the stationary market as well, where the combination of the excellent or at least equivalent performance (especially at certain load levels and pressure levels) and the MUCH lower cost of APG's system than, say, of CAT's Dynamic Gas Blend system, are leading to the nod going to APG. We'll start seeing the tangible results of all of that field testing, especially from mining and fracking, in 1Q14.
On another note, I hid out in the air ducts above the head offices at CARB, and according to what I heard over the din of the blower motors running, those executives either said " Let's tonight a PG movie and discuss the dramatic emotions we'll perceive" - or they said "Let's invite APG to discuss the dramatic emission results they have achieved." It's the latter. Yes, that's right, my inside source with CARB says they actually LIKE what APG is doing with their system. We're not going to have a "Cash For Clunkers" for older class 8 trucks, folks. The APG system reduces emissions, reduces fossil fuel use, and uses more of a clean fuel. The EPA likes it, and in time, I believe CARB, like the whole NG arena, will see retro-fit dual-fuel conversion as an excellent stepping stone…a win-win-win-win-win for all involved. I know as a fact that APG is in conversation with California CARB.
That said, APGI, indeed, IS well on its way to approvals for the Inside Useful Life / newer engines, such as the newest Cummins ISX engines as well, but is wisely focusing on the large OUL market that is eager for fuel savings. The agreement with very-well-respected Valley Truck, bodes well:
http://www.fleetsandfuels.com/fuels/ngvs/2012/08/apg-targets-the-iul-engine-sector/
With the complete lack of bidders for Peake, apparently the industry shares APGI's assessments both in regard to the larger actual market being in the OUL arena, and as a clear endorsement that injector-invasive systems are simply fraught with maintenance and operation problems, and need to go back to the drawing board (as Eco-Dual has). At this point in the game with so much going on with Westport and the likes of Cummins, big entities like Shell committing to building an NG fueling infrastructure, and more, if a company isn't market-ready with a dual-fuel solution now, the window for dual-fuel will pass them by as the highways become increasingly filled with APG V5000HD retro-fitted OUL diesel/natural gas vehicles, and new all natural gas vehicles. Even when the APG retro-fitted vehicles run their course, it won't create a market for a competing product, as one further brilliance of the APG system is that it can easily and with a 2 to 3 month return on the installation cost, be taken off the old approved engine and put on another. A further bonus to this is that the dual-fuel keeps the engine really clean. So, a fleet could, for example, take the dual fuel unit off a truck the intend to sell and put it an another in their fleet, and likely command a better than average price for the used truck because of the excellent condition of its engine.
Oh, come on, Odaat, get real. A company trading on the pink sheets successfully competing with CAT? Ludicrous, right? Wrong. Neither APGI, CAT, nor I expect to see a head-to-head, either/or situation between the two. CAT's entry into the DNG market is a boon for APGI, as APGI CEO Lyle Jensen noted in an article about the uptake of DNG in the field and the presence of both APGI and CAT. Both CAT's presence and CAT's acknowledgment of APGI legitimize DNG. (See article here: http://www.marketwire.com/press-release/natural-gas-penetrates-6-of-land-drilling-market-zeus-conference-concludes-otcqb-apgi-1801096.htm )
Besides, even the lightest of diligence reveals that CAT's Dynamic Gas Blend is substantially more expensive than APGI's, is not being used on anything but CAT engines, and is not being developed for vehicular use. It may turn out that even the relatively small percentage of CAT engines over the road, if converted, will use an APGI unit, not CAT's DBG. CAT's DGB could be a success for them in the stationary market without affecting APGI's Cinderella-like market presence and growth one bit in the stationary market, and, of course, have no affect in the larger vehicular market. Further, as an investor, no matter how CAT's DGB program unfolds, it is not likely to have a truly significant effect on CAT's stock price. APGI's success's effect on the share price will return investors many, many times over.
CAT, mainly with Apache, has had some nice fracking "wins." In the same time period, so has APGI. The two units are being field tested side by side in the drilling rig and fracking arenas. They are not being tested side by side in the vehicular market because CAT is not at that table, as mentioned. One can gain a lot in regard to this CAT / APGI stationary market dual-fuel duel just by listening. Hanging out at donut shop in the mornings, listening to the workers on those test rigs before they head out can yield insights. What I'm getting is that because CAT can go much more invasive into their own engines' systems, the CAT DGB at times gets higher fuel displacement at certain load levels. With fuel savings being the key, one would think the debate would end there. However, the same talking heads (not knowing that the eager and ever information-hungry Odaat was listening) immediately mentioned that the APGI conversion took a day and was straightforward, where the CAT installation took triple the time or more. Then, a gentleman in a dress shirt and tie added that APGI's unit was half the cost. Subsequently, a lady in a white lab coat said that APGI's unit actually had a wider range of displacement, especially at lower loads,. Finally, upon slurping the last swig of morning joe, a guy with grease in his fingernails and a blue and orange mechanic's uniform noted that CAT's unit worked only on their high pressure CAT engine, whereas he knew that APGI's unit could work on other engines such as MTU/Detroit Diesel and Cummins. It was the best $2.86 plus waitress tip I've ever spent. But what's really important to note is that it appears CAT has no intention whatsoever of targeting the vehicular market with their dual-fuel program. That leaves that colossal market to APGI, which is APGI's sweet spot anyway.
Many factors favor APGI. These included but are not limited to:
The stock's upside/downside risk/reward ratio
The APGI unit's fully software-driven, non-injector-invasive, pre-turbo-boost mix introduction
APGI's unit's ability to operate within OEM engine specs 100% of the time
The unit's driver and engine agnostic nature
The approach's elimination of "range anxiety"
The approach's ability to allow the used to a respond to multiple fuels and price-fluctuations
The multiple large energy and transportation company endorsements
The fact that APGI arrives on the scene with fanfare at the perfect time financially, ecologically, and in the midst of a flurry of natural gas expansion
The top drillers in the industry, running approximately ½ million hours per year, selected APGI as one of the first to have their dual fuel technology in high-pressure fracking rigs. (CAT is the other - notably the FTS / Cabot Oil testing in Pennsylvania, where CAT's DBG performed well, but where the math of the cost/return and low load displacement favors APGI . There is also anecdotal evidence that CAT's system, even on a CAT engine, may have had some mechanical problems, whereas the APG system ran flawlessly just like it has over millions of miles in the vehicular side field testing)
While we're talking about field testing on the vehicular side, note that in a 2011/2012 field test run-off in Australia, the natural gas division of $50 billion company Wesfarmers,(Evol LNG - the same as the Exec letter above), selected APGI over all others and became APGI's in-country Dealer/Installer. APGI has logged close to 1.2 million kilometers on multiple engine families from 2010 to 2012 without any dual fuel issues, even when pulling triple trailer loads weighing over a quarter of a million pounds. While some are all excited to see Cummins all natural gas OEM engine, it's 400 hp…not near enough to handle duties such as those typical in many trucking scenarios. Even the joint venture with Clean Air Power and Volvo for a dual fuel D13 engine will be, at best, 460 hp…good for a great deal, but not powerful enough for many loads. Oh, don't get me wrong, in time the big engine companies will produce natural gas and maybe even dual-fuel or multi-fuel engines with tested and built in multi-point gas injection systems that are more reliable than the current problematic injector-invasive approaches, and that will have superior natural gas consumption / diesel replacement compared even to APG's awesome current V5000HD fumigation systems, however that will be only after many years and extensive and costly R&D and product rollout / support / maintenance costs. Only the big OEMs can afford that, and, to be frank, while natural gas is cheap now, and has been in general for a very long time, it's still a commodity subject to price fluctuation, and the fueling infrastructure is still severely immature, which could give some companies pause over jumping in to a full-blown, natural-gas only platform. It's like the operator's "range anxiety" at an exponentially larger corporate level.
Also important to consider is that APG's system doesn't just reduce operating costs in relation to fuel. It can
increase the life of components, reducing service and spare part requirements, especially when compared to
straight natural gas engines. It all boils down to creating a window of time here, perhaps between 5 and 20 years, for magnificent sales for APG's system. Thus, I'm long APG. I'm not long APG for 20 years, but everything points to not just dual-fuel conversions having a huge heyday for a good stretch of time here, but even among those, all I have researched leads to American Power Group's system rising to the top as the system of choice. I'm a long investor, and I plan to ride and profit from that wave as it builds and crests in this sector. Some see APG's business model as not sustainable long term, especially the glider program. I don't entirely disagree…but most of that camp are underestimating the profit potential, and shorting the time span for which the model will indeed be a robust earnings generator. I'm in for that, and in 10 years I don't see myself owning APGI stock. It's more likely I'll have made a hefty profit, and/or that I instead took shares of the larger company that bought them out, lock, stock, and barrel. CEO Jensen says it best: "Due to a growing interest in our dual fuel glider kits as evidenced by the $800,000 glider kit order placed through our WheelTime Network member Clarke Power Services, Inc. in August, we have secured EPA approvals on these additional older model years. APG offers fleet operators the broadest range of OUL Class 8 truck engine model approvals than anyone in the industry (bold is my emphasis) for Caterpillar, Cummins, Detroit Diesel, Daimler/Chrysler, Mack and Volvo engine families. During our recent fiscal year ended September 30, 2013, we recognized over $1 million of OUL vehicular revenue as compared to approximately $270,000 during fiscal 2012. We enter fiscal 2014 with over $500,000 in OUL vehicular backlog and a constantly growing quotation pipeline created through our WheelTime Network partners, our regional dealers, and natural gas supply partners."
I see this exponential sales growth driven by competing cartage companies' need to install these units on their vehicles in order to stay competitive with the low bids and lack of fuel surcharges presented by competitors who do have APGI's Diesel/Natural Gas blend units on their trucks, especially by mid-level vendors who can't afford new vehicles, and especially not new all natural gas vehicles and the associated fueling structures. It will be a choice of installing dual-fuel conversion units or getting squeezed out of operation. This is where APG's approach, including the Glider Truck program, will have success. It's pretty basic:
Capital outlay will be a concern. APGI has the price point advantage.
Eligible engine family diversity will be crucial. APGI has the most approvals by far…approaching 500 OUL engine families and in the process of getting approval for the smaller- market- but needed-eventually-to-be- competitive-or-to-be-a-complete-buyout-target IUL engines.
Reusability / transferability will be a selling point. APGI? Check!
Operator ease of use will be crucial to market uptake. APGI's system is seamless & extremely user friendly.
Support will be important. Enter WheelTime, and their affinity for APGI's easy to maintain system.
Return on investment will be in the forefront. APGI's conversions pay for themselves in months.
Fear over new tech? APGI's "kit" contains proven Bosch, IMPCO, Dungs, and Woodward components.
Much is said best in this article by a fleet owner/operator, including statements from Wheeltime and APGI, and some other good, APG-related articles at fleetowner.com You'll have to enter "APG" in the search box on the upper right, here:
No range anxiety, no need for a Natural Gas nationwide infrastructure to start saving money now, no worries if natural gas is not available…the APGI unit simply switches back to 100% diesel, in real time, as you're rolling down the interstate, with the driver having to know or do absolutely nothing. CNG or LNG station available? (like on one of Shells' developing major cross-country corridors) Great. Fill up the NG tank. The APGI unit automatically and with great digital prowess (read-only canbus software and digital electronics) mixes the optimum natural gas and diesel ratio for the engine, your rpm, your load, etc. No intrusion to the engine, no messing with the fussier and many moving-parts injection system, no effect on the warranty. The brilliance of APG's system is that instead of messing with the engine, its gas-enriched air simply creates both a less expensive and more powerful ignition, and, as such, the engine simply calls less demand for the diesel fuel. APG's variable throttle-body and venturi air mixer is much more universal in its design applicability than custom fuel injectors. But the real bottom line is in transient load emissions compliance and I believe APG's natural gas software management system is far superior than any in the industry. The digital software controls the natural gas to assure an efficient burn at the point of compression, thus meeting EPA emission requirements.
What is first and foremost in the minds of potential customers is the reduction in fueling costs. That also means they need to avoid downtime / mechanical failure, so that the fuel-saving system is, well, actually saving fuel. Added to that are the great benefits of: lower emissions, less engine noise, longer engine life due to less diesel burned, and in many cases, a reduced frequency in the need for oil changes and other regular maintenance - a further cost savings. Bear in mind that the APGI unit, even after all costs related to the unit, the CNG/LNG tank, etc, has paid for itself in fuel savings in a matter of months. Then, as mentioned, when that engine is retired, the APG V5000HD unit can be taken off that engine and put on another, paying for its re-installation often in just weeks.
APGI's approach makes sense. Even over all natural gas engines, it has advantages, especially in the stationary market. It avoids the risk by everyone from an owner/operator all the way up to a major fleet or drill/rig/mining company of committing to any one fuel. APGI's unit has the flexibility to use:
diesel fuel and liquefied natural gas
diesel fuel and compressed natural gas
diesel fuel and pipeline gas
diesel fuel and conditioned well-head gas on site
diesel fuel and qualified bio-methane
And in all of the above, by diesel I mean diesel or bio-diesel as well.
I mentioned the Glider Truck Program. I think the Glider Truck program further demonstrate's APG's handle on the pulse of the market for its products. Others agree, not just in theory, but with orders:
http://www.marketwatch.com/story/ervin-to-launch-american-power-group-dual-fuel-glider-kit-product-line-initial-800000-order-placed-through-wheeltime-network-2013-08-06
The full text warrants inclusion:
August 6, 2013 American Power Group Corporation ( OTCQB : APGI ) announced today that Ervin Equipment, Inc. has expanded its product line to include glider kits with APG's Turbocharged Natural GasT Dual Fuel Upgrade System. As a result, an initial order of $800,000 was placed through WheelTime Network member Clarke Power Services, Inc. as the lead authorized dealer. The 2014 Freightliner Columbia and Coronado glider kits will be powered by a rebuilt Detroit Diesel Series 60 12.7L engine that has been upgraded with APG's Turbocharged Natural GasT System.
The term glider kit refers to a truck that has a new frame, cab, electrical system, and front axle but must utilize rebuilt systems for two of the three drivetrain components which are the engine, the transmission, or the rear axle. In addition to tax benefits, a glider allows the truck owner to power the vehicle with an older EPA approved emissions class engine. APG's EPA dual fuel tests show sustainability improvements that include an 80% reduction in CO and a 25% to 30% reduction in nitrous oxide (NOX) and particulate matter (NYSE:PM) emissions compared to the base year diesel engine.
Greg Ervin, CEO of Ervin Equipment, Inc., commented, "We believe a natural gas dual fuel glider kit is one of the most exciting new truck options to hit the market and gives the fleet owner the absolute lowest total cost of ownership in managing their business. The APG Turbocharged Dual Fuel System has logged millions of maintenance free miles around the world under very demanding driving conditions, and we have come to appreciate why the WheelTime Network selected and endorsed APG's dual fuel technology. Several key factors drove our decision to pick up the APG dual fuel product line: (1) the customer flexibility to transfer the APG dual fuel system to another one of their trucks at end of life, and (2) the freedom of their non-invasive technology to always go back to a 100% diesel operation at the switch of a button. This dual fuel capability eliminates a big concern of fleet owners which is being stuck with a dedicated natural gas fleet in the future if the price spread of diesel fuel and natural gas is no longer economically advantageous. The freedom to hedge future risk is a key differentiating factor that fleet owners will appreciate. Blu LNG, a leader in LNG fueling solutions, will be placing a sizable demonstration order for their customers as part of our product launch."
Lyle Jensen, CEO of APG, stated, "We are ecstatic that Ervin Equipment has endorsed APG's technology as the dual fuel solution of choice. Ervin Equipment has an impressive list of long-term fleet customer partnerships and we will work diligently with their sales team to accelerate the roll-out of our dual fuel product line. Importantly, Ervin Equipment's competitive financing options through E-Funding will provide customers the ability to immediately benefit from the 20% to 30% net annual fuel savings being experienced by existing APG vehicular customers." Mr. Jensen added, "We also want to acknowledge and thank our WheelTime Network partner, Clarke Power Services, Inc., for bringing this opportunity to fruition. As anticipated, we are seeing a substantial number of dual fuel glider kit and dual fuel engine upgrade conversion opportunities being generated through the WheelTime Authorized Dealer Network. We expect to have multiple certified installer locations operating in many major regional markets by the end of the calendar year. The WheelTime Network has more than180 locations across North America which gives APG a scalable footprint to handle all our expected future growth as the heavy-duty truck industry evolves into full adoption of natural gas vehicles."
Mr. Jensen concluded, "APG will be at the Great American Truck Show in Dallas, Texas, on August 22-24, 2013 with both a CNG Dual Fuel Glider Kit and a LNG Dual Fuel Glider Kit on display. The Detroit Diesel Series 60 12.7L engine is proving once again to be one of the most economically productive engines to own and is highly adaptable to APG's dual fuel natural gas operation."
The Glider Program presents a very cost-efficient, customized, turn-key dual fuel solution for a specific niche in the market that is squarely the type of customer that will enter into the natural gas swimming pool by dipping toes first:
http://www.overdriveonline.com/are-glider-kits-the-answer-to-natural-gas-impasse/
Zoom in on the picture of the truck…you may recognize the company logo. (OTCQB:APGI)
As I've noted throughout this article, we're hearing the same comments from multiple sources about APG's system. We hear them again from the executive from Ervin and from Blu, in regard to return on investment, reliability, and more. Some do not see the Glider program as a viable program. I disagree. It's pretty much a niche market mostly for the second and third tier fleet owners, but a growing one at that. The companies I talked to in my region who run cartage operations of that nature are fed up with the high cost and lower gas mileage of the new emission standards. There are like around 1/3 of a million Detroit Diesel 60 Series engines on the road, still from the days of that engine's popularity in the 90's, and generally were rebuilt with 3 year/300,000 mile warranties by Daimler/Freightliner Dealers and Glider Kit companies alike. In the testing done on those engines, APGI's system reduced carbon-monoxide emissions by 80%, eliminated Non-Methane Hydro Carbons (NMHC), and reduced NOX and PM by 25%-30% compared to the emissions of a rebuilt Series 60 engine. (Those emission reduction percentages are typical of the results they've gotten on other engine families, too.) According to what I have gained from 3rd parties, APGI has been contacted by fleets with older CAT (300,000 on the road) and Cummins engines (200,000 at least still on the road) to convert to dual fuel glider kits. So, I don't know that I can discount the Glider Truck approach, as it's pretty nifty in its niche. The economic benefits of a glider are nothing to shake a stick at. To wit:
· $20k to $25k lower purchase price than a new diesel truck
· $60k to $90k lower purchase price than a new dedicated natural gas truck
· Normal motor oil versus high-temp for natural gas trucks
· Higher fuel efficiently on the Series 60 engine compared to new SCR engines
· No diesel exhaust fluid to purchase and deal with.
· Significantly lower maintenance costs on a Series 60 Engine
· APG's unit gives a further 20%-30% per year net annual fuel savings and significantly lowers emissions.
· APA just received EPA approval this week on 37 pre-EGR Detroit Diesel Series 60 engine families primarily for the glider kit market.
So, I'm known for dd, not math. But on the back of the napkin I have in front of me, I figure if APG could tap even 5% of the 850,000 engines referenced above (about 42,000 engines conservatively), that is an addressable market of $425 million over a multi-year period. I'll take that too. But, again, why take Odaat's word? How about instead take the word of very well known trucking industry expert Mr. Jack Roberts, executive editor for Commercial Carrier Journal (NYSE:CCJ) and equipment editor for its sister magazine Overdrive. Mr, Roberts has not exactly been a huge dual-fuel fan, but recently he was welcomed by Blu, American Power Group, and Wheeltime to come to Salt Lake City for a test drive on a glider truck with APG's system. Just like what is happening in the field tests with major fleets, I'd have to say he walked away positive, if not enthusiastic, about this idea. His works speak for themselves in the tweets he sent out (copied below), not the least of which, within 24 hours of the drive, was "I had a great natural gas glider test drive yesterday and am convinced they are a great option for fleets looking to get in the alt fuel game," Exactly! Due to capital concerns, and industrial-organizational psychology, these vendors are going to dip their toes in the water, and APG's approach is the perfect solution. When a vendor can convert 6 or more vehicles for the cost of ONE natural gas vehicle, plus avoid range and infrastructure anxieties, plus be with a system that has shown supremacy in performance and reliability, these business decisions become much easier to make…and they overwhelmingly favor what APG has to offer. What I thing is great as well is that Mr. Roberts has a huge following and influence and access to significant and large publications in the trucking industry. APG shows resounding confidence in its products' reliability, performance, and business rationale to welcome Mr. Roberts for a two day test ride carte blanche. It's not a theory or opinion that the V5000HD works reliably, efficiently, and easily. Way to go, APG management and partners Blu, Wheeltime, and Smith! I believe Blu is one of, if not the largest APG-system-installing customer. According to a Blu representative, BLU has done extensive testing, and as we speak they have 25 or likely more trucks with APG's system operating fine all over the country, and doing test rides and demonstrations. Of those, some (maybe 2 or 3) are glider trucks, but the core are all class 8 OUL trucks. I believe they have also placed orders for glider trucks with some different specifications for testing a demonstration for with potential customers. That's exciting, because it shows how the glider program can be used to provide a truly customized dual-fuel rig to suit the customer's specific needs, at a significant cost savings. What matters most, however, is what I got directly from Blu themselves. If I were you, I'd listen to an outstanding company like Blu, more than you would an Odaat. As a long, I of course was thrilled: According to Mr. Justin Tuft of Blu LNG, they have tested the dual fuel systems from Eco Duel, Green Pro, Peake and APG. Of course, being their own leading company in the natural gas realm, they didn't want to publicly state that they see one as better than the other, but the facts tell that story for them...as, after said exhaustive testing, BLU has taken all other systems off their trucks and put on APG's system. They said one of the main reasons for Blu doing that is the superior support of the product both by APG and the Wheel time network. Naturally, if Blu is going to sell and endorse APG's system to its customers, they want not just a great product, but a smooth, supported, problem-free rollout and use of it, especially when it is something new. So, the fact that the Wheeltime network and APG has such a great support for the APG system, is, as the Blu rep said, a "very big deal to us. Wheel time has around 215 location in the US." Like I have with Evol LNG and several much smaller entities familiar with dual fuel, I pressed Blu in regard to whether the drawbacks Eco-Dual claims exist about APG's system were true, and their response was just like I am hearing from everyone about APG's superior system. To quote, "We have been getting good results and none (emphasis added by me) of the Eco duel (sic) mentioned issues with the APG system." APG's unit is the dual-fuel unit behind all of this, in all the names mentioned (Smith, Clark, Ervin, Blu LNG, Wheeltime). It's like being the inventor of the inner flange of the railcar wheel…lots of cartage, lots of money to be made, lots of different rail companies…but they all need that one piece of simple, brilliant, crucial technology. Translation: cha-ching, APG…and, call me old fashioned, but its earnings, more than anything else, that drives a share price. Mr. Roberts' tweets continue, - echoing the praise of the APG system and the superior installation and support system. You may wish to follow him: ( @JackRobertsCCJ ) He continues, even answering others' questions, posting screen shots about the cost benefits of APG's system, etc. and is clearly positive. I've included some of that below. He also posted and said he might update some videos about the test run. The first is him in the glider truck, the second is more about refueling and not specific to APG, and the third is a rep from a Wheeltime vendor about the APG system / glider turck. You can see those and any added since, here:
http://www.ccjdigital.com/video-log-fueling-driving-natural-gas-glider-kit
Here are some of Mr. Roberts' tweets: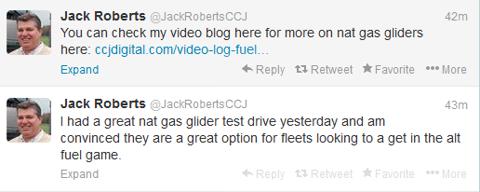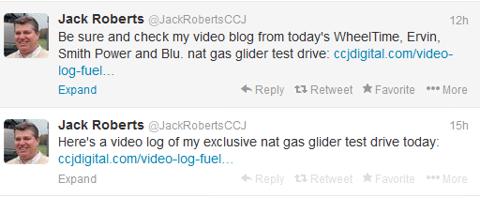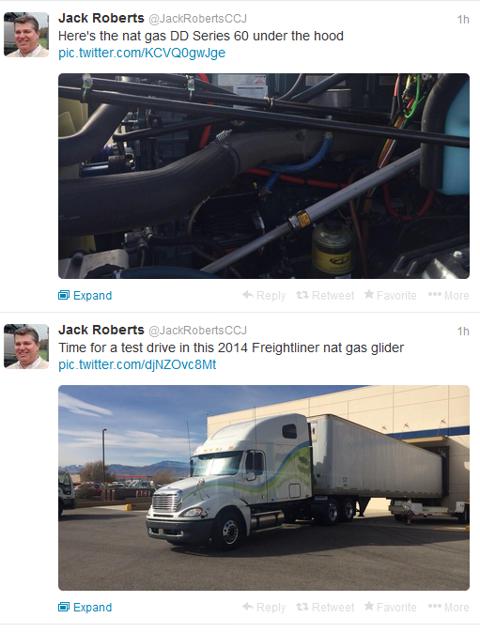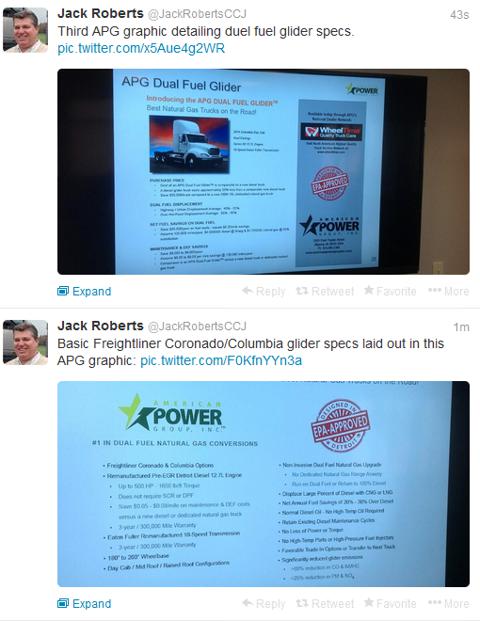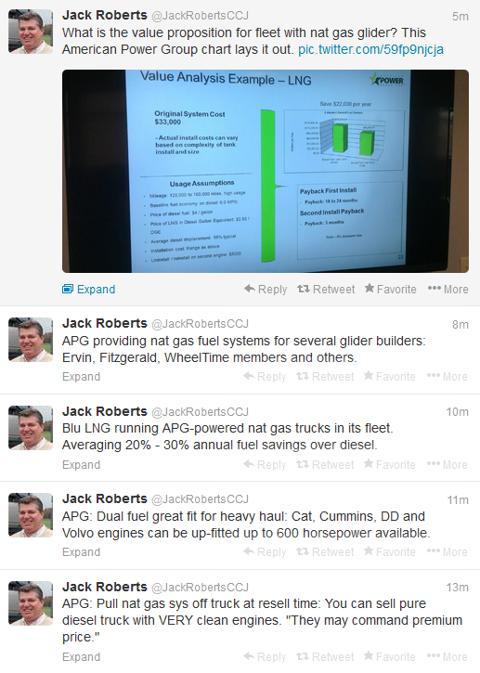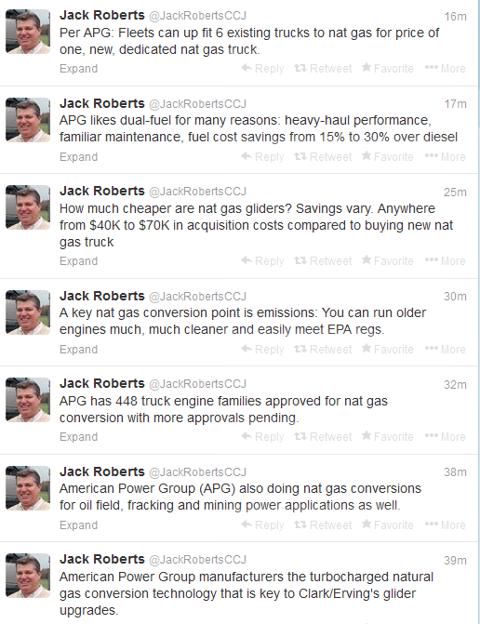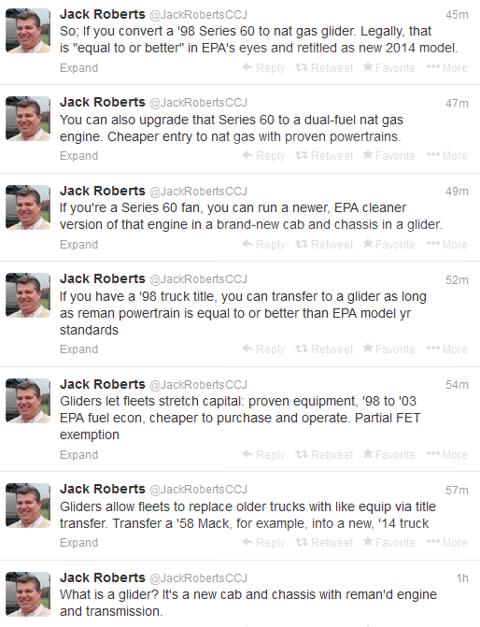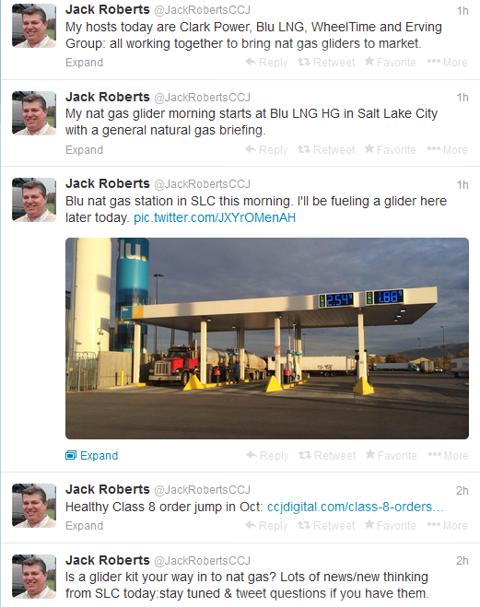 Impressive, I'd say. I would not at all be surprised to see some articles from him soon in his magazines and among the trade.
Natural gas and diesel are both commodities subject to price fluctuation, and one of the two is by no means (yet) widely available. Why go with any system that can only use one given fuel? APGI's system is not either or, it's both/and, at the ideal ratio for performance and cost benefit. It also makes sense in that it is so user-friendly and basically has no noticeable differences in operation to the operator/driver. It makes sense over others' devices in that it avoids messing with the injectors, a major advantage in avoiding mechanical failure. Introducing the fuel mix pre-turbo is a safe, environmentally friendly, OEM engine-spec adherent approach. Concerns over introducing natural gas into the turbo are not founded, and have not proven to be valid at all in real-life testing or operation. The compression levels are well below those needed for combustion - eliminating any concern over premature combustion. APGI's unit safely puts 2%-3% natural gas by volume into the compression chamber which is well below the flame-point of natural gas (5%-5 ½ % by volume). The software assures emissions levels are met first, then delivers the optimum fuel mix. The system reduces engine both emission and noise pollution. Its pre-turbo approach is non- invasive, less expensive, easier to install, easier to engine-transfer, easier to use, and easier to maintain. APGI's Bosch variable throttle body controller with its pre-turbo placement (versus trying to design a custom post-turbo fuel injector system) gives APG advantages in lower cost of design due to its universal applicability, much lower unit cost of production, and much lower cost or need of post-install maintenance.
Oh, by the way, there is this other advantage APGI has that none of the others do. It's a little something called fully patented technology. Not applied for, not pending. Done. That's a boon for longs, as something that both protects earnings, and makes APG even more attractive for acquisition.
As an investor, if I believed in the potential of this dual-fuel approach (which I do), where do I invest to get a great return? CAT?...with its massive market cap holding back any exponential returns? No…or maybe I increase my percentage of entities like CAT, Cummins, Chesapeake, Westport, etc. in my IRA's a bit for long term growth and dividends. Maybe. Eco-Dual? Oops…they aren't a public company. And, I find that when I talk with APGI, I hear about APGI technology and the market with mastery and professionalism. When I spoke with Eco-Dual all I heard was animosity toward APGI, and information about the drawbacks of APGI's system that I later discovered was inaccurate, referring to an older generation of APGI's technology that is not at all what APGI has developed for the market. My concerns with Eco-Dual are also based on factors such as its lagging far behind in engine approvals, having an invasive, injector-based unit that has been "leap-frogged" by APGI, being essentially absent from growing energy/drilling arena, being unmentioned at industry conferences, using flaky analogies in conference presentations that drew the ire of industry professionals, and, as noted, these concerns proved true, as Eco-Dual is changing gears to work on a new type of unit that will at best hit the vehicular market long after APGI has already achieved insurmountable saturation. Eco-Dual got all quick with the mouse clicking the other day, sending a press release about how a family run dairy operation has installed some Eco-Dual systems on their delivery trucks. Hmmm…could this be a bovine revolution that threatens APG's undeniable advantages over Eco-Dual? Am I being milked out of money or fed the bull by APG executives? Would it behoove me to check it out more to be sure I am not udder-ly mistaken? Of course. I don't want to be a blind long who only surround himself with other longs who will use circular argument and feel-good back-slapping to ignore the short argument. I did that with Celsion and look what happened? Well, ok, actually what happened the stock went from 18 cents to over $8, and the smart investors who had an exit plan (myself included) made a killing. The hogs got slaughtered, however.
Anyway, I decided to contact Mr. Chuck Diehl, the fleet manager for Smith Dairy, to inquire as to why they went with Eco-Dual, and to ask if they had tested any other systems. Despite a phone message and two emails, there was no response. As noted in several places, I'm an all-American guy, so beyond not getting the courtesy of a reply, I found a statement made by Diehl in an article from May 8th for Farm and Dairy to be of concern. He said, "We are not out to reduce our dependence on foreign fuel, we simply want to reduce our dependence on a volatile fuel market." To be clear, I do indeed want to see a rise in natural gas not just reduce our dependence on foreign fuels, but create natural gas extraction and fueling jobs here in the U.S. and improve our U.S. economy and environment as well. Perhaps my take on that dairy story has just gone sour.
At the same time, I sent Ira Dorfman from Eco-Dual a second request email, to give Eco-Dual the opportunity to make a case. I've spoken with Ira in the past, and finally he did reply to the second email. An intelligent man for sure, polite, and definitely a believer in his technology, I'd have to agree with what even competitors say that Eco-Dual's current management team is a real improvement over the initial team, and some perhaps perceived blunders by the past CEO. That said, there are some things that have come from Ira / Eco-Dual that simply weren't factual. To wit, in our first conversation Ira twice, and emphatically, stated that the industry was flat-out rejecting APG's pre-turbo fumigation type system because of safety concerns. I checked that with APG, but more importantly with several companies in field testing or even at the point of sales /orders of APG systems, and even checked with other dual fuel competitors, and to a one, none of them shared that opinion at all. In fact, a rep from Blu stated in response to my question about that: "We have been getting good results (with the APG system) and none of the (issues) Eco duel mentioned." In follow up emails, Ira simply wouldn't address the matter when I brought that bold factual disparity to his attention. It appeared to me that Eco-Dual may also be overstating its role with The Wheeltime Network members. I could go on with several examples, but I will boil it down to say that when I speak with APGI executives, I get responses that are factual, and my subsequent DD confirms it. APG's product's superiority in software, cost, operation, reliability, ease of installation, ROI, transferability, and universality speaks for itself in a way that matches the management team…straightforward, effective, and reliable. I'll go with that.
Eco-Dual seems to be in a bit of a current spitting match with the local government over incentives to expand in that area or move elsewhere, but at least they seem to believe there will be a need to expand. Their recent agreement with a large Peterbuilt dealer supports that. Eco-Dual's focus is solely on the Cummins ISX at this point and they have no plans to expand their market focus beyond a few engine families. In a way, this makes a decent situation for success for both Eco-Dual to a limited extent, and APG to a large extent, in markets that are primarily exclusive. Just like CAT's public, positive comments about APGI, and CAT's presence in the dual fuel world, the reality is the more reputable going concerns in dual-fuel the better, and Eco-Dual is probably one of them. For a myriad of factors I've tried to outline in this article, especially when you look at the actual stats of the engines that are out there on the roads, and the types of entities that will actually adopt dual fuel, I see APGI with the huge market share majority, but Eco-Dual having some as well, especially for the areas its business model and technology and APG's don't share. One could argue that to be a large and viable industry, dual fuel needs two or three solid dual fuel conversion companies. I see those as being predominantly APG, then maybe Eco-Dual or one of its competitors, and then a small market share for CAT's DBG program. Regardless, the main point is that this is an article about investing, and the retail investor can't invest in Eco-Dual anyway. If CAT and APG were to both have success with their dual-fuel programs, surely the effect on microcap APGI's stock would be substantially greater than the mild boost that might trickle down to affect CAT's behemoth stock base. This is another reason to go long in APGI, which I outline in my section about why APG can and will deliver the goods. Oh, to be fair, if somehow a regular retail individual investor like me could invest in Eco-Dual, and I wanted to set up a good bet in the dual fuel market, if I had ten bucks I'd buy $7 of APG, $1 of Eco-Dual, $1 of Clean Air Power, and $1 of CAT. Now, if I were playing the whole natural gas field, I'd be buying Blu, Westport, some of the energy companies (Shell, Linde, some others), and the dual fuel component of that portfolio would be 100% APGI.
GTI? Also not public, and I found their dual-fuel program to be nebulous/elusive. They had a unit prototype at a recent conference they said might be ready in more than a year. Also, of all the companies I contacted in my research, even large companies like Shell, Cabot, Apache, BP, GE, and Chesapeake, only GTI failed to return any of several polite messages to three different appropriate company contacts. Hardly a thriving, responsive, going concern dual-fuel wise, in my opinion.
Peake? Well, I could buy the behemoth mother company's CHK stock with its lumbering CAT-like nature, except for the fact that Chesapeake was caught peddling Peake's Dual Fuel assets and no buyers wanted it, which gives little confidence. Westport? They're focused on 100% NG solutions, and the recent kernel I uncovered showing they've realized they need to do something that allows for fuel flexibility puts them woefully years and years behind APGI. Kudos to APGI, whose management has steadily, deliberately, and with insight and prowess marched their product to market readiness, field test celebration, brilliant partnerships, and the by far leading list of EPA-approved engines. Peake went the "full certification" approach on the few ISX engines they got approved, so I think that means they could only install their system on engines less than 2 years old. With an estimated cost of $1 million for their program costs to get where they are, and being so limited to the few engines families, if you extrapolated that over the number of engine family approvals they'd need to be successful, it would be tens of millions of dollars in certification costs, and, by taking the certification approach they severely limited the number of engines out there they could do anyway. Clearly, the dual fuel and energy realm did that math, which is why Peake had no buyers, and why the claim of being the only IUL approved device has little financial value. As it is, APG is well on its way on a much less costly, better-thought-out, more business-plan-viable path to IUL approvals via the Valley Truck agreement and their recently announced partnership with West Virginia Universitry. As CEO Lyle Jenson said, "Our engineering team continues to diligently work to fine-tune our test protocol standards and test equipment compatibility towards the goal of being the first dual fuel conversion technology to receive EPA IUL approval. The IUL approval testing process has been more rigorous than the OUL testing/approval process as evidenced by the fact no one has received IUL approval for their dual fuel technology. To accelerate our IUL testing/approval process we have engaged West Virginia University to begin IUL emissions testing on 2010 - 2012 Selective Catalytic Reduction (NYSE:SCR) technology engines which will open up the balance of the lower mileage addressable Class 8 truck market."
Clean Air Power? Naaa. Recently, there was some "big news" about UPS using Clean Air Power's dual fuel unit for field testing with their delivery trucks. CAP is not a threat, in my opinion, to APGI first and foremost because even its new version is still the injector-intrusive type, which is prone to cost and breakdown. Further, keep in mind the reason Clean Air Power and Westport went back to the drawing board with dual-fuel was because in the cross-country side by side test, only the vehicle with APG's system had ZERO mechanical breakdowns / problems. The others didn't even complete the trip.
Also, I have tried to contact CAP four times, in three different ways, and have had no response. That says something too. Heck, even Peake, who is crumbling out of existence, got back to me. Oh, always do your own dd, but here are my thoughts in regard to CAP:
First, they are a UK company. I like that APG is a Detroit-born innovation. I like Bruce Springsteen and I'm a Steelers fan. Deal with it. So, although a UK Company, they do have a division in San Diego, where the fine men and women of our world class Navy and Marine Corp provide the kind service of keeping them safe. They have been in the dual fuel market since the late-90's and are still searching for profitability. Total annual revenue is running at around $13 million, losing $1.7 million annually. They have had multiple capital raises over the years, the latest of which was with Roman Abramovich of Russia. Strike two for this union card-carrying American. Of course, that union is in Illinois, so my pension is all but worthless, and made worse today by Illinois' illustrious legislature, so it looks like I'll have to count on my enormous returns from APGI if I ever hope to retire.
Anyway, CAP is not the only foreign company trying to cash in on our abundant natural gas reserves by tossing themselves into the dual-fuel boxing ring. Enter soon-to-be knocked out foreign contestant Landi Renzo. Perhaps not aware that APG is decades ahead of them, they got all excited and sent out their press releases upon gaining ONE EPA OUL approval for their dual-fuel system. It was for a factory re-manufactured Pre-EGR Detroit Diesel S60 12.7L engine. Bear in mind, Landi Renzo's system is a post-turbo, injector-invasive system, inferior in all the ways mentioned of other such systems. Further, none of these other companies, U.S. or otherwise, have anything even remotely close to the support network APG has in the unanimously-supporting Wheeltime Network members. That is an enormous advantage when it comes to the customer's actual order decision.
But, all joking and cultural impropriety aside, the fact is CAP's dual fuel technology is still an invasive post-turbo fuel injected type, aimed at the math of higher fuel replacement without solving the mechanical failure problems. Their custom fuel injectors are more expensive and require custom designs because they are invasive which limits the number of OEM engine models they could even work with. I seriously questioned how Clean Air's approach wouldn't void OEM warranties…and it would appear I was right, as they seem to be focusing on developing engines with the OEM's than trying…again…to introduce a troubled retro-fit system. That said, they do have a few engine family approvals, but in the nature of 4% compared to APG's. To ever compete in the OUL market would be almost impossible for them, what with the time it would take to gain all those EPA approvals.
Recall, as noted, that APG competed in Australia against CAP (and others) and unseated them due to their high down-time for maintenance. Australian customers told APG they had to hire full-time mechanics to keep the trucks with CAP's product running…hardly a model for savings when it comes to the bottom line. Having come back from the failure room, they are exploring along with Volvo/Mack in the UK and claim of course to have improved their system. Their new Genesis product is a result of that collaboration and revision. Rumor has it they branched out to work with Navistar but are not having much success, and may be still experiencing some of the same type of mechanical problems they did with their first failed version.
The UPS contract was through their San Diego operation and was a result of getting a California grant, or I don't think UPS would have gone forward with it. It's probably being run under a California test exemption program to track and share results and ultimately be tested to a California CARB standard after the grant program is over. I have not been able to unearth facts yet, but I believe UPS is also one of the major fleets who is field-testing APG's system…and if they are not, they are ignorant to what is going on in this field, or their reps are staying in the hotel room or buffet line at relevant conferences and not picking up the buzz that APG's system is the dual-fuel retrofit of choice, especially when driver/operator simplicity and operational reliability are crucial…such as they are for the likes of a UPS or Fedex.
Other than a few C-15's from 2002, I could find no evidence of any other trucks on the road with CAP's technology, and I have seen no new Outside of Useful life approvals for them. In short, I believe CAP's approach is still inferior, as is any system that is intrusive to the injection system, or has proprietary injectors. If I were a potential dual-fuel customer, I'd rather put on the available and reliable APG system now, and save up to eventually introduce all natural-gas vehicles to my fleet…not spend money on a questionable dual fuel system 2 years from now.
Further, as I'm hearing for several other options, their units are also about 20% more expensive to purchase than APG's due to their fuel injectors and the jury is still out (even UPS's jury) in regard to reliability. Hearing that in the Australia tests, both they and Westport and others all resoundingly lost to APG's 100% maintenance-problem-free showing, I can only imagine how important avoiding trucks' downtime is to an entity like UPS. Further, even if their new generation product somehow is vastly improved in reliability, they are lagging very far behind APG both in market traction, established field testing, installation and maintenance networks and technicians, and, of course, EPA engine family approvals. With their invasive, proprietary injection system, it really limits the OEM engine manufacturers they can even approach, or who will work with them and still honor warranty support. APG's system is superior in its elegance, in my estimation. CAP also seems to be completely absent from the stationary engine (drilling, mining, fracking, pumps) arena as well...another APG advantage.
APGI's 3rd Generation technology has been tested by many of the top ten oil & gas corporations in the world and rated equal to or better than any competing fuel-injected technologies.
http://www.fleetsandfuels.com/fuels/lng/2012/06/apg-greenman-targets-the-frack-patch/
American Power Group installs went from just 6 in 2011 to over 100 in the past twelve months. Extrapolate what that math would mean as sales, and that is just the stationary market, not the huge over the road market. In the vehicular market APGI is noted even by competitors as the leader. So here we have little APGI, with its production in quaint Algona, Iowa, trading on the pink sheets under a dollar, with equal to or better technology than energy giants in the stationary application market, and the undisputed maverick in the vehicular realm, all at the perfect time in natural gas' history. That's reason enough for me to be long APGI…but then the real experts chimed in. Real experts who work in the real world and do sales, installs, and maintenance. Real experts who vote as a cohort, and only voted unanimously for ONE system…APG's. I speak, of course, of The Wheeltime Network.
In the fall of 2012, WheelTime Network LLC's technical team picked APG's system over Eco Dual for being the best value-added dual fuel technology in the industry. APGI is training and building out that network as we speak, in a year long program, and the initial vehicle testing with WheelTime is reportedly going very well. I had the opportunity to speak casually with some of the member groups of The Wheeltime Network, and my understanding is that Wheeltime initially evaluated Eco-Dual because one of its members liked them or had some connection with the company, but that only APGI had the unanimous approval of every Wheeltime Network member group to move forward with APGI as their "solution of choice". I also got the impression that the members and their technicians seem comfortable with and eager to sell, install, and maintain APGI's system as a real win-win-win (meaning, for The Wheeltime service centers, for APGI, and for the vehicle operators.) Let's be clear…Eco-Dual had an original good response from ONE member ( a large one) of the Wheeltime Network, WW Williams. Eco-Dual execs reference them as the largest member, but I don't know that that is accurate. I believe by sales Stewart and Stevenson is. Regardless, these Wheeltime folks are true experts in this field, with a commanding sense of the pulse of the industry. Only ONE dual fuel device, ONE company, got the nod from ALL of the Wheeltime members, including WW Williams…American Power Group's.
The importance of the joint venture with Wheeltime Network to APGI's success cannot be understated. Along with Cudd (which is Odaatian for "Shell Oil"), Collicutt Energy, Evol LNG, Linde, et al, it's the most resounding third party / neutral party endorsement of APGI. For the rollout and initial ramping up of market presence, priceless are WheelTime's 200 plus service centers well-spaced throughout North America. It will mean over 3,000 trained installers trained on APGI's unit at one of WheelTime's 30 training facilities nationwide, and, incredibly, over 2800 service bays throughout this great country. APGI's connections with Cudd and with Collicutt are major Canadian inroads as well. (It seems Canada is getting on board with the NG revolution as well:
http://www.gnvmagazine.com/eng/noticia-canadian_legislator_introduces_natural_gas_superhighway_act_for_ontario-3271
Together, that is all a HUGE sales and support infrastructure, and close behind this is Shell's and others' national natural gas station corridor infrastructure commitment.
Wheeltime did its DD…and asked for share warrants as part of the venture. Now that's an endorsement! Along with agreements with Valley Truck and the hiring of a Regional Business Development Manager and recently retaining an IR firm, APGI is keenly ready to go full scale without a hefty requirement of capital or other company resources. APGI management got all of their puzzle pieces together, and now, seeing them put into place the picture comes into clear view…It's a large highway-side billboard that says "RIGHT NOW IS THE TIME TO GO LONG IN APGI." Ok, ok, get your eyes back on the road. I'm sure you noticed the bumper stickers on the car in front of you. It's a Blu-approved flex fuel vehicle and one sticker says "GO APGI !" and the other says "Honk if you're a Friend of Odaat."
Earlier, I mentioned Blu LNG. We all know they are a recognized leader in mainstreaming natural gas in the vehicular realm, and recently received major financing from ENN Group. Blu LNG is one of APGI's largest core customers, putting test vehicles on the road almost monthly. They have picked APG's technology over EcoDual as having the best system and most technical support. I have the most awesome email from a Blu exec, but I wanted their full permission to quote it first, and I just emailed them yesterday, so I'll add it here when I get the ok. Oh, it wasn't anything material…Blu and APG are professionals…but it sure was positive toward APG!
If you ever have the time to talk with or hear APGI CEO Lyle Jensen speak, I believe you'll see what I have as well… a dedicated leader with unwavering confidence in the product, and a person who arguably has the best understanding of this field, hands down…a person who has gathered a dedicated and qualified team (e.g. CFO Chuck Coppa), several excellent board members, and top notch Detroit technology consultants.
I believe this is the real deal, and that right now presents the ideal, if not last available, time for the individual private retail long term investor to establish a position. The company is, or is on the verge of, being cash positive, the fracking rig engine conversion test orders are turning into regular unit orders, and the supernova of the vehicular market is imminent. The company's management has made steady, solid, smart progress while flying under the radar, and the major companies have chosen anonymity while testing. I believe many more public and major endorsements to APGI's superior Dual Fuel Conversion program, and the related sales, are coming, if not already approved / placed.
A well-written SA article by Mr. Stewart Flink is one of the best pieces on APGI I have seen. It's an SA Editor's Pick. In it, he notes that APGI has the clear front-runner advantage, and makes a very conservative estimate for just the vehicle market alone that shows even early on earnings potential in the 900 million dollar range, annually. No, that is not a typo. $900 million. That doesn't even touch the stationary markets. He calls APGI "A Game Changer" in his December, 2012 article, which is only available to Seeking Alpha Pro. It's worth the price. Mr. Flink did real dd, including a plant visit, management interviews, board member contact, and time riding in a retro-fitted vehicle in which he saw first-hand its elegance. His article preface is available to all, however, and not copyrighted, so with all gratitude and respect for Mr. Flink, I post it here:
American Power Group Corporation (OTCQB:APGI) "A Game Changer" December 2012
Seeking Alpha - Mr. Stewart Flink
"A TWO-PRONGED STRATEGY"
When it comes to American energy consumption, what are the biggest issues on the minds of the US government, businesses and the general public? Clearly, one of these is finding ways to use less petroleum-based fuel, in order to reduce energy costs and decrease dependence on foreign oil. Another is to reduce emissions, including carbon, from vehicles that consume diesel fuel and gasoline. Through extensive hardware and software development, and engineering ingenuity, there is a small public company which has created systems enabling it to address all of these issues for most large diesel engines produced in the past two decades.
Mr. Flink is trained and does an excellent analysis of the numbers, the market potential, and has a fully-balanced assessment of risks and variables you're not going to find in this article by a zealous long. That said, even with conservative estimates, and even if all shares, options, exercising, etc. (which is a common point of shorts and naysayers about APGI), it is highly reasonable to predict 4 to 5 times today's share price, even with the meager end of estimated sales. Add in the swell of momentum in the whole natural gas arena right now, and how competitors to a fleet with APG's systems will have to do the same to compete, and it could easily be 10 to 20 times or more. I'll take that.
I've found some good discussion on these topics in some other places, such as the CNG Chat site,
http://www.cngchat.com/forum/showthread.php?11200-American-Power-Group-Diesel-NG-Conversions-Glider-Trucks-etc
and Yahoo! Finance:
http://finance.yahoo.com/mb/APGI/
and a good source to check regularly here:
http://www.fleetsandfuels.com/tag/american-power-group/
The company's website leaves a bit to be desired, but has good info anyway:
http://www.americanpowergroupinc.com/
with links to news and related info as well, here:
http://www.americanpowergroupinc.com/news-events/index
You may enjoy visiting any of those as part of your dd.
As with any investing, of course you need to do your own due diligence and make your own investment decision. I have taken a substantial long position in APGI and have accumulated and plan to increase that position on a scheduled basis. APGI is poised, both technologically and financially, to present early long investors with significant returns with little downside risk. There may be some overhang from some funds that were part of early offerings, however, recent action seems to show their selling is over, and company CFO Chuck Coppa keeps a keen eye and maintains good relationships with the major shareholders. It appears to me that at this time the overwhelming basis of shares are in the hands of company-friendly, long-term believers in this technology and this company's story. In one sense, the overhang of the preferred convertible shares creates a certain barrier to any near-term takeover attempt. That works for me as a long, so that there is not a buyout at a lower price than we longs deserve. Let APG, driven by robust sales and eager market acceptance, grow into its share base and have significant earnings-driven share price appreciation…then an acquisition might be of real benefit to longs. Frankly, with a patented, superior product with huge industry support, the masterful Lyle Jensen at the helm and the energetic and competent Chuck Coppa crunching numbers and continuing his exquisite relationships with funds and private investors, I'd sooner see APG captain its own ship for the whole journey. That said, I'd gladly accept, some day, shares in an acquiring company if it happens. Indeed, I would take the shares, not the cash, not just for tax reasons but because of how large and lucrative this sector will prove to be.
I see APGI as something that will give exceptional return, and without being subject to binary events. The orders are coming in and the floodgates are about to open. The more I have researched, the more I like APGI, and the more I am convinced of its enormous potential. While I'd like to follow up with a more detailed analysis of market saturation and earnings / share price valuations. Mr. Flink's article is masterful in that regard. Plus, that kind of math isn't my favorite. What is my favorite is the old fashioned, honest way of investing: Do tons of research on solid companies that seem to have a promising, platform type development, then, take up a reasonable long position. Then spend 3 months pretending to yourself you want to short the company's stock and go out there and try to find factual support for that - find every possible thing that could go wrong - talk to competitors - challenge management with what you come up with…and then, once all things have been considered, make your stance by buying, holding, and accumulating, while continuing to watch the developments of the company and its competitors. I've never actually shorted a stock in my life, and don't plan to. Call me old fashioned.
A recent article by The Quiet Investor shows they have chosen to get back into APG even after divesting from its former parent company. Thank you, seasoned commodities investor, insightful analyst, and just a very good person, Mr. John Gay of The Quiet Investor, for permission to include the article in its entirety. Here it is:
American Power Group Inc
APGI on OTCQB .67
October, 2013
I. Some Background.
This is the third time we have recommended this company. At one time, it was known as Greenman Technologies, and they converted old tires into shredded pellets used on playgrounds, the shoulders of roads, and other uses. The problem was an emphasis on building revenue and nationwide coverage, and not enough on profits. We departed after a couple of years at something under breakeven.
The second time we recommended the stock, a new management had taken over, one who had successfully run a company the earlier Greenman executive had bought in his expansion efforts. After trying to run the business frugally by shutting down unprofitable segments, he was approached by a larger entity to sell out the whole operation. The board of directors approved and the sale fetched a good price, allowing the repayment of debt, and leaving a nice fund in the kitty for redeployment. Since that was an unknown, we decided to opt out, again around a breakeven.
The idea the new CEO, Lyle Jensen, was exploring with the money from the sale was far afield from the original business, but sounded intriguing. However, it was the exploration of a new concept which the company would have to pioneer starting from scratch, with no revenues and no customers in hand. It seemed like a long slog, and we decided to watch from the sidelines.
However, one of the early investors in the company and an investor relations advocate continued to forward news of their progress. The management worked out the bugs in the concept, built the required experimental units, developed the underlying software, tested the systems in various fields, and actually got encouraging results in the form of orders.
So it is time to take another look, because the markets are so great, and the advantages of their system are so evident. Our hesitation was not just from wounded pride but also from a greatly expanded share count which management had to succumb to when it needed to raise more money while the stock was below a dollar. Subsequent events indicate the long journey of development and marketing may be nearing a payoff despite the enlarged share base. So here we go again.
II. The Company
American Power Group is the new name, and a system for converting diesel engines to run on natural gas and diesel is the new product. The addressable markets are huge, and the company has interested major enterprises to test and evaluate their product in two large and diverse fields. In both fields the common denominator is the diesel engine which can be made to run more economically and with lower emissions by introducing natural gas into the mix, a much cheaper fuel than diesel. It becomes a dual fuel solution. Users of APGI's conversion equipment can lower their fuel costs by 15 to 35%. And the gas can be any form of it: CNG, LPG, wellhead or pipeline, or bio-methane. Or the motor can be returned to 100% diesel if conditions require, without human intervention. So the payback on APGI's units can be as little as three to nine months, a huge return on investment. It is particularly attractive in the oil and gas fields where gas coming from the wellhead can be fed directly into the diesel engines, and is practically without cost.
With the price of natural gas well below that of diesel, and with the new "fracking" approach to wresting it from formerly played out or uneconomical fields, others have made the connection that replacing diesel with natural gas is an opportunity. Various approaches have been made but APGI management feels their system far outweighs anything competitors have brought to market.
This is attested to by several indicators other than the company's own proclamations. There are two major uses for diesel motors: one is the stationary market where diesels have heavy use such as oil and gas drilling rigs, shale gas recovery pumps, back-ups for hospitals, for cold storage warehouses, for data management centers, and for government and manufacturing centers. There are also many marine applications. The other major use is vehicular such as in the trucking industry where big class 8 engine semis roll across the country.
In both cases, major entities have tested APGI's units in the field under normal usage, and are placing larger follow-on orders. Despite the short time since the company has brought its perfected units to market two years ago, and despite the time that customers took to thoroughly test them, the last four quarters have shown revenues rising from $775,000 to $2.15 million for the quarter ending June 30. Their fiscal year ends in September, and though audited figures are not due until December, indications are that the trend continued in the fourth quarter. Management estimates positive cash flow at $8.5 million annualized revenue, and profitability at $14 to $15 million.
III. The Technology.
American Power group uses the science of combustion to make engines more efficient, economical, and 'clean'. Their patented software blends natural gas with the air introduced through the turbo-charger by negative pressure. It is self regulating and seamless, that is, no operator interaction is required. The process displaces up to 85% of diesel fuel with natural gas, with the average running between 40% and 65%. This turbo-charges the air. Since more energy is derived from the air, the engine basically backs off the amount of diesel it needs to meet the power demands.
APGI's system is a non-invasive bolt-on system, with few moving parts. Two men can install one in about 10 hours, including the tank for the natural gas. And when the truck is beyond its service life, the unit can be removed and installed on a younger vehicle. The unit has been approved for six of the seven top engines on the road: CAT, Cummins, Detroit Diesel, Mack, Mercedes-Benz, and Volvo. Competitive products using fuel-injectors to introduce the natural gas are more costly to install, operate and maintain.
In March 2013, APGI introduced its first "glider kit", a term that refers to a non-OEM truck built from the ground up: a new frame, cab, electrical system and front axle, but using two of three rebuilt components, the engine, the transmission or rear axle. A glider kit truck is about 25% less costly than an OEM truck, and engine maintenance costs drop as much as 70%. Engine life lasts just as long as with diesel consumption. These were impressive credentials to present to the 70,000 visitors at the Mid-America Show held in March. Plus, the appealing fuel savings bolstered the case. Orders followed the presentation.
The EPA has mandated rules for trucks to satisfy clean air standards through its Clean Alternative Fuel Vehicle and Engine Conversion Regulations. American Power's units have satisfied EPA requirements for over 448 Outside Useful Life (OUL) engines among the six major truck companies. This opens up another 1.6 million vehicles older than 2009 to APGI's products, and at only a 10% penetration would be a $ 2 billion market. Truck fleet owners can spend $180,000 to buy a new natural gas truck, or for the same money convert six of their older trucks with APGI's system, saving far more money in fuel costs. Submissions are in process for another 100 + older engine models, primarily in the rebuilt engine and glider markets.
IV. The Markets.
The EPA estimates there are 20 million diesel engines operating in the US, 7 million stationary, and 13 million vehicular . International figures are much greater. The company addressed the stationary market first where large quantities of diesel are used, such as drilling rigs. A vertical rig generally has three diesel engines, but a "fracking"rig may have 10 to 20 high horse power diesel pumps which consume 18,000 gallons of diesel fuel per day, or as much as a class 8 semi uses in a year on the road.
The company feels there are 2000 to 4000 diesel engines available for conversion in the US, and a large number in Canada as well, approaching a $150 million market. To date they have more than 25 of the 125 top drilling companies as customers, most with multiple rigs. The international market should also be inviting where diesel fuel is even more expensive than in the US.
In November, 2012, American Power signed a Master Marketing Agreement with WheelTime Network, an alliance of 18 North American Detroit Diesel distributors who provide nationwide and Canadian installation and warranty support with 200 service centers, 2800 service bays and 3000 factory trained technicians, to be authorized APG distributors and installers.
Much expense in the past two years has stemmed from supplying systems for field testing in both markets, particularly vehicular. It was necessary to overcome initial skepticism as the company pioneered the concept. Performance in the field was one of the major criteria for acceptance of the company's units. A substantial order from Halliburton through Noble Energy after months of testing will now allow APGI to use them as a reference. As acceptance has grown with the satisfaction gained by early users, it is thought marketing expense will diminish materially. The savings for operators are too great to resist, and word of mouth should replace some marketing effort.
V. Financials. Year ends September 30. Figures in thousands except per share.
| | | |
| --- | --- | --- |
|   | 2011 | 2012 |
| Net sales | $1.767 | $2.633 |
| Cost of sales | 1.833 | 1.935 |
| Gross profit (loss) | (65) | 698 |
| Selling, general, and administrative expense | 3.467 | 2.927 |
| Impairment loss | 149 | - |
| Research and development | 1.322 | - |
| Operating loss from continuing operations | (5.004) | (2.229) |
| Interest and financing costs | (819) | (1.612) |
| Non-operating expense net | (136) | (656) |
| Loss from continuing operations | (5.637) | (4.497) |
| 10% Convertible Preferred stocks expense | - | (358) |
| 10% Convertible Preferred beneficial conversion feature | - | (9.748) |
| Net loss available to common shareholders | (6.816) | (14.666) |
| Net loss per share basic and diluted | (.19) | (.37) |
| Weighted average common shares outstanding diluted | 35.621 | 39.352 |
Note: There are approximately 48 million shares outstanding fully diluted at the moment. Most of the 10% convertible preferred shares have not been converted so that conversion will bring share count up to 71 million, and a slew of options and warrants would bring the count up to 102 million. The net tax loss carryforward is approximately $67 million. Third quarter sales ending June 30 were $2.15 million vs 2nd quarter revenues of $1.85 million. Expectations for the fourth quarter are a continuation of this trend. It will be a long time before the company is required to pay taxes on income.
VI. Problems and Possibilities.
Looking at the financial figures is a bit scary, but the trend is the element that counts. Management has overcome a lot of challenges over the past five or six years, keeping its eye on the ultimate goal of introducing a canny solution to the problem of costly diesel fuel used in so many major arenas. The technology has been introduced to a number of important players in both stationary and vehicular diesel usage. After intensive field testing, several customers have come forth with larger follow-on orders, which still barely scratch the surface of possible deployment. It is important to note that other approaches to natural gas infusion to diesel fuel have come up wanting when compared to American Power Group's system despite them having a head start and despite being bigger entities. It is also well to note that APGI satisfies all EPA requirements, while still maintaining the power and torque of the engines. Economy of operation plus a much lower cost of downstream maintenance are two other important considerations. A single fracking rig can save upward of a half million dollars per year per rig in fuel costs with APGI's units. Those are compelling numbers.
We think most of the problems of American Power Group's technology have probably been solved. It is possible that other problems can arise, but they could be of smaller consequence, and solvable. We think that after all this time, APGI may be ready to reward its patient and longtime shareholders. New investors may have a chance to short circuit that long vetting process. The capital/revenue ratio is still upside down. We like revenues to be about five times the number of shares outstanding, which is certainly not the case right now. However, margins on their units run 40% + and they should generate a lot of cash. The impediment of the diluted share count could be ameliorated in either of two ways: buying back the underlying options or warrants, or by the company growing into its share base, though it is daunting at the moment. But the markets are so vast and the savings are so evident that there could be a robust ramp up of sales in the next couple of years. Breaking into the black will certainly move the stock forward, and then continued sales growth could well triple the price of the stock in the next three years, our standard benchmark for recommending purchase. Withal, we think the stock invites a purchase at these prices.
Get information from them at:
American Power Group Inc. or Mike Porter
7 Kimball Lane, Bldg A 800-979-4700
Lynnfield, MA 01940
The Quiet Investor is published monthly by the Quiet Investor Inc, 32 Kyle Ct, Willowbrook, IL 60527. Subscription is $60 per year. Readers should not assume all recommendations will be as successful as those in the past. Material is gleaned from sources thought to be reliable but accuracy is not guaranteed. All small cap stocks are risky and no one issue should be relied on for success but ten or twelve should be amassed in order to spread risk. The Quiet Investor may hold positions in any stock mentioned but generally purchases two weeks after publication. Copyright 2013.
But what do some actual Wheeltime Network folks have to say? I mean, these are the people who unanimously selected APG's system...these are the folks who will be selling, installing, and providing support, along with APG, for these systems. So, I contacted one Wheeltime Network member, Inland Power Group of Carol Stream, Illinois. I did so because they happen to be the Wheeltime Network member who would service the territory of a rapidly expanding logistics and transportation corridor that is unique. It is an area where the major interstates of I-80, I-39, I-88, Chicago-route rail, some air transport, a presence of UPS, FedEx, USPS, presence of distribution hubs for the likes of Kohl's, PetSmart, SuperValue, JC Whitney, Ace Hardware, and more, and Illinois River grain and cargo barge traffic all converge in one area that also happens to have a large natural gas supply / storage infrastructure and a well-established grain logistics system (ADM and others).
Inland's representative for this is a Mr. Myron Birschbach. When I asked him his thoughts about APG, APG's V5000HD system, and the sales potential for APG's dual fuel system, including in the glider truck programs, it's been all positive. I'm in the process of getting a quote from him, and will update that here. To say the least, these experienced dealers and repair companies know a solid product, business model, profit opportunity, and something that will really work for their customers when they see it…and they're all in, to a one, with APG's V-5000HD retrofit, with solid and growing interest in the glider programs as well. I had suggested to Inland and APG that they might want to do a presentation about dual fuel and the budding field of natural gas as a transportation fuel to that region's logistics council, and their response was enthusiastic professionalism and an eagerness to get this story out there.
This whole natural gas world is exploding (no pun or image of danger intended) as we speak. APG's CEO has an unequalled mastery of the whole realm, and says "We believe the question is no longer will the United States and the global markets adopt dual fuel technology on a large scale for high horsepower engine conversions, but rather when do we reach the tipping point where natural gas conversions become more of the mainstream. Full scale adoption of natural gas engines and dual fuel conversions in the trucking industry are still hampered by an inadequate logistical match to the existing fueling infrastructure, but this hurdle is being overcome every single month as large industry players continue to deploy significant capital for fueling infrastructure. APG sits squarely in front of these dual fuel conversion megatrends with a market leading position based on having the best solution with the most approved engine families, scalable capacity, and the strongest network of authorized dealers and certified installers for both on-road and off-road markets."
So, it's a great story…but can American Power Group deliver on it? I say yes. That's supported as follows, taken from my submnission to SA:
APGI: "The Little (Dual Fuel) Engine That Could"
Even a conservative "10% market penetration…would equate to a $1.6 billion addressable market…with (the IUL approvals creating) …an additional half a billion dollar market"
American Power Group, Inc. (OTCQB:APGI) presents a long investment opportunity whose entry point for the wise long is now. The APG story is compelling. What makes it more compelling is the story's setting…the current flash point of growth in the use and availability of natural gas. I outline all of this in great detail in my Seeking Alpha Instablog (above.)
Yet, a microcap having a story doesn't mean they have the means to bring that story to fruition, or that they will avoid doing so on the weary, diluted backs of early investors. APGI stands at the turning point of cash-positivity, even pending profitability, and uniquely has the resources and business plan to be the microcap story that succeeds.
How is this so?
APGI has already completed a vast majority of the costly "heavy lifting" needed for a successful rollout of its superior and perfectly-timed diesel/natural gas conversion units. This includes spending the millions of dollars need to have accomplished all of:
The testing and applications to receive an industry-insurmountable number of OUL engine family approvals from the EPA (~450). The Company is working to become the first retrofit technology to obtain IUL approval and estimates the cost to complete the top four engine families to be around $500K.
Full patent protection of their technologies and methods
Establishing the crucial partnership with The Wheeltime Network and the costs related to technician and authorized dealer training
Establishing manufacturing capabilities
Hiring appropriate support and sales staff at the company level
Proactively facilitating the solidification of the share based into a solid, company-friendly group of major holders and retail investors
The costs of many years and millions of breakdown-free miles on their dual fuel vehicular evaluation units and stationary use evaluation units (e.g. fracking rigs)
Establishing major partnerships with leading companies in the natural gas realm, such as Blu and Evol
As such, the company's capital expenditure budget for the coming year and beyond will see a dramatic decrease. For APGI to gain EPA approval for the one remaining OUL engine family, and the four IUL engine families they seek for their business plan, the total remaining outlay will be a only about $500,000.
APGI's business plan points to robust sales with little company capital and few, if any other additional company resources.
APG assembles their stellar V500HD dual-fuel conversion kits at their Iowa location which can support annual revenue in excess of $20M without additional build-out using well-established part supply chain.
Human resources, sales, installation, and support (and, crucially, their related costs) are all taken care of by the authorized dealers (such as the Wheeltime Network members) and CNG/LNG partners, for both the retro-fit and glider truck programs.
APG's business model would, at most, result in additional company hiring only in response to rises in sales, not as a prerequisite for sales to begin.
APG's current company representative structure (regional representatives serving the dealers around the U.S., and international partners like Wesfarmers' Evol, LNG) is sufficient for APG's rollout
APG has the unbridled support of a tiered, multinational, multi-product sales and support network that can drive earnings exponentially. To wit: note that APG is the only dual-fuel partner unanimously selected by the Wheeltime Network members - noted fully on Wheeltime's website's home page, (scroll down to base of the home page, in the middle, here: http://www.wheeltime.com/ , and note that Blu, who tested numerous competitors' systems, has taken all other dual-fuel systems off their vehicles, supporting and selling APG's.
Crucially, customers who have field-tested APG's system, usually in head-to-head testing with competitor's systems, are placing their follow-on orders with APG.
APG's financials are strong.
The company's CFO, Chuck Coppa has publicly stated the company anticipates turning cash-positive during fiscal 2014 leading towards profitability.
The company has over $1M cash on hand. Mr. Coppa, stated "based our fiscal 2014 plan, anticipated IUL approval rollout and existing cash, receivables and bank line we believe we'll have the necessary resources to continue rolling out our business plan towards our goal of attaining sustained profitability.
While there is a good deal of "overhang" from warrants related to past offerings, it would be easily overcome in earnings-driven share price appreciation even with the most conservative of market penetration and sales estimates. Analyst John Gay of The Quiet Investor does a good job of discussing this in his recent coverage with a Buy recommendation. With his permission, it is printed in its entirety in my instablog (above.) As before, I also recommend investing the cost of access to the excellent, professional article on APGI by Seeking Alpha Pro Stewart Flink.
APG has a proven, industry-respected, "invited to the table" management team.
The history of American Power Group's birth had it share of challenges. Long term investors from the Green Man Technology era and before invariably praise CEO Lyle Jensen and CFO Chuck Coppa. They use terms like "competent," "committed," and "failure is not an option" type of leaders. The Quite Investor Analyst report does a thorough job of describing the history and supporting their current Buy recommendation. It is included above.
A veteran (over 30 years) managing investor with emerging technology companies described his belief that APGI will join the list of those he's worked with that become billion dollar entities. He stated to me, "The key to APGI's success is the vision of (NYSE:CEO) Lyle (Jensen), a hands-on working Board of Directors, a chairman who refused to give up, and (NASDAQ:CFO) Chuck Coppa, who kept it all together."
During the Q3 Investor conference call, Lyle Jensen the Company's CEO provided some very positive comments, worth including here:
"So to boil all that down, we - APG estimates there are 2000 to 4000 engines in the oil and gas market that could become candidates for APG's dual fuel conversions and that would be valued at somewhere between $75 to $150 million addressable market based on the average kilowatt power of each rig site. In addition to that, Baker has reported that there are 358 rigs operating in Canada which we now have opened up our market to and that is another $5 to $10 million of market opportunity that we believe we can address."
"We have excellent Class 8 truck and engine market statistics generated by such companies as Power Systems Research, R.L. Polk and Ward's Auto, and if we take a look, there is joint concurrence but there are over 3 million Class A trucks operating today on the US highways and they range in age from 2014 to the late 1980s. As we size the market, I think it's important to note that the US on road vehicular conversion market was created just two years ago when EPA came out with new regulations".
"Our goal here is to have the highest number of OUL and IUL approvals for all of the top model years of the top seven engines and those include CAT, Cummins, Detroit Diesel, Mac, Mercedes Benz, Navistar International and Volvo. The Navistar International engine family is the only one left to complete OUL testing on which we'll get done in the next couple of months. In total, when we take a look using the market statistics, we believe the OUL market for these seven engine models for model year 2009 and older is estimated at 1.6 million vehicles on the road today. Now we've yet to predict an adoption rate but as an example, a 10% market penetration over time would equate to a $1.6 billion addressable market. APG estimates the available IUL market which are the lower mileage engines for these seven model years as another 400,000 to 500,000 trucks, which at a 10% market penetration would be an additional half a billion dollar market for APG's vehicular market."
APGI's technology enters a stage ripe with demand for natural-gas-based fuel savings. I believe this will show itself in sales starting in 1Q14 and ramping up in the quarters to follow. The regular retail investor or even fund manager who wants to invest in the dual-fuel / natural gas phenomena is short on options. Even competitors note that their business models (for example, Eco-Dual's, CAT's, or Peake's) operate in different realms, and they affirm (CAT publicly and others to me in correspondence) that APG is a viable product and company with an expected solid share of the market. Yet, Eco-Dual doesn't trade on an exchange, Peake (only accessed to invest under parent Chesapeake anyway) has a dual fuel program that is all but defunct, and CAT's stock will hardly have raving growth in response to possible success with their limited Dynamic Gas Blend program. So where does the retail investor and fund manager go to get in on the coming flood of demand for dual fuel savings in vehicular and stationary applications? They turn to the only publicly traded company that also happens to have a proven, patented, market-ready dual fuel product…American Power Group. (OTCQB:APGI) This will drive share price. Further, I foresee APGI being on a regular exchange in the near future.
Due to combination of current financials, costs already handled, the low demand on company resources required for sales, the prowess of the company's management, their dual-fuel product's proven post-field-test preference by vendors, the endorsements by major energy, transportation, and natural gas entities, the paucity of dual-fuel investment opportunities, and the perfect market environment into which APG enters, I believe APGI is "the little train that could"…and will.
___________________________________________________
I wish I could include the PDF's about the technology and engine families here. I'm sure APG's investor relations can send you those and more.
As for me, I'm buckled up in the APGI rig, with a full tank of inexpensive liquefied or compressed natural gas I will use, an expensive full tank of diesel I won't have to fully use, APGI's miracle unit working seamlessly on the engine, and a truckload of shares I've accumulated by backing up the truck. I'm ready for an exciting, lucrative, long haul. For APGI, it's 10-4, buddies, and I'm taking it as my handle says…one day at a time.
Odaat
Disclosure: I am long OTCQB:APGI.