Apple Inc (NASDAQ:AAPL) investors, whether current or prospective, may wish to pay close attention to four specific problems facing the company. I contend they are at the root of the negative sentiment directed at the shares and the correspondingly low valuation placed upon the stock price. Until corporate management fixes these issues, I do not expect investors will enjoy a meaningful rally in the shares.
As an investor, I believe it is important to understand the drivers behind a company's business. Some may auger well for the share price. Others much less so. For instance, upon the second quarter earnings conference call, CEO Tim Cook spent a fair amount of airtime extolling the virtues of the Apple eco-system, customer loyalty, company mission to improve people's lives, etc. All good stuff. However, I do not believe much of it will advance the price of the stock.
I submit here's four key investor issues, that as they are resolved, will move the stock price:
Margin Compression
Declining Earnings
Perceived Innovation Vacuum
Too Much Balance Sheet Cash
Let's examine each one.
Margin Compression
Gross margin represents net sales less the direct costs associated with producing the goods and services sold by a company. It is commonly expressed as a percentage. Historically, AAPL has enjoyed very high gross margins. In the Tech industry, fierce competition makes retaining such numbers difficult.
Here's a five-year chart showing Apple's quarterly gross margins:

courtesy of ycharts.com
Since the 47.4% peak captured in the quarter ending March 2012, the figure has fallen to 37.5% in the most recent quarter. Management has forecast a drop in gross margin to 36.5% in the upcoming quarter ending June 30.
Until gross margin stabilizes, the Street will conclude that it will continue to ease, thereby slowly eroding earnings and cash.
What can fix the problem? There are two ways. First, product costs and mix could change and rekindle higher margins. Alternatively, higher revenues can overshadow declining GM. The math for this fix is somewhat challenging, but plausible.
Let me illustrate the hurdle. Last quarter, Apple recorded a dollar-denominated gross margin of $16.35 billion on net sales of $43.6 billion (or a 37.5% margin ratio). A two-and-a-half point GM ratio increase, equating to a 40 percent margin would have generated $17.44 billion. In order for Apple to generate equivalent 40 percent gross margin dollars, it would have been necessary for the company to net $46.5 billion in sales, an increase of $1.09 billion; or a 6.7 percent uplift from actual. Actual sales were up 11 percent QvQ.
Declining Earnings
A close cousin to declining margins are Apple's declining earnings per share. Here's the facts: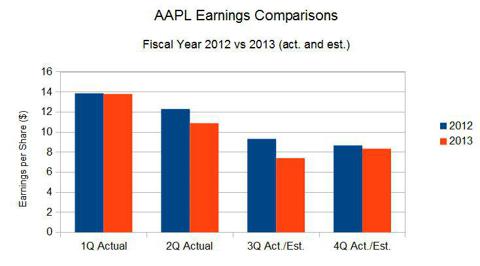 (Estimates from ameritrade consolidated forecasts)
Indeed, EPS has declined the last two quarters, and is projected to decline for at least the next two. Furthermore, on the conference call last week, Apple's management set expectations that the QvQ third quarter earnings decline will accelerate versus the 2012 comp.
In my previous S.A. article about Apple stock, the theme was that the AAPL price / earnings multiple was an anomaly. At 9x, it was just too low. A P / E at this level indicates the market believes the company has no future earnings growth potential. While my opinion remains that the market has overstated the longer-term case, it appears it is very well correct in the short-term: Apple's earnings are expected to contract through the remainder of this fiscal year.
Until earnings stabilize and both management and the Street begin to anticipate earnings growth again, the stock price is unlikely to move up quickly.
Perceived Innovation Vacuum
Under the late Steve Jobs, Apple Inc rode wave of customer and investor enthusiasm over his innovative capabilities and adherence to perfection. Since his departure, the company's ability to innovate has been called to question. Whether this true or false is mostly irrelevant.
In the investment world, sentiment and perception become reality.
Of late, one could argue that Apple has simply built upon previous breakthrough products: i.e., the iPhone and iPad.
Unquestionably, management has refreshed these devices with added features and improvements. However, they are still the same basic devices. These products, built upon incredible foresight and attention to detail, carried tremendous customer loyalty and high margins.
Quite simply, new CEO Tim Cook is being called out by Wall Street. He's being asked to amplify his role as an outstanding operations man into a visionary leader. I am not yet questioning his ability to do so. Nonetheless, the results have not materialized. Thus far, all sizzle and no steak.
Apple management must bridge the perceived innovation gap with some sort of product breakthrough. Otherwise, it is reasonable for the company to accept lower Street expectations built upon the premise that while the company remains an exceptional production, distribution and branded business, the days of unparalleled enterprising innovation and leadership may be ebbing.
Too Much Balance Sheet Cash
Previously, Apple's unusually high balance sheet cash and liquid investments were an asset. Steve Jobs' ferocious defense of the cash hoard was accepted due to his aura and a rapidly rising stock price. Sure, some investors murmured about the billions on tap, but they largely kept their mouths shut at shareholder meetings and corporate functions.
No more.
A plummeting stock price and weakening associated metrics have changed all of that.
Upon the most recent conference call, management and the board of directors got the message. They delivered some relief: a fifteen percent dividend increase and a 32-month, $60 billion stock buyback program.
My view is that these items may help create a floor under the stock price. They are not silver bullets.
The dividend was set such that it created an approximate three percent yield on the underlying stock price: admirable, respectable, but not earth-shaking. There are many 3% yielding stocks that have better near-term earnings growth potential.
The buyback plan is somewhat impressive if for no other reason than its sheer magnitude. However, it's spread out until the end of 2015. In the meantime, let's assume that AAPL generates an average of $8 billion in free-cash-flow (operating cash less capex) per quarter, or $88 billion through the 11 quarters in the period. Here's a chart of Apple's FCF over the past five years, outlining why I suggest this figure is defensible:

courtesy of ycharts.com
Now let's premise that the dividend is raised annually by ten percent in 2014 and 2015. Therefore, the cash dividends paid will be about $42 billion between now and the end of 2015. Here's the all-in math:
Apple Balance Sheet Cash / Investments 2013 - 2015

Certainly a step in the right direction, but evidently Apple management is intent on retaining the bulk of the current cash hoard. And while the stock buyback will retire up to four or five percent a year of shares outstanding, additional shares will be issued to management and employees in the form of options and restricted stock, thereby diluting the effort; at least to some extent.
Clearly, corporate leadership has begun to address this issue, but I do not believe it's "case closed" yet. In addition, I submit that Apple management could do itself a favor by taking a page from the Intel (NASDAQ:INTC) playbook: invest the cash in a way that provides a better return. FY2012 10-K filings show a return of only 1.03 percent.
The Bottom Line
Apple management faces four key investor issues: margin compression, declining earnings, an innovation vacuum, and a huge amount of balance sheet cash / investments. Investors may wish to pay particular attention to these issues for clues as to how the business is performing, and the consequent movement in underlying share price.
The problems are inter-related.
Margin compression is a prime contributor to declining EPS. It is also a result of increased competition and the dearth of new "breakthrough" products since the passing of Steve Jobs. Potentially, these problems may be overcome through significant higher revenues. However, one may premise that such revenues are contingent and circle back to the need for new, breakthrough products. Finally, exceptional balance sheet liquidity has evolved from a corporate source of pride to a millstone around management's neck. The recently announced dividend increase and stock repurchase plan is a fine first step, but I suspect that these steps alone will do more to place a floor under the shares than drive its capital appreciation.
For longer-term investors, I suggest that AAPL stock remains undervalued as a function of its current 10x earnings multiple. This multiple assumes low forward multi-year EPS growth: in the neighborhood of two or three percent. This may prove far too pessimistic.
Nonetheless, without resolution of the foregoing problems, investors should not expect much enthusiasm for the shares, nor a rapid return to the ever-buoyant stock prices of 2008-2012.
Disclosure: I am long AAPL, INTC. I wrote this article myself, and it expresses my own opinions. I am not receiving compensation for it (other than from Seeking Alpha). I have no business relationship with any company whose stock is mentioned in this article.