There are a lot of critics out there who look at a company like (Amazon.com (NASDAQ:AMZN)) and wonder how it is above $200.00 per share. They see a company with low margins and a huge PE. When I look at Amazon I see:
One of the few survivors of the dot com crash
A market disruptor who is unafraid to diversify its business
Jeff Bezos, one of the best CEO's alive today
A company that has rewarded long-term shareholders with very strong returns over the years (see below)
(click to enlarge)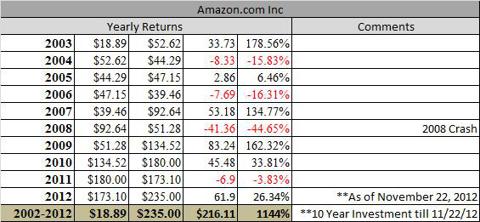 Click to enlarge
Here is a lesson from one of the most successful investors, William O' Neal:
Valuation Does not Matter
The most successful stocks from 1880 to the present show that, contrary to most investors' beliefs, P/E ratios were not a relevant factor in price movement and have very little to do with whether a stock should be bought or sold.
Technical Analysis Matters
Learn to read charts and recognize proper bases and exact buy points. Use daily and weekly charts to materially improve your stock selection and timing.
With respect to the quotes above, I will present the charts of Amazon.com as of (11.22.12), and where I believe it could be going. I am bullish on Amazon going into the New Year.
(click to enlarge)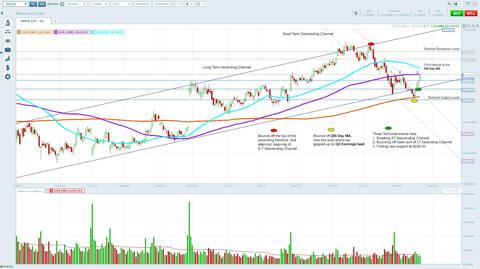 Click to enlarge
The Breakdown
AMZN is back in the Long-Term Ascending Channel
AMZN has broken the Short-Term Descending Channel, on above average volume, with good follow through the next day.
AMZN has bounced off its 200 Day Moving Average price of $220
AMZN is about to challenge the 100 Day Moving Average price of $238, for the 3rd time
AMZN has recently undergone a price correction of around 17%
Target Price for December $250-$257
Some events that could materially affect the forecast
Black Friday and Cyber Monday shopping fails to meet expectations
The Cease-Fire in the Gaza is broken
Consumer Confidence reports for November fail to meet expectation
The Fiscal Cliff is not resolved
Disclosure: I am long AMZN. I wrote this article myself, and it expresses my own opinions. I am not receiving compensation for it (other than from Seeking Alpha). I have no business relationship with any company whose stock is mentioned in this article.