(Post also available in spanish here)
In the world of economics and finance as in most things in life, everything tends to move in cycles, fashions, and few things are able to stand the test of time on top of a concrete fashion.
Well, in the case of finance, the cycles do not usually last long, and so-called leaders of each will vary with each new cycle. In the short term we are experiencing a period that began in March 2009, and this, as always brought their own leaders, companies have amazed in the worldwide market its growth and market performance, examples of leaders during this last cycle would be companies like Chipotle Mexican Grill (NYSE:CMG), Intuitive Surgical Inc (NASDAQ:ISRG), Ulta Salon Cosmetics (NASDAQ:ULTA), Baidu (NASDAQ:BIDU), Lululemon Athletica (NASDAQ:LULU), Mellanox Technologies (NASDAQ:MLNX), Amazon (NASDAQ:AMZN). However, in this cycle the leader among leaders is none other than Apple (NASDAQ:AAPL).
While each cycle make new leaders appear, they usually disappear amid the falling markets, new emerging competition that led to margin cuts ... and no one can resist this tendency. I hear a lot of talk about Apple and possible price targets in the medium to long term (usually over $ 1,000). I personally like to review the history, because it rarely proves to be wrong.
That said, I leave you with the following chart (courtesy of Market Anthropology) showing the last 3 cycles, with the performance of the leaders at time, (in this case it takes the largest capitalized company in the world at that time), because it is difficult to be the best long time, but it is even harder to maintain this level of sales increases for too many years....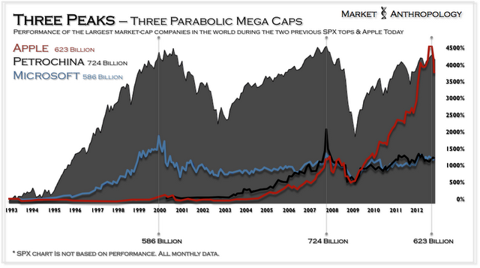 Disclosure: I have no positions in any stocks mentioned, and no plans to initiate any positions within the next 72 hours.