(This post is also available in spanish here)
Much has been said about the coming fiscal cliff lately in the media, for those who do not know what i am talking about (if there is anynone), fiscal clidd refers basically to a series of spending cuts and tax increases that will occur, automatically, at the end of , 2012. The measures are designed to reduce the federal budget deficit USD 670,000 million between fiscal 2012 and 2013, a decision that, according to the Congressional Budget Office U.S. lead the country into recession in the first half of 2013 (an estimated the impact of these cuts are close to 4% of U.S. GDP). All this mess was originated in 2001 when amid the dotcom crisis, the Bush administration, approved legislation that would allow tax cuts and increased government spending, which would have taken effect in 2010. Subsequently, this law was extended until December 31, 2012, the date on which comes into force the Budget Control Act of 2011, which aims to reduce public spending in the U.S..
Knowing that in theory this change in legislation can greatly affect the American economy, to what extent this can affect the stock market?
Personally the situation reminds me of what happened last summer with the debt ceiling issue, another event presented to us as something almost apocalyptic (kind of black swan),end as another non-event. At market level things remained not as indiferent, we all know that uncertainty is bad investment partner, so it has caught my attention a chart that I found reading a Goldman Sachs report on the subject and comparison between the two events discussed.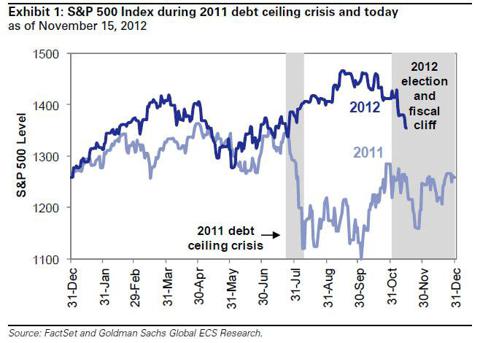 We can see that during debt limit crisis, the S&P500 fell 17% between July 25 and August 8, although there was agreement and it did nothing wrong. In the current event the market has already begun to falter, we see what path will it cover during the politic conversations and as events will elapse.
Another negative point in the face of the U.S. stock market ahead of year-end is the fact that in early 2013 there is a pending tax increase on capital gains from 15% to 23.8% (almost 9 points). Historically we find two similar cases when a magnitude, in 1970 his rose 9 points and in 1987 8. What happened to the bag that last December? -1.9% In December 1969 and -2.8% in December 1986.
Disclosure: I have no positions in any stocks mentioned, but may initiate a short position in SPY over the next 72 hours.