The weekly mortgage application index for new home purchases has now dropped to a new multi-decade low, with the current reading at its lowest level since 1995. The latest weekly reading of 155.0 is down from 160.7 in the prior week and a 2014 high of 191.7 reported in mid-January. The 3-month moving average of the often volatile weekly reading continues to trend lower, now at 177.6 versus 180.2 in the prior week. Meanwhile, conventional mortgage interest rates remain in the 4.5% range. The latest reading shows the 30-year rate at 4.53%, up slightly from the prior week's 4.50%.
The continued weakness in the mortgage application index doesn't bode well for near-term housing demand improvement, suggesting further weakness in U.S. housing starts and the NAHB Index. As such, shares of homebuilders and suppliers of building materials could see near-term selling pressure. I lay out a thesis for such a case in shares of LPX here.
Mortgage Application Index (New Purchases) and Mortgage Rate:
(click to enlarge)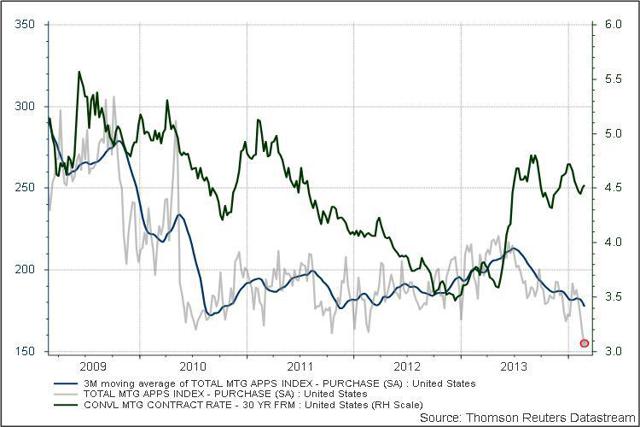 Click to enlarge
Disclosure: I have no positions in any stocks mentioned, and no plans to initiate any positions within the next 72 hours.