Water is, and does, a lot of things.  It covers 70% of the earth's surface.  It makes up 60% of the human body.  It has been a source of conflict for millennia.  It is commodity, and most of all…a basic human need.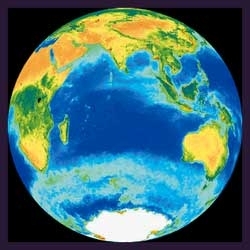 Source: nasa.gov
It has been suggested that water is the new oil… but that depends on how you look at it.
We have been warned that we are at risk of facing a "global water crisis", according to the United Nations World Water Assessment.  We could be facing a serious imbalance between supply and demand, and hydraulic shocks could result in dangerous water security issues.
The global population is growing…and water demand is growing faster.  Over the last 50 years, the human population almost doubled (from 3 billion to 6.5 billion), while water demand roughly tripled.  And current estimates suggest that the population will grow to 9 billion by 2050, and in all likelihood water needs will surpass that growth rate.  Specifically, water is growing twice as fast as the population, according to the UN Food and Agriculture Organization.  The projections are not pleasant:  by 2025 1.8 billion people will live in "absolute water scarcity", and two-thirds of the planet will be under "stress".  Estimates in a report by The Economist don't bode any better: by 2050 45% of the human population will live in countries that are chronically short of water.  Whatever numbers you look at, the UN Secretary General put it best: "The challenge of securing safe and plentiful water for all is one of the most daunting challenges faced by the world today".
Here's the thing: growing water demand isn't just the result of human population growth, but also consumption habits.  As incomes rise in developing nations, and people lift themselves out of poverty, their "water intensity" increases.  And water intensity means that consumption isn't just about drinking water: over-all diets shift towards foods that require more water to produce (often meatier diets).  That going to put a serious strain on supply: the Food and Agriculture Organization estimates that we will need 60% more water for agricultural use to feed the increase in population over the next two decades. 
Now, there is a lot of water on the planet…but of course nearly 97% of it is saltwater (according to the U.S. Geological Survey).  And of the remaining freshwater that moves through the hydraulic cycle, we are only able to utilize something like .75%.  And that means that supply constraints will likely serve as a price support for water in the future.
Is water the new oil? Maybe not.  After all, oil is exhaustible.  And while the supply of water is finite, it is also recyclable.  The bottom line: water is a resource that we can't survive without, and there is only one direction demand will go.  And while water efficiency may improve, the supply will not grow with demand.
For exposure to water, take a look at Powershares Water Resources (NASDAQ:PHO): this ETF tracks the Palisades Water Index and provides exposure to water treatment, utilities, and equipment.
Disclosure:
I have no positions in any stocks mentioned, and no plans to initiate any positions within the next 72 hours.