You might be surprised at the implications of measuring profits by the taps of a media devices key board.  An article appeared the other day titled, "A Web Pioneer Profiles Users By Name". 

Emily Steel gives us an alert, directly warning to push the pause button on our next journey on the World-Wide Web. 

Her statements resonate an accuracy in these tracking service companies as reported as Rapleaf, Inc., Double-Click and other noted providers pointing why we may need to worry. Why Worry? The retail banking. Banks, such as, Wells Fargo, JP Morgan Chase, Bank of America, and a host of other concerns know their marketing campaigns better than we do.

A quick review of a section of her article piece published October 25, 2010 in Wall Street Journal, as she stated, 


In the weeks before the New Hampshire primary last month, Linda Twombly of Nashua says she was peppered with online ads for Republican Senate hopeful Jim Bender.
It was no accident. An online tracking company called RapLeaf Inc. had correctly identified her as a conservative who is interested in Republican politics, has an interest in the Bible and contributes to political and environmental causes. Mrs. Twombly's profile is part of RapLeaf's rich trove of data, garnered from a variety of sources and which both political parties have tapped.
RapLeaf knows even more about Mrs. Twombly and millions of other Americans: their real names and email addresses.
This makes "RapLeaf a rare breed", (Steel). It was a clear statement she puts forward the notion of looking at the advantages modern technology having the pluses and certainly the minuses. It could provided for a lot of empty "Houses" waiting to frighten the new owners away with RRP concerns.  

These RRP concerns will help NEW HOME sales, boosting the ability for New Home builders to  move their inventories. It could mean more construction jobs in the near foreseeable future do to RRPs and the unwinding of Foreclosuregate.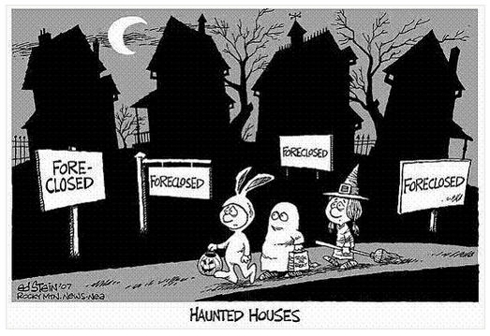 Click to enlarge

Click to enlarge



Starts raising the concerns of this weeks theme. Could it be a Trick or Treat? Why are foreclosures going to continue at record paces as the bank servers are on a Green Light?

The other question of concern is how target marketing will find successes in keeping banking profits up in the coming quarter's. 

Rival companies; companies we know as brand names of Google, Yahoo, Microsoft, BIDU and RapLeaf Inc., are tracking companies gathering minute detail on individual Americans. Steel is able to clearly convey in her piece when stating, "they know a tremendous amount about you. But most trackers either can't or won't keep the ultimate piece of personal information--your name--in their databases. The industry often cites this layer of anonymity as a reason online tracking shouldn't be considered intrusive"(Steel).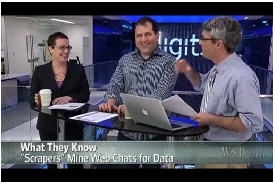 Click on Video Picture for Interviews
One more reason to understand the hidden dynamics of trying to calculate the Earnings Advantages of the reporting corporations.

I am going long the banks since yesterday. The key reasons come from the announcement out of Goldman Sachs for 50 year notes they are offering. Other similar offers were filled by Bank of America, Wells Fargo, Citigroup, and JP Morgan Chase. These notes secure their final assaults of closing off the foreclosuregate and giving further depth to the time horizon to off load these properties slowly back into an economic recovery of the housing and general main-street economies.

How will Rapleaf, Inc., affect us in the long run as investor's? I am looking at the ability to know where your loyalties were or really are. 

In the article; you find the eye opener giving me my answer. The abilities to push marketing based upon campaigns of known behavior flaws or our strengths are uncharted territory.

The message clearly today sends; "Happy Trading" or is that, Trick or Treat? 

Sending messages knowing you might have more than a few partners with you during your trading day. 

Far-fetched, Not this time... 

Remember; Halloween really is more about a day of Prayer or praying for all deceased souls (All Souls Day). So I wish all a Happy Souls Day...
J.G. 
Disclosure:
Call Options in BAC, GS, JPM, C, AIG, MET, PRU, WFC, MS, XLF,CSCO, INTC, GOOG, ORCL, MSFT, BIDU,YHOO, DCLK, and BLK, With Long Positions Held In: XLE, GLD, DRWI Short positions in ISSI