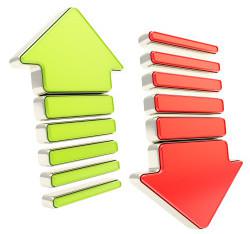 Binary options were introduced to the trading public back in 2012. Since that short amount of time binary options have evolved as well as the platforms that they trade on and the brokers that offer these products. Binary options were derived originally from fixed return options or FRO.
Initially many of the brokers that began to offer these products were really marketing companies of binary option trading providers. Companies like Spot Options would offer brokers a " white label solution" that would be very easy for them to integrate and would provide an easy plug-and-play for their clients. These white label solutions provided the broker with a pricing engine, a customer resource management system, and everything they needed to effectively to run a brokerage. While this work well for the broker there really wasn't much in terms of education and in terms of market transparency to the customer.
Binary option brokers that operate in regulated jurisdictions and offer clients platforms that provide market transparency are now offering the trading public a new solution. This may take the binary options market and binary option brokers and a whole new direction. Safety of funds will allow clients to open a deposit with brokers with much more confidence. Being able to see charts and to see the actual market of the underlying product that they're trading are other ways that the trading public benefit and enjoy trading binary options.
Demand from the trading public and market forces will probably steer the binary options market and binary options brokers to begin to offer products this way.
To learn more please visit www.clmforex.com
Disclaimer: Trading of foreign exchange contracts, contracts for difference, derivatives and other investment products which are leveraged, can carry a high level of risk. These products may not be suitable for all investors. It is possible to lose more than your initial investment. All funds committed should be risk capital. Past performance is not necessarily indicative of future results. A Product Disclosure Statement (NYSE:PDS) is available from the company website. Please read and consider the PDS before making any decision to trade Core Liquidity Markets' products. The risks must be understood prior to trading. Core Liquidity Markets refers to Core Liquidity Markets Pty Ltd. Core Liquidity Markets is an Australian company which is registered with ASIC, ACN 164 994 049. Core Liquidity Markets is an authorized representative of Direct FX Trading Pty Ltd (AFSL) Number 305539, which is the authorizing Licensee and Principal.