Major stock indexes advanced while the Pring Turner Fuel Tank dropped for the third straight week. The fuel tank currently stands at a -40 reading, which is the first time it has reached this negative level since September 21, 2012. Investor sentiment is clearly bullish and the trend continues to rise. However if a change in trend from a "risk on" to a "risk off" environment were to develop we would expect a significant (5%-10%) stock market decline that would set the stage for the next intermediate advance.
(click to enlarge) (Fuel Tank plotted inversely)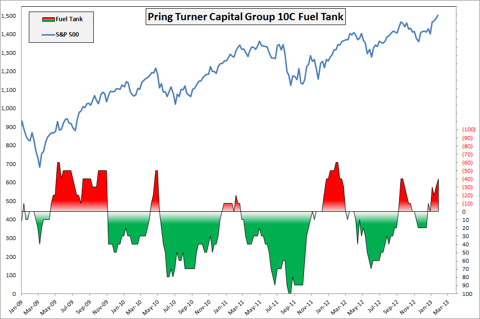 Our "Treasury Model" moved from a neutral to a sell reading for the first time since February 2011. Since 2000 the model has registered a sell signal roughly 20% of the time with the S&P 500 earning an average annual return of -9.9% during that timeframe.