The Pring Turner 10C Fuel Tank now sits at the relatively neutral +10 level. However stocks continue to look vulnerable. Market top formations can stretch out over a few months with weeks and weeks of high numbers of buying climaxes (a characteristic we have seen recently).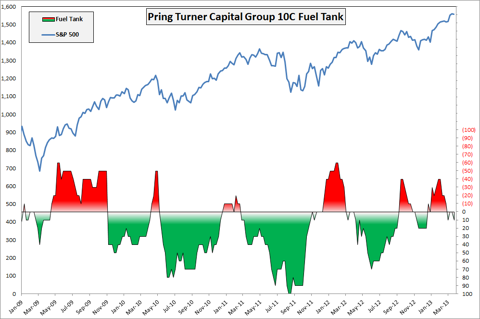 In a report last week, John Mendelson of International Strategy & Investment Group LLC points out, "The NYSE Composite Index (NYA), a capitalization-weighted composite of all NYSE stocks and one of my long standing proxies for the broad equity market, is currently farther above its 200-day average or more extended to the upside than at its early May 2011 peak before a 24% correction or at its mid-April 2010 top just prior to a 17% selloff."
Recently to go along with the heightened number of buying climaxes there have been fewer and fewer stocks making 52 week highs while the broad market continues higher. Net new highs have fallen, the percent of stocks trading above their 50-day MA has dropped, and several oscillators are showing less participation in the rally. In addition the relative Strength Index (RSI) for many of the broad indexes are showing a negative divergence (lower RSI readings & higher prices in the indexes). These indications could be warnings of a significant correction ahead. So continue to monitor the market trend and be on the lookout should we get a significant reversal.