November 27, 2012: Today's Highlights and Insights Report. We are initiating coverage on (OTCQB: SVEN), (OTCQB: VCST), (OTCQB: NILA)
thestockwatchalert.com also added the following companies to our research list: (OTCQB:IMUN), (OTCQB:MIMV), (OTCQB:INSV), (OTCQB:DROP)
New York, New York Nov 15, 2012 (comtex) www.thestockwatchalert.com has been keeping a "EYE" on the markets since 1999. Make sure you sign up now to get information on what's hot and what's not in the small cap market. If we aren't covering it, it's not worth writing about.
***
We are highlighting the filings of the following companies
***
(OTCQB:SVEN) Superior Venture Corp. recently bought and set up their domain name www.superiorventurecorp.com on 11-08-2012, and recently filed 8k has the following information:
The shareholders of all of the capital stock of IPL issued and outstanding immediately prior to the closing of the Acquisition, exchanged their shares into 60,000,000 shares of our common stock. As a result, the shareholders of IPL received 60,000,000 newly issued shares of our common stock.
>>Our board of directors was reconstituted to consist of Brian Hammond and Harry Sutherland who, prior to the Acquisition, were directors of IPL.

>>Immediately following the exchange of the above shares, Brian Hammond, our President, CEO and Director, agreed to cancel 175,000,000 shares of his common stock in exchange for a one year unsecured 10% promissory note for $20,000.00 (the "Cancellation") to reduce shares issued and outstanding.

>>As a result, immediately following the Acquisition and the Cancellation, there were 392,850,000 shares of our common stock issued and outstanding.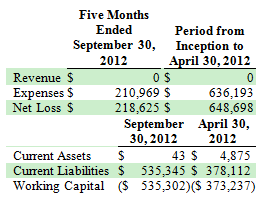 Read our
full report on SVEN here
.
(OTCQB:VCST) ViewCast.com, Inc., trading up today on recent news! And the recent filing is worth reading
(OTCQB:NILA) Nilam Resources Inc. a recent company filing showed

During fiscal 2012, the Company sold its Linderos 4, Linderos 5, Rocas and Rocas I mineral property interests to Portage Resources Inc. in return for 28,500,000 common shares of Portage Resources Inc. valued at $1,459,500. (OTCQB:POTG)
Get the latest hot information now, Subscribe by email for free today!
www.TheStockWatchalert.com
Disclosure: thestockwatchalert.com has been actively profiling small companies since 1999 bringing our readers timely and valuable market information first. Nothing in our reports or on our site should constitute a recommendation to buy or sell any stock. Investors should conduct their own due diligence and consult with a stock broker or investment adviser before making any investment decision. Safe Harbor Statement
Statements in this release that relate to future plans or projected results of filings. are "forward-looking statements" within the meaning of Section 27A of the Securities Act of 1933, as amended by the Private Securities Litigation Reform Act of 1995 (the "PSLRA"), and Section 21E of the Securities Exchange Act of 1934, as amended by the PSLRA, and all such statements fall under the "safe harbor" provisions of the PSLRA. Our actual results may vary materially from those described in any "forward-looking statement" due to, among other possible reasons, the realization of any one or more of the risk factors described in our annual or quarterly reports, or in any of our other filings with the Securities and Exchange Commission. Readers of this release are encouraged to study all of our filings with the Securities and Exchange Commission. Readers of this release are cautioned not to put undue reliance on forward-looking statements.
Contact:
Editor/ editor@stockwatchalert.net
Disclosure: I have no positions in any stocks mentioned, and no plans to initiate any positions within the next 72 hours.