This is a follow-up to my recent article on Seeking Alpha titled "Proven Stock Screens Earn 20%+ Annual Returns." In that article, I introduced several value-oriented, fundamental stock screens that have generated historical returns of 20% to 40% per year, all of which were constructed using tools available with a Zacks Premium Subscription.
The source for the screen definitions and total returns was a book titled Finding #1 Stocks, written by Kevin Matras, a vice president of Zacks Investment research. Matras was kind enough to permit me to explain the rules for several of these screens and to document their historical results in this article.
This article will describe another promising screening methodology from Zacks and will also document the results for eight highly successful stock screens available through AAII's Stock Investor Pro Service.
Zacks Industry Ranking
The Zacks Rank is not limited to just individual stocks. The Zacks Industry Ranking is the average Zacks Rank for all stocks in the industry. While this is a simple concept, it generates excellent results.
For the period 2000 through 2009, Matras calculated the total return for the stocks in the top 50% of Zacks industries and the total return for the stocks in the bottom 50% of Zacks industries (using weekly rebalancing). The top 50% earned a cumulative return of 266.9%, while the bottom half earned a cumulative return of only 73.7% (nearly a 4 to 1 advantage). What if you had invested in the top stocks (Zacks #1) in the top 50% of all industries? The cumulative return would have soared to 963.4%.
It would not be practical to purchase all of the Zacks #1 rank stocks in the top 50% of industries on a weekly basis, due to the large number of stocks meeting these criteria. However, that does not detract from the value of this type of screen.
Regularly screening for Zacks #1 rank stocks in the top 50% of all industries would be an efficient way to create high-quality working lists of 100 or more candidates for further research. The odds would be in your favor, even before you began applying your own technical and fundamental research process, which should allow you to generate even higher returns.
Other Screening Options
Zacks is not the only vender to offer screening tools. The American Association of Individual Investors (AAII) offers screening software with an extensive database. The product is called Stock Investor Pro (SI Pro) and is available for approximately $200 per year. Weekly updates are included in the subscription fee and are available via download.
Unfortunately, SI Pro does not have a backtesting feature, which is not surprising for software costing only $200 per year. However, AAII does report the historical results and the specific filtering criteria for 63 different stock screens that are available with SI Pro. The results are updated annually in the January issue of the AAII Journal.
As a result, you could review the historical performance of every screen and choose the screen that best meets your investment needs. You could even customize the screens or create your own, but you would not be able to determine how these changes would have affected the results.
Figure 1 below contains a select list of some of the top-performing SI Pro screens for the past ten years. The name of each screen is provided in addition to its category. You will notice that some of the screens are based on the investment philosophies of some well-known investment practitioners. AAII distilled these philosophies into objective rules and used those rules to scan for stocks.
All of the SI Pro returns assume monthly rebalancing. The 10-year compound annual return and the average number of holdings are also provided below for each screen. The selected screens all generated returns between 19% and 30% per year. For the same period, the S&P 500 index earned a return of only 0.90% per year. All of the data in Figure 1 below were from Wayne A. Thorp's article "2011 Year-End Screening Review: A Difficult Year for Stocks and Strategies" in the January 2012 issue of the AAII Journal. An updated list should be available in the January 2013 issue of the AAII Journal.
In Figure 1 below, I included one screen with poor performance to highlight the importance of earnings revisions. Stocks that had earnings revisions of -5% or worse earned a ten-year compound annual return of -4.3%. Stocks that had earnings revisions of +5% or better earned a ten-year compound annual return of 28.9%. The returns for these two SI Pro earnings screens adds additional support for the Zacks Rank, which is also based on earnings revisions.
(click to enlarge)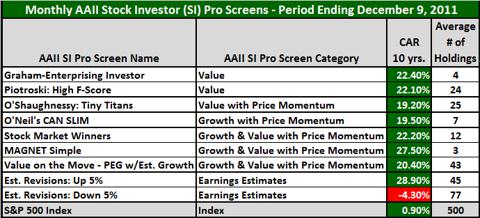 Click to enlarge
Figure 1: AAII SI Pro Study
Stock Screens in Practice
You could use one of the actual screens above, customize one of the above screens, or even create your own stock screen from scratch. However, please remember that any time you change the criteria for a screen, you could adversely affect the performance of the screen. The only way to know for sure is to run a new backtest with the new screening criteria. If you do not have access to Zacks Research Wizard (or a similar tool), please use caution when modifying the criteria of a proven stock screen.
If your chosen screen has a small number of holdings, it could be possible to allocate a portion of your capital to the strategy and purchase every security that passes the screen. If your screen has a large number of holdings, you could use the list to create a stock universe of high-performing stocks.
You could also combine the securities from several screens to create your stock universe. You would then need to use additional technical and/or fundamental criteria to identity the best candidates in your universe. You would not know the historical performance of such a strategy, but at least you would be working from a group of stocks that had outperformed the market in the past.
Finally, you could continue to use your existing strategies, but incorporate what you have learned from the return studies presented in this article. For example, here are a few exclusionary rules that you might consider adding to your stock-picking process:
Do not buy stocks that fall into any of the following categories:
Zacks #5 Rank
Bottom 20% of Zacks Industry Rankings
P/CF ratio above 30.0
P/E ratio above 40.0
P/S ratio above 4.0
P/B ratio above 4.0
PEG ratio above 3.0
Based on the results of the Zacks studies, securities with the above characteristics have historically lagged the market and should be avoided.
The screens presented in this article are only a small sample of the screens available through AAII's SI Pro or via Zacks Premium Service. In addition, Kevin Matras describes a number of other profitable screens in his book Finding #1 Stocks.
Knowing the specific characteristics of stocks that have historically outperformed (or underperformed) the market in the past will give you a significant security selection advantage in the future.
Disclosure: I have no positions in any stocks mentioned, and no plans to initiate any positions within the next 72 hours. I wrote this article myself, and it expresses my own opinions. I am not receiving compensation for it. I have no business relationship with any company whose stock is mentioned in this article.
Additional disclosure: Brian Johnson is a paying customer of Zacks. Trading Insights, LLC (the owner/operator of TraderEdge.Net) has an affiliate relationship with Zacks.