I wanted to point out a couple technicals I'm watching with Spectrum Brands $SPB.
6 months of higher lows.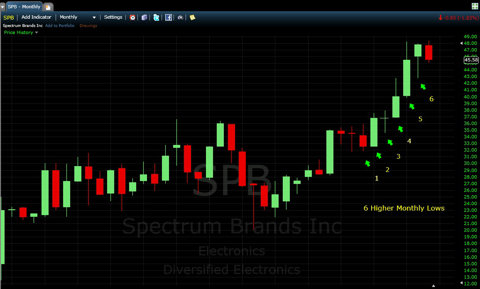 Last months low was 42.75. I think two things are going to happen when we take this out:
1). Its going to break this number and fall apart (Think MF Global)
2). Or more likely and how I really would like to play it; It breaks 42.75, holds around 20.80, then rallies back over 42.75 over a few days, then when it comes down and takes this number out a 2ndtime, that's the time really to put the shorts on.
42.75 is key and you very well could see it fail to get over this after its through; if this is the case watch for selling around that number after a small bounce. Then you look to press your shorts after it takes out the lowest point just before it rallied back up to here.
I hope this makes sense and feel free to contact me if you'd like a better explanation or have any comments.
Kind Regards,
Donald Shekels
Analyst for Hire