As an introduction and summary, my conclusion from part I (discussing Apple's strategy in the living room) was: Apple should not produce a TV set ("iTV"). The company can probably achieve
- a better user experience (Apple TV SDK for iOS developers, more content deals, "appification" of TV stations with personalized content and advertising, use iPad/iPhones as second screens)
- increased market share in the living room with improved Apple TV box revisions at low price points around $49-99 - hooked up to any "commodity" HD TV - without creating its own TV set.
A new Apple TV-enabled SDK for iOS developers (in addition to an SDK for content owners such as TV stations and film studios) will also open new markets for "casual gaming" in the living room through the Apple TV and iTunes/iCloud - it is estimated that half of today's iOS apps for Apple's mobile devices are games. These game developers could leverage their current work and have less barriers to entry than on traditional game consoles from Sony, Microsoft and Nintendo. Apple already conquered much of the mobile gaming market from established competitors Nintendo and Sony in a similar fashion - while not even marketing the iPod touch/iPhone/iPad specifically as a gaming device.
Let's now turn to the second category B.: "Wearables"
B. Wearable computing devices (for example a smartwatch)
I had argued in part I of this article that there's a stark distinction between the two categories A. (iTV) and B. (Wearables) in terms of market potential for AAPL. I have argued that Apple has much to lose in category A. (with an iTV set) - but much to gain in category B.
Wearable devices are a less concrete proposition than a TV set. There could many possible device form factors and products, for example
- Smart Glasses (for example, Google Glass)
- Smart Wristwatches (aka "iWatch", I will also use this term below)
I will focus on wristwatch devices because early smart glasses look quite "nerdy" at the moment (see Google Glass) - this is of course just speculation on my part given Apple's past products and design focus.
Existing smartwatches on sale include these two devices for example:
(click to enlarge)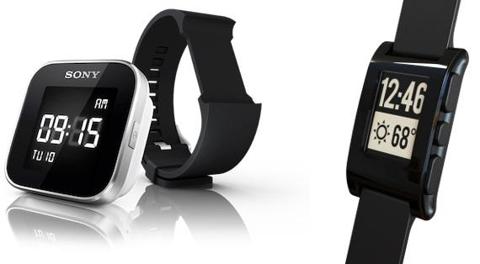 Click to enlarge
(Image Source: Macrumors)
On the left one can see a smartwatch from Sony, on the right a device from Pebble. Both offer wireless connections to other devices (most likely your smartphone) to display data, alerts and other information.
Iterations of iWatches from Apple could do much more using a slightly larger, color screen and an adapted iOS SDK - in part thanks to iCloud integration and the huge pool of existing iOS developers. The base functionality provided by Apple in the OS could include these features:
- Mobile payments (All sort of payments, specially for small amounts by just "waving your wand", coupon redemptions)
- Mobile ID / Access (Exchanging business cards, "Apple Passbook 2.0" for ticket codes, Access controls *...)
- Mobile self-checks (Health alerts, Sleep Monitor, Fitness monitors with existing partners such as Nike+)
- Device Control (Simple Automation at home for lights, TV - or inside your car)
- Digital Assistant (using an improved version of Siri and an adapted iOS notification center showing alerts, news, iMessages...)
* Bruce Tognazzini came up with another great use case on his blog - fast access control in the digital world (I did not even think of that):
Your iWatch vouches for you, so you'll never have to type another passcode or password again.
These combined possibilities may sound like a checklist stolen from a Dick Tracy comic book - but so were high-resolution, multi-touch portable devices with over 10 hours of battery life a few years ago before the iPad (and later the Retina iPad) launched.
The technology puzzle needed for iWatch devices is likely solved soon - probably around 2014-2015. The biggest obstacles are probably better battery life and flexible high-res color screens for these smartwatches.
For example, Disney (NYSE:DIS) - with obviously lots of existing relations to Apple (NASDAQ:AAPL) but I do not want to read too much into this, it could very well be a mere coincidence - is introducing colored wristbands at its theme parks later in 2013:
(click to enlarge)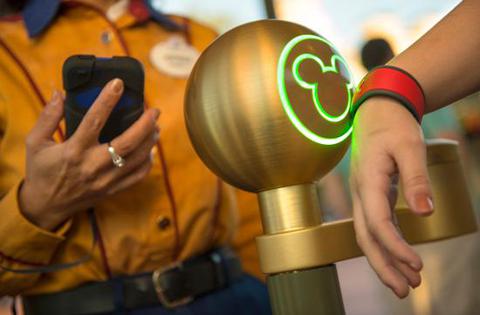 Click to enlarge
(Image Source: Mousehints )
Some of the possibilities and functionalities of these wristbands (called "Magic Bands") being tested at Disney theme parks include:
The wrist band will allow guests to purchase food, souvenirs, enter the park and use the Fastpass system. Disney is also looking to allow participating guests to have better views of parades, fireworks and other activities. There is no question that initially, as many guests are apprehensive, guests using this technology will probably gain many benefits. ( Sources: Mousehints, AppleInsider )
This example may give a glimpse how a more powerful iOS (or a derivative of iOS optimized for iWatch) based Apple wristwatch device might work in the future. I will list five reasons (as I did for category A.) why Apple could have much to gain when introducing such a device:
1. The iWatch category can replace/extend the declining "music only" iPod line-up. Apple already took baby steps into iWatch territory with a previous version of the iPod Nano (Nano 6th generation device). It could be used as a wristwatch. With a full iWatch product line, the old "single-purpose" iPod line (basically useful for audio or video playback only, except for the new iPod touch) can be expanded beyond music - replacing the aging iPod product category and its falling revenue streams over time. The new iWatch will be an iPod Nano on steroids.
2. Wearable items often are "Veblen" goods: High margins are accepted, Apple's strong brand is ideally suited for this segment. A wearable or highly visible, emotional product is often used to demonstrate social status. For example, there is obviously no "traditional" use case (keeping time) for traditional mechanical watches costing thousands of (insert your currency here) in the 21st century - nor is there for luxury high-end sports cars given today's speed limits, but people continue to buy these products. Apple is better suited at marketing such "Veblen" goods with higher margins than most of its competitors thanks to its brand halo and positioning. For example, Apple could just produce the central part of the "watch" while third-party accessory makers would produce the wristbands or other additions. A similar concept was used for the older iPod Nano version mentioned above:
(click to enlarge)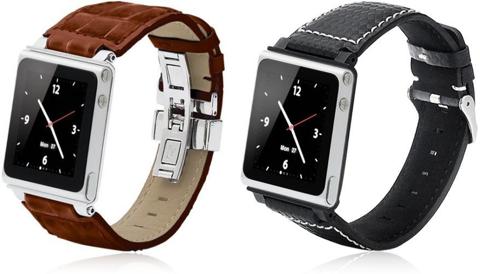 Click to enlarge
(Image Source: The Gadgeteer )
High-end (or even luxury) accessories by traditional accessory good makers result in mutual benefit for both Apple and the accessory maker. Traditional luxury companies already produce(d) cases for current iDevices - often costing more than the Apple device itself. This combination could also result in serious competition to some of the mid-market watch makers who are not capable of producing/replicating the technology part of the smartwatch equation themselves.
3. The "new" competitors in smartwatches are fragmented. The "new" entrants producing smart watches so far consists of smaller companies (namely i'mwatch from Italy and the Kickstarter-funded Pebble Smartwatch shown above - the only exception is Sony, but the company does not appear to put much effort into marketing its first smartwatch). The market is ripe for Apple to crack; one can compare it to the nascent MP3 player market in 2001 - just before Apple introduced its first iPod.
4. The "established" Apple competitors went into a different (the wrong ?) "nerdy" direction. The best example of this different direction is the one Google took with Google Glass. Glass may well be a technological marvel from a "nerdy" perspective when it arrives in 2014 in finalized form, but many people will have (at least at first, it's hard to make predictions for such disruptive technologies) reservations talking to or interacting with people wearing Google Glass (especially with strangers). The disparaging term "Glasshole" is already making the rounds - even though Google Glass is only available in prototype form as of today. In contrast, an iWatch is less intrusive in social interactions - and might not even include a camera.
5. The timing is right/market is ripe for an iWatch introduction in 2014-2016. There are a lot of technology pieces converging in the near future: More powerful batteries, flexible low-energy screens, NFC (or a derivative of Airdrop) and 2D-barcode payment/coupon systems and access control systems, a low-power Bluetooth protocol, an improved Siri assistant. Finally, the critical mass of iOS devices is already out there: An iWatch can provide yet another lock-in to the Apple ecosystem in combination with iPads and especially iPhones - since each iWatch is of course wirelessly linked to the users' existing iDevices (and thus also to the iCloud from Apple).
Conclusion: It could be argued the choice between the living room and wearable computing is not an "either-or" decision given Apple's large resources; Apple could of course introduce both an iTV and an iWatch in the near future. In this scenario, I think the iTV device will probably launch before a wearable computing device due to the technology restrictions outlined in reason 5. above.
It can't be understated how much recurring revenue there is in the potential feature list for an iWatch, especially in mobile payments. On the other hand, the living room looks crowded with low gross margins.
I therefore think category B. (smartwatch such as an iWatch, or more general "wearables") offers higher potential for Apple (given the five reasons listed above) in terms of gross margins, the overall market size and recurring revenue. Finally, AAPL can more likely get an early lead in "wearables" - similar to what they achieved in the digital music market with the iPod - compared to the crowded competition in the living room.
Finally, recent reports from financial media (like this one on Bloomberg from February 2013) also seem to indicate Apple is serious about the wearable space: "Apple Said to Have Team Developing Wristwatch Computer". Analysts with a good track record (such as Mr. Kuo) also think an iWatch might be coming in late 2014, see here for details. My take is we will see this move within 12-36 months.