Following up to my previous entry on noted investor warnings about the current state of US stock market (namely messieurs Hussman and Klarman) I will keep this one short.
Below is the issuance of loans to companies with mediocre credit status (left scale) and the S&P 500 (right scale):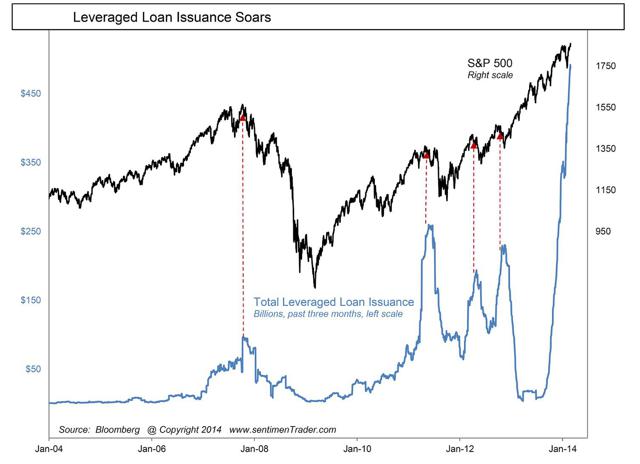 This is a chart to make even hardened bubble-heads dizzy. It is especially noteworthy how the current surge compares to the surge in 2007, shortly before the last bubble peaked. Nothing remotely comparable has ever been seen before. It is a mirror image of record junk bond issuance and the mania for high yielding debt in general (whereby 'high yielding' these days actually means 'not yielding very much').

Source: www.acting-man.com/?p=29222
Leveraged loans of course carry a higher probability risk of default and are often required to be secured with assets of the company or individual taking out such loans.
That being said and keeping my previous blog entries in mind: Never use a single indicator or chart such as the above to make decisions.
But in my opinion the evidence is rising that many Western stock markets may be near a top in the coming months (2014 to 2015) or are already there.
PS: Leveraged loans are not a lone indicator. There are other indicators I discussed before, as a summary:
Margin Debt Rising (highs back in the year 2000, then in 2007 and now again in 2014*)
Number of IPOs with no Positive Net Income or even EBITDA Rising
Variable and Bonus Pay on Wall Street Rising (again, 2008 bailouts and public mea culpas quickly forgotten)
Bullish Sentiment Rising (even after negative news such as international conflicts or huge credit challenges in China...)
Mini Bubbles and Bubbles in various sectors Rising (especially Alt Energy, Internet/Social Media...)
And I didn't even get started about the FED and money printing since 2008. Let me finish off with a classic chart to include that part of the equation: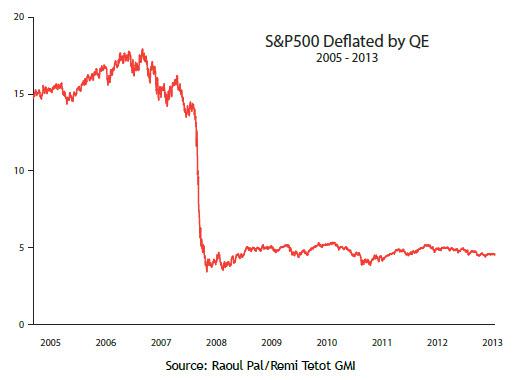 (Source: www.zerohedge.com/news/2013-12-10/things... )
This isn't Hollywood. We are all Truman Burbanks in this economy.
______
* See a chart here: www.advisorperspectives.com/dshort/updat...