Let's assume for a moment that the deal between Apple and Beats is on:
"Apple is said to be close to completing an acquisition of Beats Electronics, the headphone company and streaming music service created by Dr. Dre and Jimmy Iovine. According to the Financial Times, the deal could be announced as soon as next week if negotiations work out. "
One important note to start with: Beats (according to Wikipedia ) just employs over 300 people, so there shouldn't be a major culture or integration shock involved. The deal (while unusally large for Apple's historic standards, Apple CEO Cook alluded to bigger deals recently*) is very different than GOOG buying Motorola or MSFT buying Nokia's phone division with thousands of employees joining the merged company and overlapping executive roles that need to be resolved on a unified org chart.
There are three important take-aways I would like to discuss:
1. Monetization and ROI Potential For Apple
Apple is not wasting its huge money stash all of sudden: $3.2 billion is not that much when digging into details.
Beats is not another Nest (Nest was bought by GOOG when revenue/market category and global expansion for Nest was still de minimis) or WhatsApp. Beats Electronics (the Beats hardware divison) is generating a lot of revenue already, the following report is from August 2013:
"Beats Electronics on track for $1.4 billion revenue this year - report" - http://bit.ly/1m656pL
Apple will have noticed its rapid ascent because they sell Beats headphones in their stores (both online and Apple Retail stores).
As for the lack of audio quality some audiophiles argue over? Some people even argue Beats and its oversized headphones are a passing fad:
Reviewers Agree: Beats Headphones Are Overpriced And Not That Great
Some Headphones Amplify Celebrities Over Sound
Usually fads don't last for 5+ years with rising revenue, but there are certainly risks. Larger, high-end headphones could lose market share once again to smaller and less flashy designs.
In addition, Apple could certainly improve the sound quality or simply ditch the lower-end Beats model lines starting around $100 - the higher-end Beats models sold at $250-$450 usually get better reviews.**
In any case, Beats enjoys very high margins on their hardware (see the NY Times linked above for numbers) - an important plus they share with Apple's existing hardware line-up.
2. Beats is more than just Beats Electronics
In addition to hardware, Beats worked on services like automated (algorithm playlists) and human curation (DJ playlists) when suggesting/streaming music.
Beats Music (formerly known as project "Daisy") especially puts a focus on the human side:
Beats boss: Daisy streaming library will rival Spotify - Algorithms haven't nailed it
Apple could also use the music content and streaming/licensing parts of Beats - but there's an important caveat: Most likely these contracts have to be re-negotiated if Beats is acquired by AAPL or another third-party (this remains an important open question when the deal closes).
Apple would get another streaming service/solution against Spotify, Pandora and other competitors nibbling at iTunes' music revenue.
At $3.2 billion, Beats is much cheaper than Pandora and Spotify (arguably also with fewer subscribers, Beats' renewed MOG service just got started in 2014. Pandora, Rdio, Spotify and others have a multi-year headstart in this area over Beats and iTunes Radio).
Within Beats, Apple would also get the smaller Topspin unit recently acquired by Beats:
Topspin's earliest and most lasting mission has been to help artists make a living by connecting them with their fans and helping them make money. (...) As the era of streaming matures, new ways to connect artists and fans will evolve inside these services, and Beats Music now has a proven platform and team in Topspin's ArtistLink to lead the industry in empowering artists in their service.
Topspin (if executed right) could be a re-launched effort replacing the failed former "Ping" music service from Apple.
In conjunction with Apple's Siri, these services could become quite powerful (think concert tickets, mood/location-based music algos and artist merchandise...)
3. Beats is a very powerful brand with young people and could be used as a segway into future Wearables
I already mentioned Beats rising revenues - from zero back in 2008 when Beats started out to well over $1 billion in 2013. Beyond revenue numbers, Beats has considerable branding power and fashion "klout" with younger and culturally diverse buyer segments.
With long-term potential for "head hardware" - see for example the recent "Glyph" project on Kickstarter...
It only took four hours for the Glyph, a head-mounted "personal theater" from Avegant, to reach its $250,000 funding goal on Kickstarter.

Unlike the Oculus Rift's focus on virtual reality, or Google Glass which forces a heads-up display into every facet of life, the Glyph is a media-centric device. For now, it offers a nice pair of high-end headphones with a headband that can transform into an immersive display.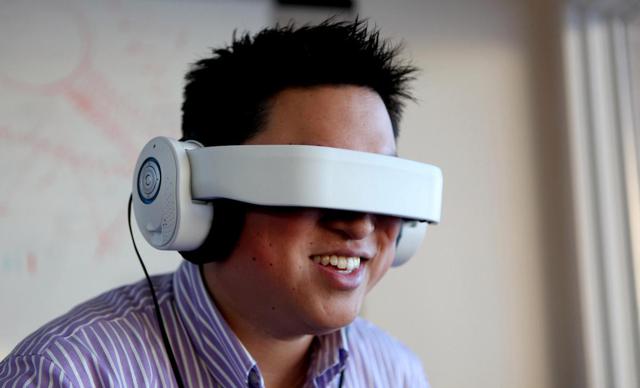 (please follow the techcrunch link to see how the Glyph works)
...the Beats acquisition could provide another entry into the wearables segment for Apple long-term.
Finally, let's turn back time on another Apple music deal that made no sense at first (1999) for many outside observers and analysts:
Remember that it made no sense for Apple to buy SoundJam MP, an MP3 player and media sync system, in 1999. The company made a basic desktop music player and was relatively unknown in the market. In fact, in 1999 it wasn't even certain that the MP3 would take off. Napster launched in June 1999 and died soon after. Why, then, would Apple want an arguably small-fry MP3 player app?

On January 1, 2001, SoundJam MP turned into iTunes 1.0.

In 2013, Beats owned 64% of the high-price headphone market.

(...)
For example, the Beats brand could allow Apple to offer/label its services on other platforms (Android, Windows Phone; Beats already has clients for these platforms) without diluting the Apple brand or confusing consumers.
Let's wait and see how the Beats deal plays out. I will give Apple management the benefit of the doubt given their track record.
On the other hand, a deal should also not the overrated: Assuming Beats could reach 2-3 billion in hardware revenue under Apple's wings, that's still just a little over 1% of Apple's total revenue (assuming AAPL is on track to generate about 200 billion in revenue/year, which looks likely to me given the larger iPhone 6 phone models presumably coming later in 2014).
PS: Funnily enough, a Beats takeover by Apple was a music insider newsletter's April Fool's joke only a few weeks ago. Yesterday's news must have caught quite a few AAPL analysts and music industry observers off-guard...
lefsetz.com/wordpress/index.php/archives.../
_______
* Apple CEO Tim Cook's quote in the WSJ back in February 2014:
" We have no problem spending ten figures for the right company that's the right and that's in the best interest of Apple in the long-term. None. Zero."
blogs.wsj.com/digits/2014/02/07/apple-st.../
** I agree that other high-end headphone brands like AKG, Grado, Shure or Sennheiser perform better on average - but the high-end Beats models are not that bad, at least not as bad as some people pretend them to be.
Beats headphones are mainly intended for younger people more into bass-heavy music, they are less suited for classical and jazz etc.
Apple is not famous for the quality of its own bundled headphones and earphones, there is room to improve sound quality for both brands. In any case, Beats would not be a step backwards from Apple's existing earphones.
*** Below is a compilation of US marketshare for higher-end headphones: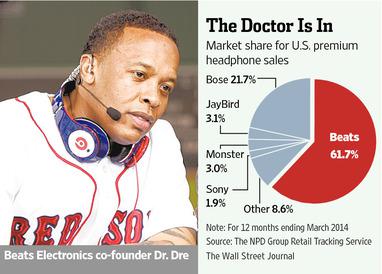 Source: online.wsj.com/news/articles/SB100014240...
Disclosure: I am long AAPL.