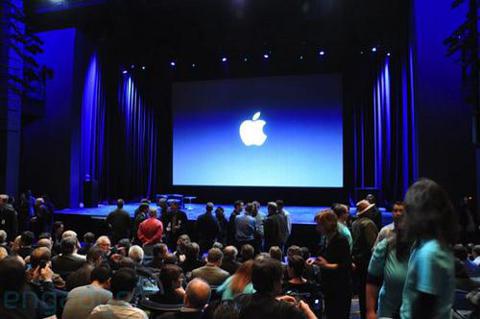 Today is the big day for Apple fans. The long awaited iPhone 5 (and possibly some more goodies) will be announced today.
So should investors be excited? Or is the news already priced into the market? (via Flickr/cattias.photos)
Apple's Historical Price Performance:
Taking a look back, shares of Apple have not disappointed long-term traders. However, those looking for a quick bounce may not like what they see: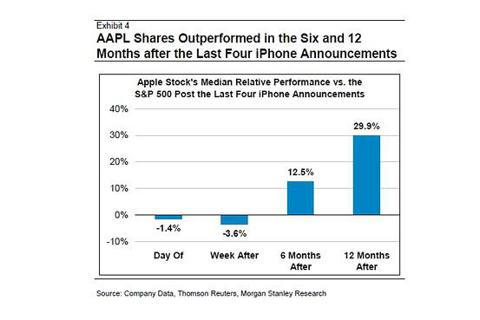 Morgan Stanley's Katy Huberty is optimistic shares will do even better now than historical performances suggest:
"While 1%-4% of underperformance in the week post announcement is typical, we believe the significant changes to iPhone 5 and lukewarm reaction to competitors' recent product launches could result in better performance,"
(note: I'm not sure Samsung's record sales of its Galaxy SIII phone would be called "lukewarm")
Ben Reitzes of Barclays Capital also gave some detail on the subject:
Historically, Apple's stock performance has on average performed in line with the S&P 500 in the three-months following an iPhone announcement but significantly outperformed over the six-months following an announcement. Conventional wisdom seems to say that Apple should 'sell off' out of the iPhone launch event slated for this Wednesday - and in fact, that sell-off may have already begun. But we believe these 'trades' are hard to time and we can't recall a time when an important launch like the iPad mini followed a major iPhone launch so closely.

We note that Apple's average six-month return following an iPhone announcement is 18 percent compared to 6.4 percent for the S&P 500. Typically iPhones are launched into very high expectations but most features seem to be predicted before the event, thus creating a 'sell-off' when the product merely meets expectations. Later on - after about three months - we have found iPhone sales typically beat expectations and Apple's shares benefit…Therefore, we are not surprised to see the six-month return so greatly outpace the three-month return following an iPhone announcement.

As a result, playing Apple for a big iPhone 'sell-off' has proven to be a risky bet over more than a few months or weeks.
Apple Shares at $1,111?
Anybody Remember Qualcomm?
I love Apple products, but the rise in its stock price is starting to remind me a bit of Qualcomm via 1999:
"Shares of Qualcomm jumped significantly today after an analyst initiated coverage of the wireless technology firm with a 12-month price target of $1,000 per share.

High-flying shares of Qualcomm jumped more than 30 percent after PaineWebber equities analyst Walter Piecyk started coverage of the firm with a "buy" rating and the lofty target price. Qualcomm has been the best performer on the S&P 500 this year.

Qualcomm shares gained 156 to close at 659, a new 52-week high. Shares have traded as low as 25.31 in the past year.

The company has ridden a wave of interest in wireless technology, as the medium expands to incorporate transmission of Internet data along with more typical voice.

Piecyk, in a research report, said Qualcomm represents an "appropriate way" to invest in the growth of wireless voice and data.

Qualcomm is the primary proponent of CDMA technology, or code division multiple access. Piecyk predicts the technology will be in 85 percent of wireless phones by the end of the next decade, up from 18 percent today."
Qualcomm has yet to trade back near its 1999 high: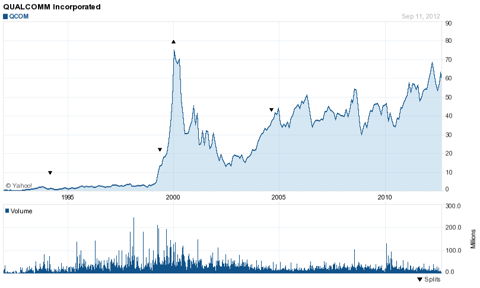 QCOM Price history adjusted for splits
Disclosure: I have no positions in any stocks mentioned, and no plans to initiate any positions within the next 72 hours.