It's déjà vu all over again for Marc Andreessen.
On (or around) May 17 (or June 17, depending on your sources), Facebook (NASDAQ:FB) will go public.
The IPO will likely juice the animal spirits of the retail investor like no name since Netscape in the summer of 1995.
Seventeen years ago, the American public was still a bit gun-shy of equities. 1987's October crash, fallow employment figures, and a winnowing recession a few years earlier had kept people out of speculative investments. But the magic of the browser and "this thing they call the World Wide Web" had quickened the pulse and fired up the public's then dormant imagination. The purse strings were loosened.
On August 9, 1995, Netscape Communications went public at a price of $28. The stock climbed to $74 that first day and would ultimately end the day at $58, thirty bucks above its opening price.
Andreessen was there, presiding over his baby, the company that brought us the Mosaic browser. Despite the ignominy of later seeing Microsoft's (NASDAQ:MSFT) weedy Explorer despoil his product's rightful destiny, he did fairly well for himself. Netscape hit a split-adjusted all time high of $174 four months later. It later disappeared into AOL (NYSE:AOL).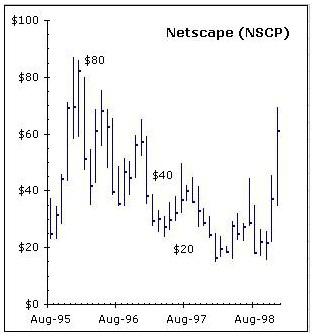 As an early investor of Facebook, Marc will be sitting in the box seats again. Expect the stock to gap up the way Netscape did. The average American's intimate proximity to this product, the amped coverage of Social Media / Web 2.0 in general, as well as IPO's unique May Day moment in the "2012 Recovery" all make for a ferocious cocktail. Retail stockownership is presently back to 1998 levels after a brutal decade of market volatility shook out an entire generation. The Pre-Netscape era had a similar "licking of the wounds" quietude.
A year from now, will the first year of Facebook as a public stock trace out a similar pattern as Netscape's (see above)? Let's wait and see. FB's robust activity in the private capital markets will have probably altered how the selling will occur in the post-lockup period.
And unlike "one-product" Netspace, Facebook arrives public as a broad and staggeringly robust platform, its network effect making it impervious to free "give-aways." As I mentioned in a private report last week, it's deep and wide. It's deeply embedded into people's lives (15% of their online time, in fact) and now widely international, with impressive leadership gains in Brazil, Indonesia, and even Cyworld's own South Korea in just the past six months.
The FB IPO will be another "rendezvous with tech history" for Andreessen. And we wish him more to come. The same guy that gave "baby internet" its motor skills in the form of a visual, graphical, spatial-izing browser will now see the brooding, "deeply social" teenager finally head out to college. Macbook and Harvard hoodie optional. . . .