Staples and other conservative, higher-yielding stocks have outperformed the broader market since May. The chart below shows the S&P500 as the horizontal black line, with Staples (orange) and discretionaries (purple) either outperforming or underperforming the S&P500 (depending on whether the orange or purple line is above or below the black S&P500 line).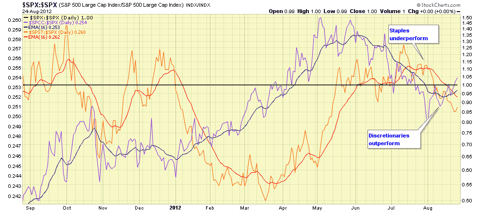 Discretionaries peaked in April and have underperformed vs. Staples until recently. Staples peaked in mid-July. In mid-August, we have seen discretionaries bounce above their moving average as staples did the opposite, possibly hearkening a revisit to the risk-on trade. Our take is that the run-up in conservative risk-averse stocks has gone a bit too far. Better values can be found in more cyclical stocks, while dividend-paying stocks have become rather frothy. Not only is this an indication of reallocation into the riskier sector, but it represents potentially more fuel for the continuation of the uptrend.
Indicators such as discretionary and staples relative performance are used weekly in our Baseline Analytics TrendFlex indicator. Click here to learn how you can stay on the right side of the market trend.