This past October, the Dow reached a new high but the Transportation index lagged, as seen on the chart below. This raised suspicions that the uptrend in the Dow (and S&P 500 for that matter), was on soft footing. Dow Theory looks for consistency in technical patterns between the Dow and the Transportation Index.
When the indices diverge, for example, a vote of non-confidence is given to the Dow trend. When they agree, especially as they stair-step higher, a vote of confidence in the uptrend is affirmed.
In December, the Transportation Index broke out of a consolidating pattern and has head toward a new high. The Dow reached a high in September/October as the chart below shows, and is beginning to challenge that high in January.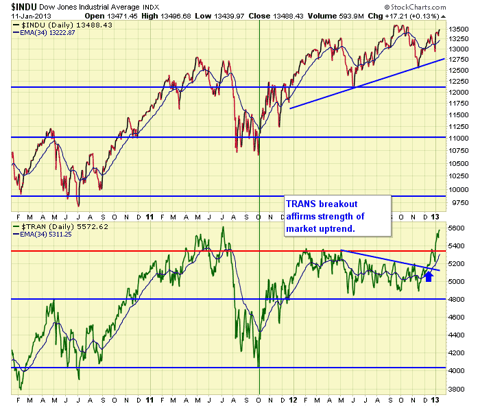 For a primary trend buy or sell signal to be valid, both the Industrial Average and the Transportation Index must confirm each other. If one average records a new high or new low, then the other must soon follow for a Dow Theory signal to be considered valid. See below a depiction of Dow Theory signals from StockCharts.com.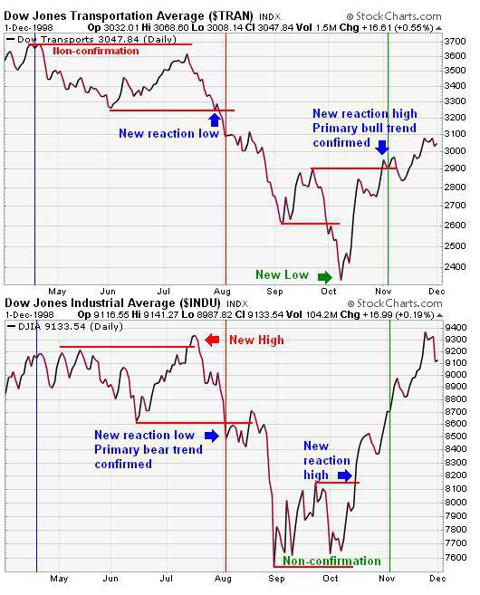 There are some criticism of Dow Theory, such as the fact that the Transportation Index and the Dow Industrials today are comprised of quite different components than the original industrials and railroad stocks. Dow Theory, however, should be used as a part of the market technician's toolkit.
At Baseline Analytics TrendFlex, several indicators like this are scored to determine the risk to the current trend. Learn more about our indicators and subscribe to our weekly signal updates at Baseline Analytics.
- Baseline Analytics