While the S&P 500 has corrected 4% from its early August high, the Nasdaq has declined about half as much, finding support at a gap up formed in early July. This underlying strength helps support the case that we are seeing a modest pullback in an intermediate-term uptrend. See the chart below: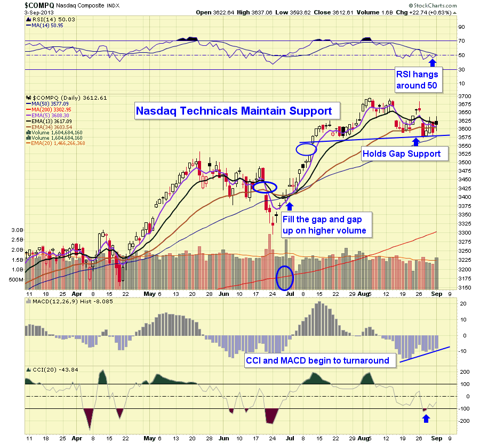 Today's 23-point gain was accompanied with higher volume (likely due in part to the Microsoft/Nokia news). Nonetheless, CCI and MACD, both of which reached intermediate-term lows in June, have both made higher lows ( a bullish sign) since the sell-off in June.
While we are not yet ready to turn bullish during this modest market setback, strength such as that expressed by the Nasdaq is a reason to start building our potential buy list for a resumption of the uptrend.
Visit Baseline Analytics TrendFlex for the latest market trend signals and risk assessment of the current stock market trend.
- Baseline Analytics