The Nasdaq index has outperformed the S&P 500 since May 2013. It weathered the recent market setback with an orderly decline, then stretched to a new intermediate-term high. Key technical indicators associated with the Nasdaq, however, are flashing warning signs. See the chart below: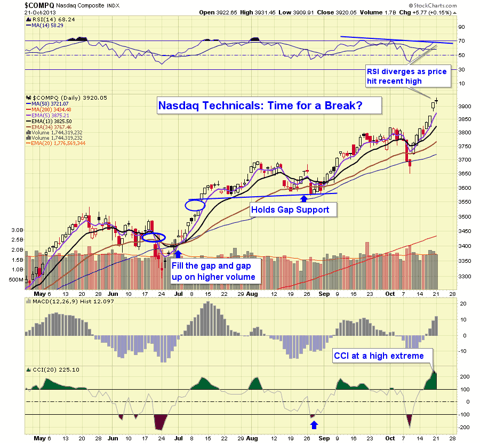 The Nasdaq Relative Strength Index (RSI) has held a strongly bullish trend (troughs barely breaking 40), but has recently diverged from the price index, as RSI has struggled to move higher as price has headed north. This is a sign of waning momentum and potentially inviting a possible trading range or modest pullback on the index.
CCI has also hit a rare peak of 225, clearly an overbought measure. Market technicians have learned that an overbought market can be overbought for quite a while. If this lesson holds true for today's Nasdaq, further gains are possible. As a money management strategy, however, setting trailing stops (or protective stops representing a modest loss to long holdings) is a prudent tactic to protect gains and preserve capital, especially as complacency returns to equities.
At Baseline Analytics, complacency measures, as components of our TrendFlex Score, have recently approached extremes that in the past have proceeded market setbacks.
All the best to your trading and investing,
Baseline Analytics