The S&P 500 climbed 0.9% this week to an all-time high. In retrospect, when indices hit a new high, Murphy's Law seems to kick in and toss in a market correction when we least expect it. There is no doubt this rally has legs and looks like a "storybook" uptrend (a steady climb with occasional, orderly pullbacks). See the chart below: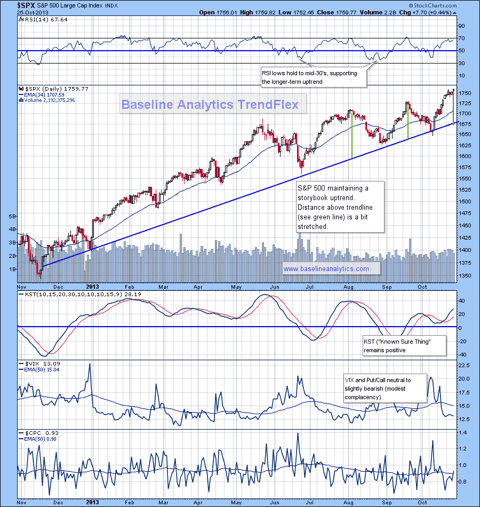 Although we are not big fans of wave theory, we can't help but to notice the gaps at recent market peaks vs. trendline support as seen by the green lines in the chart above. Other metrics we follow (KST, RSI) are firmly bullish. Sentiment is a bit complacent (more complacency tends to suggest an overbought market) as noted by VIX and the CBOE Put/Call ratio, but is not at a complacency extreme.
We have written here in the past about the Summation Index, a momentum indicator and part of the TrendFlex Score, which recently marched into bullish territory. The chart below includes the summation index as well as market breadth (advances vs. declines, new highs vs. new lows), all with positive readings.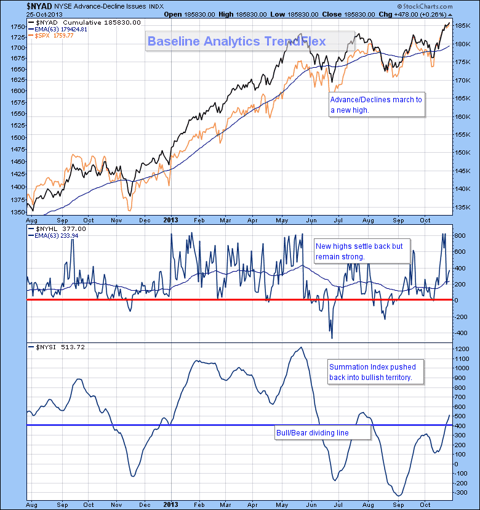 When the daily charts depict a trend as strong as this one, it behooves us to look at weekly and even monthly charts. Below is the monthly chart of the S&P 500. Note the breakout above long-term resistance to a new high. One could argue that a new secular bull trend has begun, and we suspect there are market technicians drawing monthly price targets based on Fibonacci projections.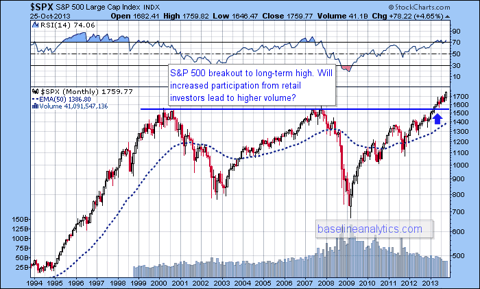 Considering this breakout, we may indeed be in store for a long-term rise (with its normal pullbacks). Volume has clearly been in a downtrend. Part of this is due to fewer shares (buybacks, companies going private). But it could also suggest lack of widespread participation of retail investors (especially those burned in the 2008-2009 market rout). If so, as retail investors join in, look for more gains and a reinforcement of the bullish trend.
Click here to learn about our Halloween free trial special!
Best to your trading and investing!
Baseline analytics