Each week, Baseline Analytics follows key charts and technical indicators to obtain a read on the direction of the markets, especially the various intermarket sectors (bonds, commodities, stocks) as well as macro-economic developments.
Several charts are affirming signs of a pickup in economic growth as well as potential signs of inflation. The first chart is the CRB index basket of commodities. It has been no secret that commodities have strengthened this year, with Natural Gas, Coffee, precious metals and others (have your checked out DBA lately?).
(click to enlarge)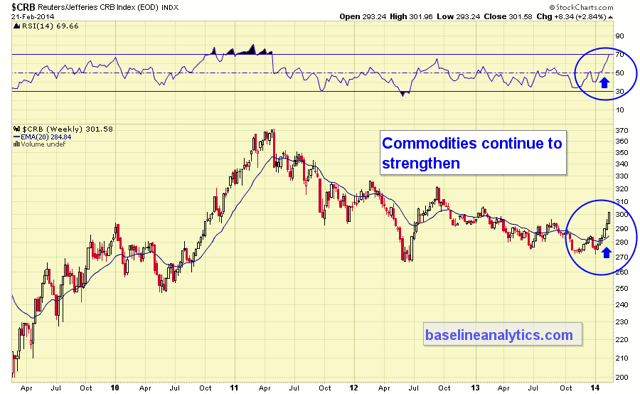 Click to enlarge
Our next chart depicts the relative performance of the Financial ETF (NYSEARCA:XLF) compared to the S&P 500. Financials have been underperforming the S&P 500 since mid-January. Anticipation of rising interest rates (consistent with the pickup in commodities and potential inflation) could be driving this underperformance. Financials and Technology have been viewed as necessary sectors to support a bull market. Although financials are not showing leadership, technology is showing decent relative strength.
(click to enlarge)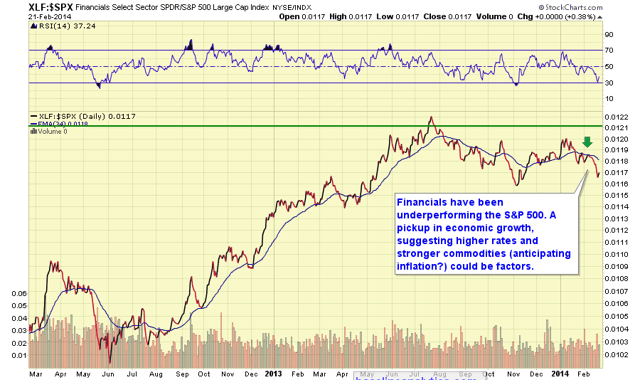 Click to enlarge
The chart below depicts the Nasdaq market, which broke its 2014 high this week. Nasdaq leadership is a bullish indicator, and we would look for other indices to likewise reach new highs. See the chart below:
(click to enlarge)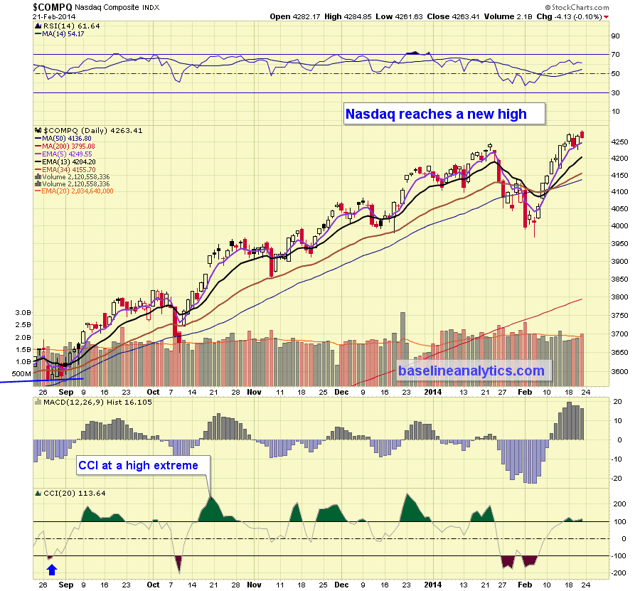 Click to enlarge
Finally, one of our favorite charts is the relationship between Staples and Discretionary stocks, as shown by a comparison of SPCC (discretionaries) and SPST (staples). Outperformance in discretionary stocks is a harbinger of economic growth and consumer confidence. Sure enough, discretionaries (purple line on chart below) recently printed a higher low relative to the S&P 500, and have outperformed staples, since early February.
(click to enlarge)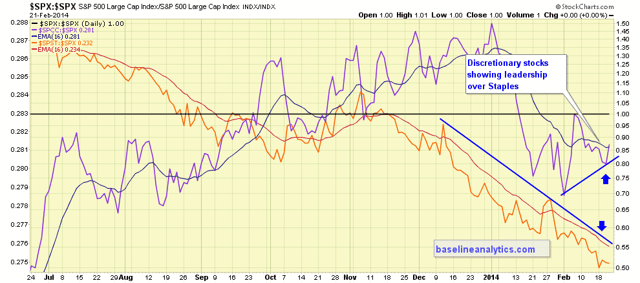 Click to enlarge
These sector indices suggest that investors would be rewarded to favor growth and inflation-driven opportunities, and lighten up on interest-sensitive sectors (financials, bonds) as well as defensives (staples).
Baseline Analytics market tour follows intermarket activity each week, and utilizes several indicators as part of its TrendFlex Score system. ETF Zone (for subscribers) selects timely sector ETF's consistent with economic signals and intermarket relationships. Subscribe to our TrendFlex market trend signals, ETF Zone and StockStash, for timely trading and investment selections.