Several Market Technicians have been rather vociferous of late in characterizing the chart action as a gradual topping pattern in the equity indices. Clearly, the NASDAQ index is in worse technical shape than that depicted in the S&P 500 chart below. It feels like tough going for the S&P 500 until it can break out of the 1890-1895 range to a new high. A pickup in volume on the upside would be further encouraging.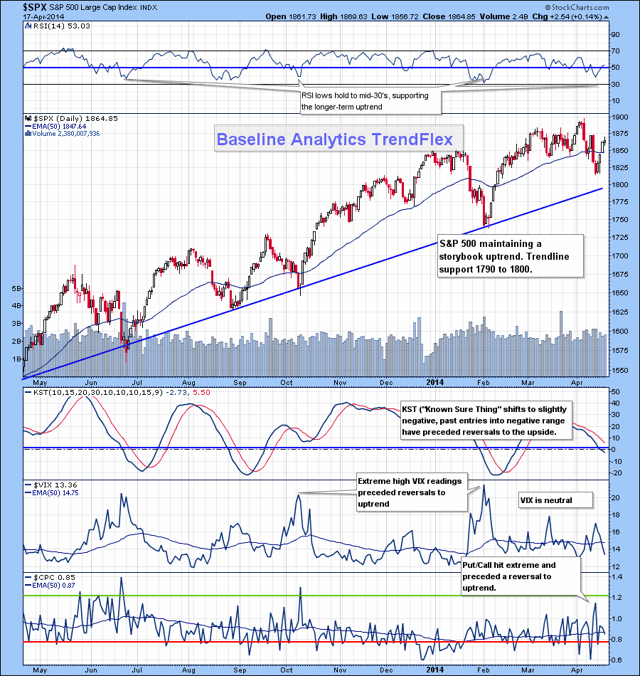 A positive sign after reviewing all of the setbacks during the last year, has been the ability of the Relative Strength Line (RSI, at the top portion of the chart) to maintain support at the low end near 30. This has historically been a signal of a strong uptrend in that the RSI has repeatedly failed to sink to lower levels that would denote a more serious setback.
The middle of the chart shows Martin Pring's KST (which stands for "Known Sure Thing"), another technical tool in Baseline Analytics' arsenal. During uptrends, when KST crosses below zero, that point typically coincides with a short-term low. Note the several instances when KST crossed below the zero line over the last eleven months depicted in the chart. Those points represented buying opportunities. A trader would have generally profited by going short when the blue (faster) KST line crossed below the slower red KST line.
As for measures of market sentiment, Baseline Analytics favors VIX and the Put/Call Ratio, tracking those indicators relative to historic extreme points as well as their moving averages. VIX has entered a neutral stage (neither suggesting complacency nor worry), and the Put/Call Ratio also has settled back from a near-extreme reading approaching 1.2 at the height of the early-April swoon in the market.
So what's our take? Clearly the market is resilient. It wants to maintain its uptrend but it faces occasional headwinds that encourage dumping of momentum plays and calls for a deeper correction. Add to that the mid-term election year fear and exasperation that the bull market is five years old (old age for such a trend) and you have a solid dose of fear and caution, just what we need to push the market higher.
This is the time for sensible portfolio allocation. A mix of large cap, dividend-paying stocks, a prudent partial allocation to bonds, some emerging market ETF's and perhaps a little small-cap spice, as well as a cash reserve for future buying opportunities, would be a reasonable approach to this fickle market.
Baseline Analytics TrendFlex market signal use several indicators (including those in the chart above) to help investors stay on the right side of the market. Visit our website for more information.