Much has been painfully noticed in the correction of momentum stocks, many of which find their home in the small cap indices and ETF's such as IWM. As market technicians talk about the decline in small cap stocks as a divergence in the broader market as the S&P 500 and Dow dance around new highs, certain indicators as well as a review of historic performance are simply suggesting a normal pullback that appears to be just about over.
The chart below shows the Dow Jones US Small Cap Index (DJUSS) and its performance relative to the S&P 500 (SPX).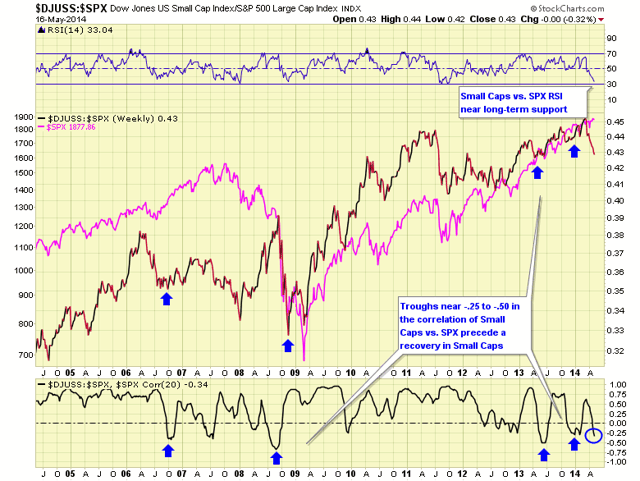 A few interesting observations to note. At the bottom of the chart is the correlation between Small Caps and the S&P 500. Note that when such correlation falls to the -.25 to -.50 range, a buying opportunity in Small Caps has appeared. Also worth noting is that the significant decline in Small Caps has done little damage to their large cap (S&P 500) brethren. For this reason, the setback in small caps appears to be a relief of the exuberance and run-up of momentum stocks that have soured the broader Small Cap sector.
Also note that the Relative Strength Index of DJUSS vs. SPX has found support at its long term uptrend near 30 (top portion of the chart).
So despite the rather sharp sell-off of Small Caps, this healthy unraveling of market froth bodes positive for long positions. Besides hunting for extremely-oversold momentum stocks, we suggest favoring Small Cap Value (i.e. IJS) in companies with quality earnings and revenue growth (dividends would be a plus).
Baseline Analytics' StockStash service focuses on the technical-attractiveness of high-quality stocks (revenue and earnings growth, dividend-payers, record of beating earnings estimates, attractive ROE, and more). Subscribers have access to our filtered screening results and recommendations.