Article text goes here...
Three key market breadth indicators I follow include three views of NYSE activity:
Advance/Decline ratio
Up Volume vs. Down Volume
New Highs vs. New Lows
The NYSE Advance/Decline ratio is the healthiest technically, while the other two ratios are behaving quite well. See the chart below: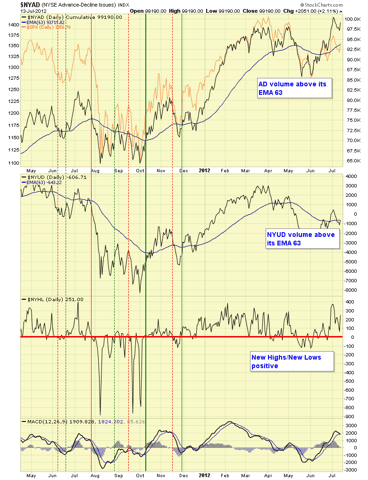 The A/D Volume line looks to be pushing to a new intermediate-term high. I find the 63-day exponential moving average a useful gauge of support and resistance. A market breadth indicator such as this provides reassuring support for this upleg in the NYSE index.
Similarly, the NYUD and NYHL are heading in the right (bullish) direction after bottoming in late May.
Besides looking at price charts, measures of market breadth such as this are helpful indicators in assessing the strength of the trend.
More about the blend of technical indicators used by Baseline Analytics can be found here.