The NYSE Advance/Decline ratio is a useful trend-confirming technical indicator. Since breaking out in January (see top portion of chart below), NYAD has pushed to a new high. When such broadening participation in the uptrend develops, it is tough to ignore being long. Investors are encouraged to stick with the trend when NYAD continues to push higher.
(click to enlarge)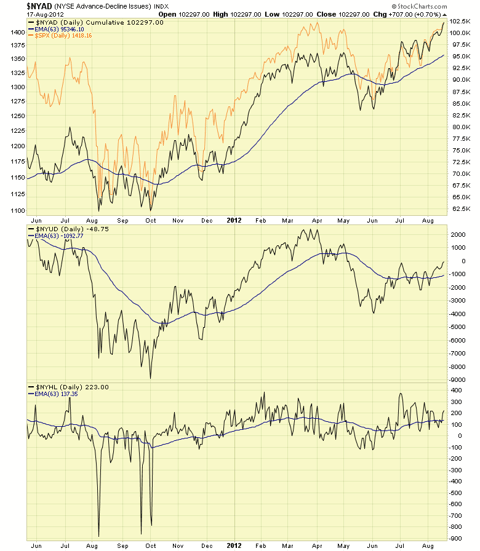 Click to enlarge
The setback in May was a short-term scare for bulls, as NYAD fell below its 34-day moving average. Likewise, Up/Down volume (the middle chart) also sank below its 34-day moving average. Tactical asset allocators could have lightened up on long positions upon this warning sign. The 34-day exponential moving average used on these two charts worked reasonably well in timing market decisions, however, this indicator should not be used alone.
Another (among many other) indicator we use to assess the market trend is NYSE New Highs vs. New Lows (the bottom chart). This indicator has meandered higher since bottoming in late May and also supports the current uptrend.
At Baseline Analytics TrendFlex, a blend of technical, fundamental and macro-economic indicators is utilized to define a trend assessment score, helping investors stay on the right side of the market.