Going into today, we are targeting two more ETFs for potential swing trade entry. The first is ProShares UltraShort Financials ($SKF), which is another trend reversal play of a "short ETF." After forming a month-long base near its multi-year lows, the ETF recently formed a "higher low," then broke out above intermediate-term resistance of its 50-day moving average on higher than average volume.
As you may recall from yesterday's ETF analysis, in which we pointed out the breakdown in Select Sector Financial SPDR ($XLF), bearish momentum has started picking up in the financial sector. As such, we are looking to take advantage of this newfound weakness through buying SKF. However, because the ETF has rallied so much over the past two days, we are only interested in buying SKF if it pulls back slightly from its current level (buy limit order). Otherwise, our reward to risk ratio on the trade would be lower than we prefer.
The trade setup and potential entry point is shown on the chart below (regular subscribers should note our exact entry, stop, and target prices on the ETF Trading Watchlist section of today's newsletter):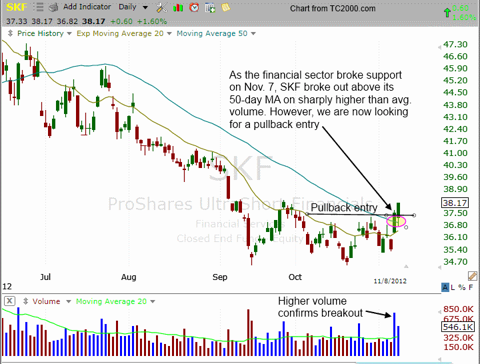 The second ETF on our watchlist for potential buy entry today is US Natural Gas Fund ETF ($UNG), a commodity ETF that tracks the price of the natural gas futures contracts.
UNG is now setting up for an ideal re-entry point that is lower risk than our initial buy entry because the ETF has come into intermediate-term support of its 50-day moving average. In addition to trading in a tight, sideways range for the past four days, UNG also formed a bullish engulfing candlestick pattern yesterday, which enables us to have a more clearly defined stop price.
This combination of technical factors indicates selling pressure has subsided, and the ETF is now positioned to resume its uptrend from the April 2012 lows. The chart for this ETF pullback trade is shown... [continue reading]