Going into today, US Oil Fund ($USO) is a new ETF swing trade setup on our watchlist for potential buy entry. In case you are not familiar with it, $USO is a commodity ETF that approximately tracks the price of crude oil futures contracts.
For nearly a year, the price of crude has been in a choppy, sloppy sideways range, but there now appears to be a changing of the guards shaping up.
If the bullish price action we have been observing follows through, we could see a dominant trend reversal that could at least lead to a new intermediate-term uptrend in crude oil. This is shown on the weekly chart pattern of $USO below: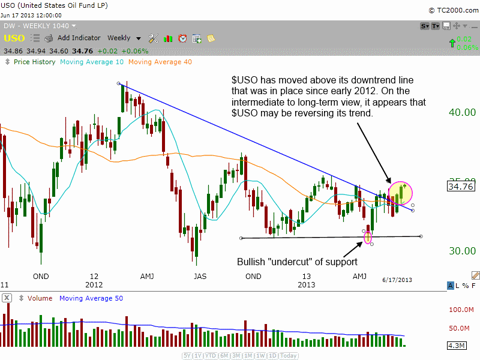 On the weekly chart, notice that $USO broke out above resistance of its downtrend line a few weeks ago. This followed an "undercut" of its November 2012 lows that happened in April 2013. That move likely had the effect of washing out the last of the "weak hands" who wanted out, thereby absorbing overhead supply that will now enable $USO to more easily move higher.
Zooming into the shorter-term daily chart of $USO, we see that the ETF broke out above resistance of its short-term downtrend line (from the April 2 high) just two days ago and is holding the breakout: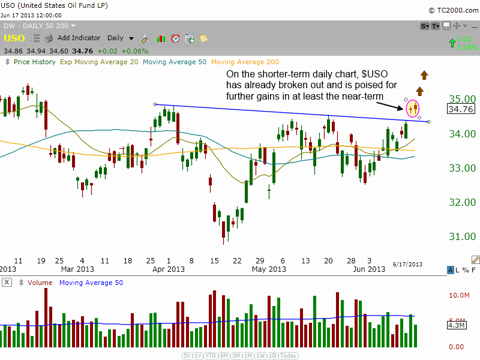 Although it obviously may have been better to buy on the actual day of the June 14 gap up, this ETF is still not too far gone to provide a decent buy entry with a positive reward-risk ratio. As such, subscribing members of The Wagner Daily should note our exact and preset trigger, stop, and target prices for this trade setup in the "Watchlist" section of today's swing trader report. As always, subscribers will be notified if/when we buy $USO.
By the way, one benefit of trading commodity ETFs such as $USO is they frequently have a low correlation to the direction of the major indices such as the S&P 500 and Nasdaq. Therefore, regardless of the stock market's next move, $USO is capable of doing its own thing.
Why does it matter if $USO has a low correlation to the broad market? It is important to know because trading such ETFs may help lower overall risk in portfolios that may be too dependent on the direction of the broad market.
In addition to commodity ETFs, currency ETFs, fixed-income ETFs, and (to a lesser degree) international ETFs can provide the same benefit of low US stock market correlation.
Quickly and easily find the strongest stocks and ETFs in the market with the new MTG Stock Screener. It's free, there's nothing to download, and runs in any web browser (including mobile). Try it today at: http://morpheustrading.com/services/stock-screener.
DISCLAIMER: There is a risk for substantial losses trading securities and commodities. This material is for information purposes only and should not be construed as an offer or solicitation of an offer to buy or sell any securities. Morpheus Trading, LLC (hereinafter "The Company") is not a licensed broker, broker-dealer, market maker, investment banker, investment advisor, analyst or underwriter. This discussion contains forward-looking statements that involve risks and uncertainties. A stock's actual results could differ materially from descriptions given. The companies discussed in this report have not approved any statements made by The Company. Please consult a broker or financial planner before purchasing or selling any securities discussed in The Wagner Daily (hereinafter "The Newsletter"). The Company has not been compensated by any of the companies listed herein, or by their affiliates, agents, officers or employees for the preparation and distribution of any materials in The Newsletter. The Company and/or its affiliates, officers, directors and employees may or may not buy, sell or have positions in the securities discussed in The Newsletter and may profit in the event the shares of the companies discussed in The Newsletter rise or fall in value. Past performance never guarantees future results.
© 2002-2013 Morpheus Trading, LLC
Reproduction without permission is strictly prohibited.