There are many technical indicators that help increase the odds of picking the right stock that will move higher after buying it. Our disciplined, rule-based stock trading strategy incorporates the most effective, yet simple of these technical indicators.
However, one frequently overlooked element of profitable stock trading is knowing how to pick the stocks with the highest volatility, and therefore the best odds of a larger gain when the stock rallies.
In order to do so, it is necessary to understand and use a technical indicator known as ATR (Average True Range), which basically indicates the level of day-to-day volatility for a stock (click here for a detailed definition and explanation of ATR).
If two stocks both have similarly bullish chart patterns, but you don't know which one to buy, comparing the ATR of each stock will help make your decision easier because simply choosing the stock with the higher ATR may increase your percentage gain when the stock breaks out.
So, if you're ready to learn how to maximize your stock trading profits through finding and trading high ATR stocks, check out the 5-minute trader education video on our blog by clicking here or on the image below: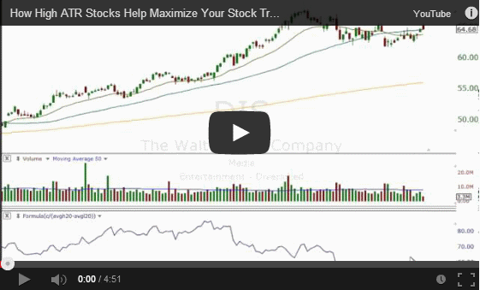 Click image above to view trading strategy video on our blog.
If you would like to profit from trading the best stock picks with high ATR, be sure to sign up today for your risk-free subscription to The Wagner Daily, our flagship swing trading newsletter since 2002.
DISCLAIMER: There is a risk for substantial losses trading securities and commodities. This material is for information purposes only and should not be construed as an offer or solicitation of an offer to buy or sell any securities. Morpheus Trading, LLC (hereinafter "The Company") is not a licensed broker, broker-dealer, market maker, investment banker, investment advisor, analyst or underwriter. This discussion contains forward-looking statements that involve risks and uncertainties. A stock's actual results could differ materially from descriptions given. The companies discussed in this report have not approved any statements made by The Company. Please consult a broker or financial planner before purchasing or selling any securities discussed in The Wagner Daily (hereinafter "The Newsletter"). The Company has not been compensated by any of the companies listed herein, or by their affiliates, agents, officers or employees for the preparation and distribution of any materials in The Newsletter. The Company and/or its affiliates, officers, directors and employees may or may not buy, sell or have positions in the securities discussed in The Newsletter and may profit in the event the shares of the companies discussed in The Newsletter rise or fall in value. Past performance never assures future results.