If you're a stock market trader or investor, and one of the millions of people around the world who own a smartphone, you may be wondering which iPhone or Android apps are most useful for keeping on top of the stock market.
Recently, I came across a great article on the Internet that lists 10 of the best iPhone apps for monitoring the stock market. Since I thought such information would be useful to the readers of this blog, I've republished the article below (with permission of the author).
Although the article only discusses iPhone apps, Android users are not left in the dark because I have verified that 8 of the 10 apps listed in the article is also available for download in the Google Play store (Stock+Option Market Station and Stock Option Simulator are not available for Android).
Best iPhone/Android App For Stock Traders
One mobile app not on the list below that I really dig is from top-rated brokerage firm TradeKing.com (just $4.95 per stock trade or 65 cents per option contract).
In addition to enabling you to place stock and options trades from your smartphone, the TradeKing app is fantastic for stock traders because account holders also receive free real-time quotes and advanced technical charting capabilities. Just shake your phone to refresh any screen. Very cool.
Best iPhone/Android App For Options Traders
If you are an options trader, you may find OptionsHouse to be the most useful of the 10 mobile apps below because of the ability to place all types of options trades on the go. However, in order to use the free app, you must first have an active options house account (click here to open a new account and trade free for 60 days).
If you enjoy this blog post, please share with your favorite social network. As always, comments are appreciated as well.
10 of the Best iPhone Apps For Monitoring Your Stock Options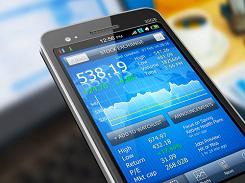 Managing your investments can feel like a full-time job, especially in an economic climate that's still struggling to rebound and that's fraught with uncertainty. Thankfully, the mobile device in your pocket can prove to be a valuable investment on its own, and can be a powerful financial planning and investment management tool. These 10 apps can transform your iPhone from a mobile device into your own personal stock analyst, making a real difference in the way that you keep up with your stock options.
Original Source: Top 10 iPhone And Android Apps For Stock & Options Traders
DISCLAIMER: There is a risk for substantial losses trading securities and commodities. This material is for information purposes only and should not be construed as an offer or solicitation of an offer to buy or sell any securities. Morpheus Trading, LLC (hereinafter "The Company") is not a licensed broker, broker-dealer, market maker, investment banker, investment advisor, analyst or underwriter. This discussion contains forward-looking statements that involve risks and uncertainties. A stock's actual results could differ materially from descriptions given. The companies discussed in this report have not approved any statements made by The Company. Please consult a broker or financial planner before purchasing or selling any securities discussed in The Wagner Daily (hereinafter "The Newsletter"). The Company has not been compensated by any of the companies listed herein, or by their affiliates, agents, officers or employees for the preparation and distribution of any materials in The Newsletter. The Company and/or its affiliates, officers, directors and employees may or may not buy, sell or have positions in the securities discussed in The Newsletter and may profit in the event the shares of the companies discussed in The Newsletter rise or fall in value. Past performance never guarantees future results.
© 2002-2013 Morpheus Trading, LLC
Reproduction without permission is strictly prohibited.