In the April 18th issue of The Wagner Daily swing trading newsletter, we stated that SPDR S&P Metals and Mining ETF (NYSEARCA:XME) was a potential short sale candidate. Yesterday, XME repeated the prior day's price action, as it formed a reversal candle and closed near session lows. Now, a move below yesterday's low of $48.22 could present a short selling opportunity in this ETF. As such, we are placing XME on the watchlist for potential trade entry. For our subscribers, our exact entry, target, and stop prices are provided in the watchlist segment of the newsletter: (see ETF notes section above for an inverse ETF alternative to shorting XME).
(click to enlarge)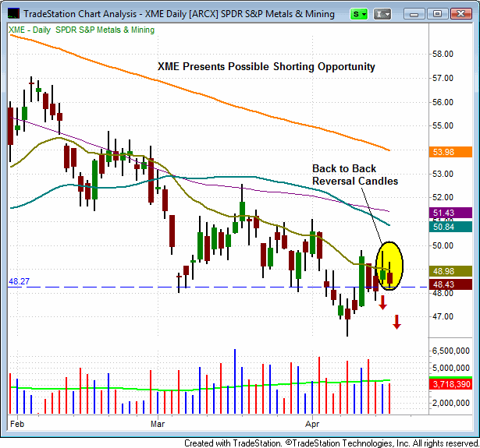 Click to enlarge
Overall, the market attempted to gain its footing yesterday, but came up short and ultimately posted a modest distribution day. Although the market is not falling apart, the more "distribution days" (sessions of higher volume selling) that accumulate, the more likely it becomes that we will at least test the recent swing low support levels. For now, all new positions should be entered with reduced share size. Simultaneously being positioned long in a stock or ETF with relative strength to the broad market and short a position wth relative weakness is a low-risk way to play the market while it remains in "no man's land." At the least, consider keeping your powder dry with a mostly cash position.

The commentary above is a short excerpt from The Wagner Daily, our nightly stock and ETF swing trading newsletter. Subscribers to the full version also receive specific entry and exit prices for all swing trade setups, an additional section dedicated to individual stock trades, and access to our Live Trading Room. To learn more about our trading strategy, please visit our swing trading blog.
DISCLAIMER: There is a risk for substantial losses trading securities and commodities. This material is for information purposes only and should not be construed as an offer or solicitation of an offer to buy or sell any securities. Morpheus Trading, LLC (hereinafter "The Company") is not a licensed broker, broker-dealer, market maker, investment banker, investment advisor, analyst or underwriter. This discussion contains forward-looking statements that involve risks and uncertainties. A stock's actual results could differ materially from descriptions given. The companies discussed in this report have not approved any statements made by The Company. Please consult a broker or financial planner before purchasing or selling any securities discussed in The Wagner Daily (hereinafter "The Newsletter"). The Company has not been compensated by any of the companies listed herein, or by their affiliates, agents, officers or employees for the preparation and distribution of any materials in The Newsletter. The Company and/or its affiliates, officers, directors and employees may or may not buy, sell or have positions in the securities discussed in The Newsletter and may profit in the event the shares of the companies discussed in The Newsletter rise or fall in value. Past performance never guarantees future results.
© 2002-2012 Morpheus Trading, LLC
Reproduction without permission is strictly prohibited.