With the U.S. markets rather lethargic and showing a lack of conviction, we have been scanning for potential trade setups among the international ETFs. Most of the international ETFs we looked at have badly damaged weekly chart patterns that we are not interested in trading because it goes against our core swing trading methodology. But one international ETF in a nice consolidation pattern, poised for a breakout to a new record high is iShares Mexico ($EWW). On the long-term monthly chart below, which shows you the "big picture" of its trend, notice that EWW is presently testing resistance of its all-time high. If it breaks out above the horizontal line annotated on the chart, there will be a complete lack of overhead supply and price resistance that should enable EWW to zoom higher: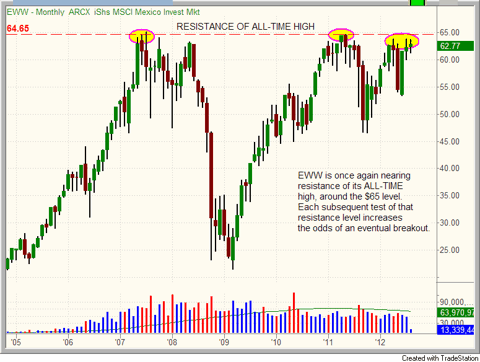 Drilling down to the shorter-term daily chart pattern on the following chart, notice that EWW has been forming a valid base of consolidation near its high for the past four to five weeks. The daily trading range is also tightening up, which is positive, while the 20-day exponential moving average (NYSEMKT:EMA) is rising to provide support. Finally, volume has also been lighter than average during the consolidation: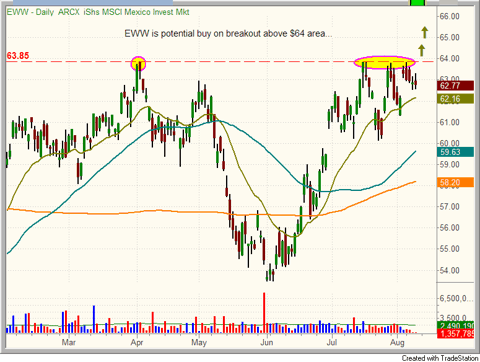 As the daily chart shows, a rally above the $63.85 level would correspond to a breakout above its recent highs, which converge with resistance of its April 2012 high. Although resistance of its all-time high (shown in the first chart) is actually about one point higher, we would be comfortable with buying a breakout just above the $63.85 level because momentum from such a breakout would likely cause EWW to surge through that price resistance from years ago. Alternatively, one could buy a partial position on a move above $63.85, and then add to it on confirmation of the rally above the $65 area. EWW is unlikely to move above our trigger price in today's session, but it will be on our official ETF trading watchlist as a potential breakout entry next week.
The commentary above is an excerpt from The Wagner Daily, our nightly stock and ETF trading newsletter. Subscribers to the full version receive our exact entry and exit prices for swing trading our best ETF and stock picks, access to our our market timing model, and more. Sign up for your risk-free subscription at the MTG website.