Since August 9, the iShares Nasdaq Biotechnology Index Fund ETF ($IBB) has been on the ETF trading watchlist of our Wagner Daily stock and ETF trading newsletter as a potential pullback trade entry. Though it has not yet traded through our preset trigger price for buy entry, it formed a bullish hammer candlestick pattern yesterday, which could lead to upside follow-through in today's session. Further, it "undercut" (briefly dipped below) near-term support of its 20-day exponential moving average, as well as the low of its six-day trading range. This is illustrated on the daily chart pattern of IBB below: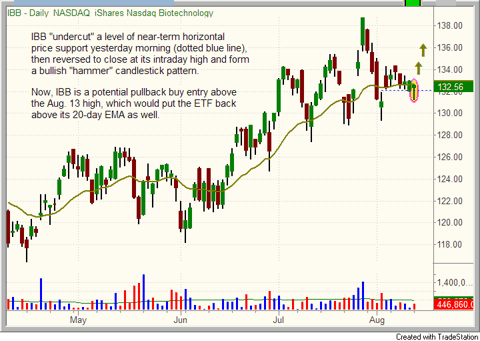 When an ETF "undercuts" a key moving average, as $IBB did yesterday, this serves to sweep poorly placed stops and shake the "weak hands" out of the trade. This has the effect of absorbing overhead supply, thereby clearing the way for the equity to move higher. When a bullish reversal candle forms after a stock or ETF has "undercut" a key level of support, we refer to this type of buy entry as a pullback entry (which is one of the preset technical scans on our new technical ETF and stock screener). Pullback entries develop when an ETF or stock gently retraces from the most recent "swing high" of its uptrend and finds technical support at an area of horizontal price support and/or a key moving average. After this happens, it is important to wait for the ETF to form a "pivot," which allows for a relatively low-risk pullback entry for swing trading. The best buy pivots tend to occur when an ETF or stock forms a bullish reversal candles (such as a "hammer") that sharply undercut a key support level on an intraday basis, but subsequently recovers to close near the high of the day. When this occurs, our trigger for buy entry of at least partial share size is simply above the high of the reversal candle. Because of the combined "undercut" with reveral candle that $IBB formed yesterday, subscribers to The Wagner Daily should note in today's ETF trading watchlist section of the newsletter that we have lowered our exact trigger price for buy entry of this trade setup.
On August 2, small-cap stock Cambrex Corp ($CBM) reported quarterly earnings that blew away analyst estimates by 50% (33 cents EPS vs. 22 cents EPS). That day, traders piled into the stock, driving its price 22% higher on volume spike that was nearly 500% greater than average (highlighted by the pink ellipse on the chart below). In the week that followed, $CBM pulled back slightly, forming a bull flag chart pattern in the process.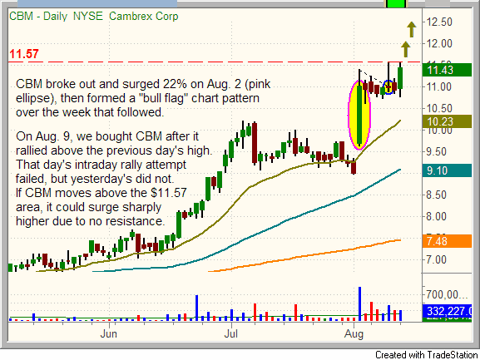 Spotting this bullish swing trading setup while doing a Pullback Scan on the new MTG Stock Screener, we added $CBM to the stock watchlist section of our swing trading newsletter on the morning of August 9. That morning, $CBM triggered our buy entry (blue ellipse on the chart above) when it rallied above the previous day's high, which correlated to a move above the upper channel resistance of the newly-formed bull flag (dotted black line). At its intraday high that day, $CBM had already zoomed 3.9% above our entry price of $11.12. However, as indicated by the long wick of that day's candlestick, the intraday rally attempt failed and $CBM closed within a few pennies of our entry price. Although that day's bearish price action was a bit concerning, it is not uncommon for the first breakout attempt to fail and for the price to come back down to test support of the prior breakout. Besides, we already had our protective stop in place. We were not concerned about the outcome either way because we use a "set it and forget it" mentality with regard to setting stops.
Yesterday (August 13), $CBM closed just shy of its August 9 intraday high and at a fresh multi-year closing high. Volume also came in above its 50-day average level. Now, if $CBM moves above yesterday's high of $11.57 within the next day or two, there will be a complete lack of overhead resistance and supply, which could lead to a sharp, momentum driven surge higher in the near-term. As with most of our individual stock swing trades, we will be looking for a gain of 15% to 20% above our entry point, at which point we would be looking to take profits and sell into strength. With yesterday's rally, the trade is currently showing an unrealized gain of just under 3% from our entry point.
To receive detailed, actionable stock and ETF picks every day, such as this $CBM trade we recently entered, sign up for your risk-free membership to The Wagner Daily trading newsletter on our home page.
DISCLAIMER: There is a risk for substantial losses trading securities and commodities. This material is for information purposes only and should not be construed as an offer or solicitation of an offer to buy or sell any securities. Morpheus Trading, LLC (hereinafter "The Company") is not a licensed broker, broker-dealer, market maker, investment banker, investment advisor, analyst or underwriter. This discussion contains forward-looking statements that involve risks and uncertainties. A stock's actual results could differ materially from descriptions given. The companies discussed in this report have not approved any statements made by The Company. Please consult a broker or financial planner before purchasing or selling any securities discussed in The Wagner Daily (hereinafter "The Newsletter"). The Company has not been compensated by any of the companies listed herein, or by their affiliates, agents, officers or employees for the preparation and distribution of any materials in The Newsletter. The Company and/or its affiliates, officers, directors and employees may or may not buy, sell or have positions in the securities discussed in The Newsletter and may profit in the event the shares of the companies discussed in The Newsletter rise or fall in value. Past performance never guarantees future results.