As a follow-up to the well received article that we published on Friday regarding prior occurrences of declines in U.S. consumer confidence, (FEBRUARY 25, 2010: MARKET PERFORMANCE FOLLOWING AT LEAST 15% DECLINE IN U.S. CONSUMER CONFIDENCE: Part 1) this dashboard allows readers to look at each day following the query date and determine which market had the strongest and weakest probability and average performance. Additionally, the dials and gauges in the center panel can alert readers to the strongest z-scores for the user-selected day. The performance metrics for each day can be viewed by selecting a day on the calendar. Click on the link below to view the multimedia presentation that examines the effects of these scenarios on the major global macro markets. In order to view this presentation you must have Adobe Flash Player downloaded on your computer.


Link to presentation:
http://quantdna.com/wp-content/uploads/2010/02/ConsConf_Calendar.swf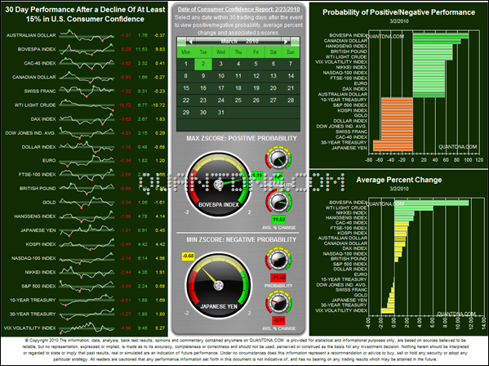 © Copyright 2010 The information, data, analysis, back test results, opinions and commentary contained anywhere on QUANTDNA.COM  is provided for statistical and informational purposes only, are based on sources believed to be reliable, but no representation, expressed or implied, is made as to its accuracy, completeness or correctness and should not be used, perceived or construed as the basis for any investment decision. Nothing herein should be interpreted or regarded to state or imply that past results, real or simulated are an indication of future performance. Under no circumstances does this information represent a recommendation or advice to buy, sell or hold any security or adopt any particular strategy. All readers are cautioned that any performance information set forth in this document is not indicative of, and has no bearing on any trading results which may be attained in the future.
Disclosure:
No position