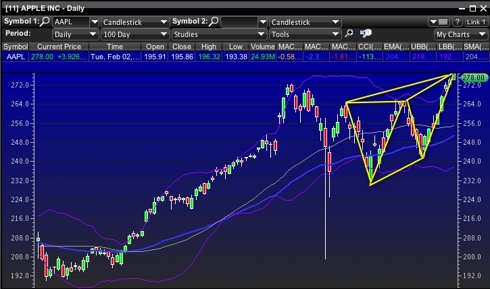 While reading an article on Butterfly patterns on forex today, I noticed the bearish butterfly pattern under discussion looked vaguely similar to how AAPL was looking especially after the run up over the past two weeks on positive news about iPad sales topping 2 million in the two months following its release and with the announcement of iPhone 4.  All "ka-ching" type of news to me justifying a move up and with second quarter coming to a close, add in window dressing to your list of reasons for AAPL to trend higher. Who would not want to tell their investors that they are holding great company like AAPL?
This leads me to one of the primary reasons why I take this bearish pattern seriously, because more than likely after June 30 will we see some profit taking and a pull back in the price.
Looking at the chart with another pattern - Cup With Handle, we could argue that profit taking will lead to the formation of the Handle at which point it will attract buyers to come in again and pushing AAPL above $270 and break out.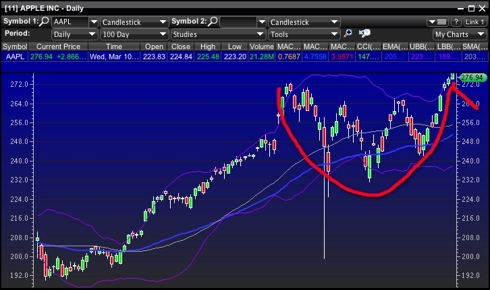 With the pre-markets reacting positively to China's announcement on the revaluation of its currency, we are seeing AAPL push higher along with it.  I was Long AAPL puts already and will be watching this trade for the pull back or for the bulls to continue at which point I will cut bait.
References
The Butterfly Pattern
Stock Charts: Cup WIth Handle


Disclaimers
1. This article is not intended to provide investment advice and is an expression of my own opinion. Readers act upon this information at their own risk.

Disclosure:
Long AAPL Puts