Equity markets at or near all time highs. Woooooohoooooo!
Maybe it's different this time.
I know earnings/share have doubled since 2008, so "valuations" are lower.
Value is what someone is willing to pay for something. In the interim, you trade price. "Value" is difficult to determine if/when a market becomes fearful (or is generally illiquid).
I know government bond yields aren't attractive.
But I know I heard a LOT of people saying "where else would I put my money" when asked about technology stocks in the late 1990s, when asked about housing in 2006-2007, and I hear a lot of the same thoughts echoed now with global equity markets "booming".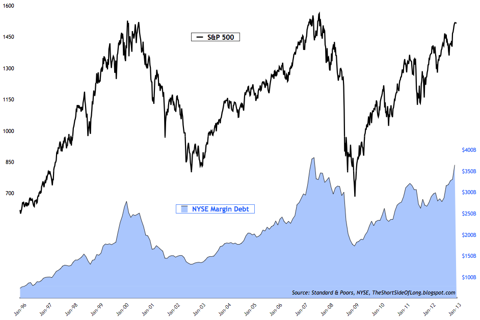 Maybe it's different this time.
Explain how Central Bank liquidity is "working" (pun intended) for:
7.9% of the population in the US (~4.25% pre crisis)
11.9% of the Eurozone (~7.2% pre crisis)
7.8% of the UK (~3.5% pre crisis)
4.2% or Japan (~1.0% pre crisis)
10.3% of France (~7.5% pre crisis)
26.0% of Spain (~8% pre crisis)
12% in Italy (~6.0% pre crisis)
You get my point - Earnings and the S&P may have doubled off the bottoms, but so have the unemployment rolls.
While we're at it.....Crude (NYSE:WTI) is up ~250%. Gold is up ~225%. Copper up 270%. Gasoline (RBOB) is up 385% from 2008/2009 lows.
Meanwhile, year over year inflation is around 2%. Uh huh!
One more thought on the "virtues" of Quantitative Easing, which at some point has to be removed/paid back. Arguably you're borrowing from the future.
Let's put it in a different perspective by comparing it to recent scandals/chicanery. The primary difference, as I see it, is in the Madoff, Lehman Brothers, Enron, etc. situations, there were clearly identifiable "victims" (shareholders, employees, investors). Quantitative easing "spreads" those costs (and benefits) across the entire population (however unevenly) which makes it much more insidious. Where is the outrage? There is none.
 
Madoff Scandal = ~$65-70 billion
Lehman Brothers = $50 billion in market cap (v. $700 billion in assets).
World Com = $120 billion in market cap in 1999, about $400 million in market cap prior to bankruptcy (v. $100 billion in assets).
Enron = About $11 billion wiped out at time of bankruptcy (v. $64 billion in assets which was the largest ever until World Com the next year).

The list goes on and on......Washington Mutual, CIT, GM, MF Global, etc.
Brief Recap of QE to this point:
 
QE1 (November 2008): $1.45 TRILLION in Mortgage Backed Securities (MBS) and $300 billion in agency debt
QE2 (September 2010): $600 billion (Treasuries)
Operation Twist (August 2011): $400 billion
Extended Op. Twist (June 2012): $265 billion
QE3 (September 2013 - ongoing): $85 billion/month until unemployment falls to 6.5%. About $250 billion to this point (and going up just about every day - see POMO calendar for the month of March here: http://www.newyorkfed.org/markets/tot_operation_schedule.html )

Essentially, the Fed "lends" money to the Primary Dealers (read: Big Banks) at between 0 - .25% interest rate. Those banks turn around and buy Treasuries from the NY Fed that yield 2.0% - 4.0%. Simplified.....yes, but you get the idea.
US QE measures to this point = ~$3.265 TRILLION (yes, that's a "T") in Easing. (Keep in mind that Central Banks in most developed countries are engaging in similar tactics).
I'm NOT saying fight the Fed, the BoJ, the BoE, the ECB, etc. I am saying BE CAREFUL, and if possible BE HEDGED. Be aware that this is largely a liquidity fueled rally and liquidity can dry up quickly.
(Employment Numbers from: http://www.tradingeconomics.com/country-list/unemployment-rate )
Disclosure: I have no positions in any stocks mentioned, and no plans to initiate any positions within the next 72 hours.
Additional disclosure: This electronic communication and its contents are intended for the recipient only and may contain confidential, non-public and/or privileged information. If you have received this electronic communication in error, please advise the sender immediately, and delete it from your system (if permitted by law). RCM Asset Management does not warrant the accuracy, completeness or correctness of any information herein or the appropriateness of any transaction. Nothing herein shall be construed as a solicitation to purchase or sell any financial product. This communication is for informational purposes only. Any market or other views expressed herein are those of the sender only as of the date indicated and not necessarily of RCM Asset Management. "RCM Asset Management" is a d/b/a of Reliance Capital Markets II, LLC, its affiliates and subsidiaries. Trading Futures, Options On Futures, And Retail Off-Exchange Foreign Currency Transactions Involves Substantial Risk Of Loss And Is Not Suitable For All Investors. You Should Carefully Consider Whether Trading Is Suitable For You In Light Of Your Circumstances, Knowledge, And Financial Resources. You May Lose All Or More Of Your Initial Investment. Opinions, Market Data, And Recommendations Are Subject To Change At Any Time. Past Performance Is Not Necessarily Indicative Of Future Results."THIS MATERIAL HAS BEEN PREPARED BY A SALES OR TRADING EMPLOYEE OR AGENT OF RELIANCE CAPITAL MARKETS II, LLC AND IS A SOLICITATION FOR ENTERING INTO A DERIVATIVES TRANSACTION. THIS MATERIAL IS NOT A RESEARCH REPORT PREPARED BY RELIANCE CAPITAL MARKETS II, LLC. IF YOU ARE NOT AN EXPERIENCED USER OF THE DERIVATIVES MARKETS, CAPABLE OF MAKING INDEPENDENT TRADING DECISIONS, THEN YOU SHOULD NOT RELY SOLELY ON THIS COMMUNICATION IN MAKING TRADING DECISIONS."The sender relied on data sources believed to be accurate and that RCM did not take on measures to verify the accuracy of this data. It is believed to be accurate at this time and could result in large losses if read and acted upon at a later time.