Higher than average volume has seen CLSN rally back to the center of the prior coil.
Nervousness over the bear raid and flash crash of 1/16/13 which triggered Stop Market orders at the obviously levels of $8 and $7 over a period of 19 seconds appears to have dissipated, as we see a confident return to CLSN buying volume pending the imminent release of top line data from Celsion on their pivotal Phase III HEAT Thermodox Clinical Trial.
(Click Here for a second chart showing the Stop Market orders hit. Note the two 1 second bars marked with blue arrows at $8 and $7 were the largest decline as stop market orders were triggered.)
A possible cautionary lesson to all those who consider it wise to use "Stops" on volatile stocks.
Implied Volatility of February '13 options remains huge, a staggering 475.7%, with the overall IV Index mean of 412.47% (both puts and calls according to Ivolatility)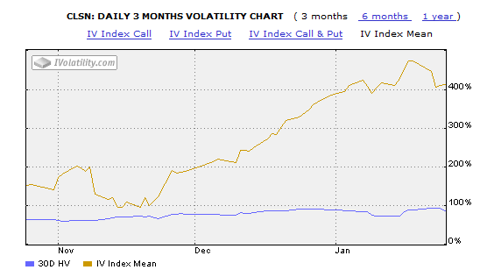 Celsion guidance remains an announcement of top line results in January, according to sources who have spoken with Senior Vice President responsible for Investor Relations Jeff Church, Celsion already has the date set for the news release, and Mr. Church was "absolutely clear and concise, that data will be out by the end of the month."
As noted on a SeekingAlpha article by ChinaBio Today
The Chinese company Hisun Pharma has already announced a deal with Celsion "That totals $100 million in upfront and milestone payments" with a $5 million non-refundable deposit in advance of and just before the Phase II trial results. Also interpreted by many CLSN bulls as Ringing the Bell on expected good trial results.
This has the clock ticking with today one of four days left in January.
(click to enlarge)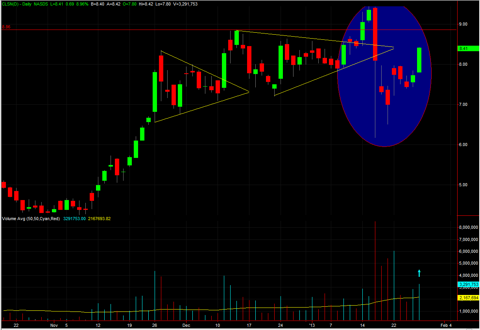 Disclosure: I am long CLSN, OTCQB:CTIX.
Additional disclosure: this post is my opinions only and not intended as a recomendation to buy or sell securities. I recieve no compensation for this post.