Today we see a break below both support at $1.89 and the lower coil trend-line, this after several days of coiling in the upper range. Note that breaks from coils usually result in a sharp move with a wide range bar.
So far today, be see indeed a Wide Range 7 (W7) bar has formed. That is a bar with a larger range than any of the preceding 7 bars.
This, and the rounding pattern that precedes it, now make a test of the swing low #3 more likely than a test of the swing high #2 which I previously favoured.
Below the swing low #3 which is a support line at $1.65, is the Key Support at $1.50.
However, note that the 50 day MA has come up to intersect the swing low at $1.65, indicating that this is a stronger support level than it would otherwise be as just a low fractal. Thus on balance I expect this level has a good chance at holding $1.65 should it be tested. Otherwise the battle will be at $1.50
Alternatively, all it takes is some buying to outweigh the selling and the test of the high at #2 comes back in play.
Why is CTIX experiencing some selling pressure today despite strong fundamentals?
My theory is a knock on effect from the unrelated biotech company CLSN which experienced a collapse yesterday. Many traders who moved their CTIX position to chase the news event got burned, and are now either dealing with margin calls or just plain nervous about other biotechs.
But CTIX is a very different company at a very different stage in its development.
(Click Here for Full Sized Chart)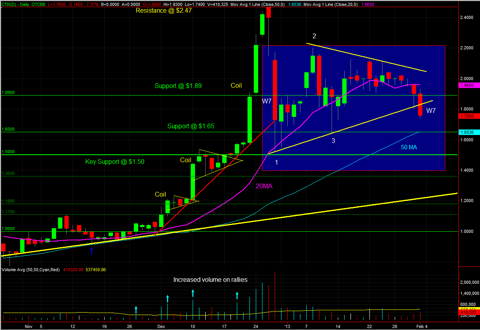 Click to enlarge
Disclosure: I am long OTCQB:CTIX.
Additional disclosure: This post represents my opinion, is posted for educational purposes only, and is not a recommendation to buy or sell securities.