The US Cash Deficit for 5/23/2013 was $7.0B bringing the May 2013 cash deficit through 23 days to $117B vs. $116B a year ago. With five business days to go, I suspect we will see some marginal improvement on the revenue front, but nothing impressive. On the cost side…it is a bit surprising that cost is up…I would have expected flat, or even down a % or so. Due to 6/1 being on a Saturday…quite a bit of June cost is going to get pulled into May 31….I'm just not sure how much. At first I was thinking $15-20B…Active duty salaries, military retirement, and a handful of other items that typically go out the first of the month. However, I think there is also a good chance that $15B+ of Medicare payments get pulled forward as well. I think my last estimate for the May deficit was $140B…I'm going to bump that up another 10 to $150B…with the qualifier that if the medicare payments get shifted…it could be $15-20B higher still. Whatever happens…if anyone remembers last month's $117B surplus….it is now effectively gone

(click to enlarge)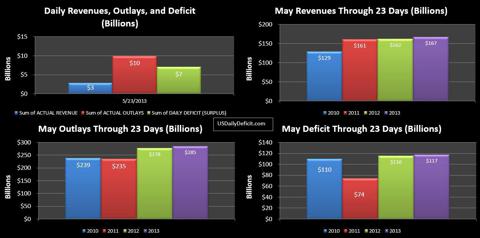 Click to enlarge
Now…on to the pending debt limit battle. Everyone seems to be content to wait until after summer vacation to fight this battle. They may be right, but I need to point out that the "Cash Crash" continues…with the cash balance dropping another $9B to $16B yesterday after topping out at $214B on April 30th. Just for reference, $16B is about the average amount of outlays on a given day…average revenues so far in May are about $10B.
(click to enlarge)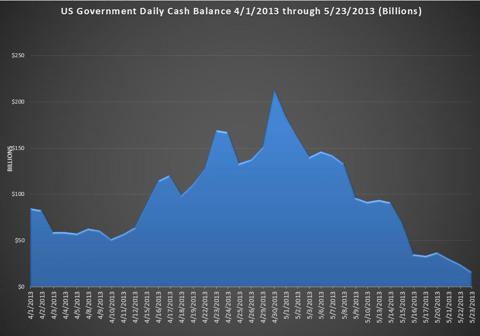 Click to enlarge
So far…no sign of extraordinary measures, but if they don't do something soon, there is no way they have the cash in hand next Friday to pay the bills. Between now and 6/3….they better find about $50B somewhere, or Congress's summer vacation is going to be ruined. Of course…that makes me fairly confident they will pull it off, but as discussed yesterday, the fact that they are cutting it this close is very confusing to me.
Disclosure: I have no positions in any stocks mentioned, and no plans to initiate any positions within the next 72 hours.