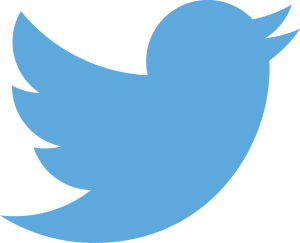 I must admit, I do not yet have a Twitter (NYSE:TWTR) account. For members that do, chime in below and let me know why I should open an account. Maybe a little website promotion?
While there is a ton of potential still to come for social networking stocks from a mobile advertising perspective, there has been a lot of hype about a company that is not yet making money.
These new IPO stocks can be rather tricky because normal price to earnings ratios do not apply and valuations tend to be lofty due to high investor expectations. So when fundamentals fail, turn to technical analysis! How else can you expect to try and trade a high flying IPO? With that being said, let's take a look at its chart activity since its IPO date on November 7, 2013.
I see a bullish and a bearish Elliott Wave breakdown on TWTR's chart. The bullish breakdown suggests a trading opportunity in the next day or two, while the bearish breakdown may require waiting a little longer due to a potential Corrective Wave Pattern that may have just begun. That is unless you attempt to trade the Corrective Wave Pattern that I illustrate below.
Bullish Perspective
Let's look at the bullish perspective first. This next chart is a daily candlestick chart that includes market activity from TWTR's IPO date through current.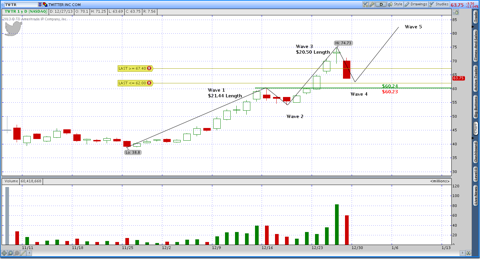 Twitter (TWTR) Bullish Elliott Wave Breakdown
I've sketched out a potential Motive Wave Pattern that suggests Wave 5 still has to complete suggesting higher share prices. For those that are not familiar with Motive Wave Patterns, click here for a basic Elliott Wave tutorial as well as to view illustrations for Motive Wave Patterns as well as all of the other basic patterns.
For this pattern to remain a possibility over the next few days, TWTR cannot print a $60.23 during this downtrend - remember that a Wave 4 cannot enter the price territory of Wave 1. The top of Wave 1 is this potential breakdown is $60.24.
Since Wave 3 (on the bullish Elliott Wave breakdown) is shorter than Wave 1, the potential Wave 5 that would then develop would have to be smaller than Wave 3. One of the Elliott Wave Rules is that Wave 3 cannot be the smallest Wave in length.
Bearish Perspective
Now let's say that during this current pullback, TWTR does not print a $60.23 - that does not immediately indicate that the above bullish Elliott Wave breakdown is the correct breakdown still, it just does not eliminate the possibility. A $60.23 print during this current pullback and the above potential breakdown is null and void. It is possible for Wave A of a potential Zig-Zag Wave Pattern to stop short of the $60.24 area.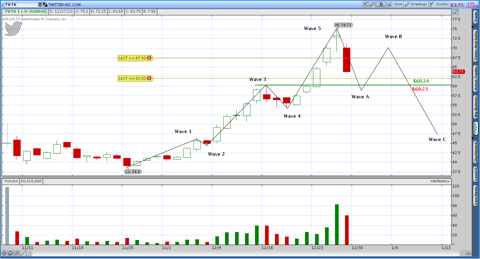 Twitter (TWTR) Bearish Elliott Wave Breakdown
Now let's look at the bearish perspective on TWTR's chart. This bearish Elliott Wave perspective indicates that a Motive Wave has already completed. In my opinion, this potential Motive Wave Pattern has more of the right "look and feel" than the above bullish perspective chart; R. N. Elliott stressed the importance of the right "look and feel".
A 13% drop in Friday's share price seems to validate that a larger corrective pattern may have begun a Wave A rather than a Wave 4. A print of $60.23 will make it easier to identify TWTR's potential wave pattern. A $60.23 print confirms a Wave A.
However, keep in mind though that Wave A of a Zig-Zag Corrective Wave does not have to drop below the $60.24 mark. Wave B can start to form above that mark.
Another thing to keep in mind is that Wave C of a Zig-Zag Corrective Wave usually terminates around the area near the top of Wave 1; this would put TWTR's share price back right around the $45 mark which is the top of Wave 1 on the bearish Elliott Wave breakdown. I illustrate how I anticipate a Zig-Zag Wave Pattern to look for TWTR if it were to develop. Notice I stop Wave C around the $45 area on January 10, 2014.
This $45 price objective seems to agree with an analyst's downgrade that I read yesterday (I can't find the link now) - but the analyst just issued a downgrade on TWTR's stock and a $45 price objective. I wonder if that firm does Elliott Wave Analysis also :) It looks as if they anticipate the Zig-Zag Wave Pattern with that price objective.
Outlook
I may look to dabble in TWTR with a few trading shares after watching the early market activity next week for this stock. Since I think the bearish Elliott Wave breakdown is the more probable wave pattern, I may look to purchase some shares near the completion of Wave A and look to sell them during the completion of a potential Wave B around the $70 - $74 area.
Trendy Stock Chart members, be certain to log in early next week when I post an updated Elliott Wave breakdown as TWTR confirms either the bearish or the bullish breakdowns illustrated above. The best trading strategy can then be determined.
Disclosure: I have no positions in any stocks mentioned, but may initiate a long position in TWTR over the next 72 hours.