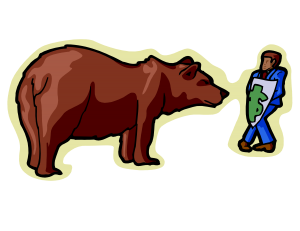 Welcome to those that are not Trendy Stock Chart members. I have unlocked the articles referenced in this update that were previously premium articles for Trendy Stock Chart members only. However, any links in the click-through articles have not been unlocked and will bring you to the subscription page.
My bearish stance on Sirius XM Holdings (NASDAQ:SIRI) has not changed for several months now, and it appears I am going to finally take action on the few shares I do still own on a "last opportunity" the market appears to be giving me. I plan on selling my shares into strength during this next uptrend that I illustrate below. Why? Well, the risk for downside potential is increasing in my opinion based on my Elliott Wave breakdown you will see in my next chart.
So at what level am I looking to sell at? Well, I show a few possibilities below. But let me back up - I really I shouldn't really call the next move an "uptrend", it will probably just be an upwards swing in an otherwise downwards correction. Any strength shown from earnings is going to allow me to exit my position as you will see below.
Grab your Elliott Wave cheat sheet if you are a Trendy Stock Charts member. The following chart is approximately a 2 year weekly candlestick chart for SIRI. As most of you are aware, I have been talking about SIRIs downtrend for numerous weeks, and this week is not different. From an Elliott Wave perspective, I do see risk back down to the top of Wave 1. The top of Wave 1 is the most common area for a stock's share price to retrace to after completing a Motive Wave Pattern.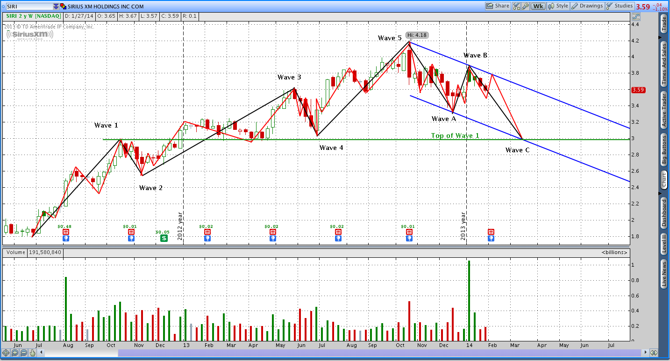 Sirius XM Holdings (
SIRI
) Corrective Elliott Wave
As I laid out in this article titled "SIRI 12/23/2013 - Thanks Santa! A SIRI Short-Term Bottom!", SIRI appeared to form a temporary bottom at the end of a Zig-Zag Wave Pattern it had just completed. That completed Zig-Zag Pattern represents Wave A on the trend of one larger degree.
SIRI then formed another Zig-Zag Wave Pattern to the upside to complete Wave B. I believe SIRI has one more Zig-Zag Wave Pattern to complete in the near-term, which would then finish Wave C and also form a Double Zig-Zag Wave Pattern. A Double Zig-Zag Wave Pattern is a possibility I laid out back on November 11, 2013 in an article titled "SIRI 11/11/2013 - Zigging and Zagging". Here is an illustration of a Double Zig-Zag Wave Pattern, including it's sub-divided waves. I also circled where I think SIRI is at in the pattern.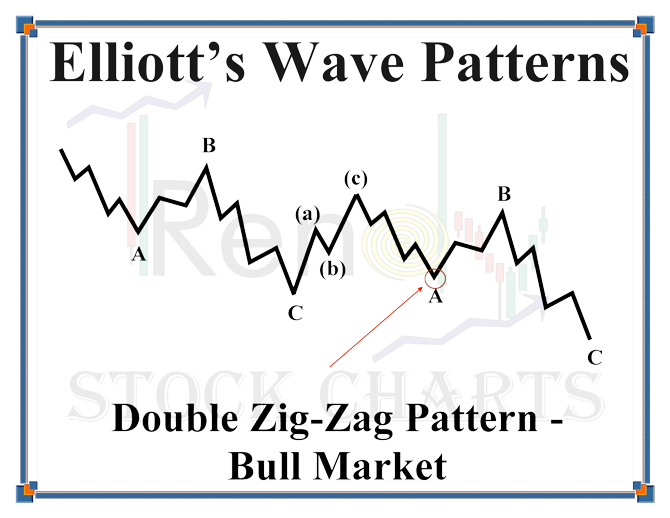 Everything, including the sub-divided waves looks correct. From a Fibonacci relationship of uptrend days to downtrend days, I am expecting more weakness (corrective pattern) from SIRI, so continuing with a Double Zig-Zag Wave Pattern seems to make sense.
My above Elliott Wave breakdown in the first chart above also seems to confirm a pullback amount of $3.07 that I calculated during this previous SIRI update way back in November 2013 - "SIRI 11/7/2013 - Grab Your Shotgun, There are Bears Lurking in Sirius' Woods". The more indicators I have pointing towards the same price objective, the more confident I am in the share price reaching that objective.
I think any strength coming from an earnings report will be a good opportunity to sell me few shares of SIRI I have, unless SIRI can accomplish one thing during it's next push upwards, print a $3.90.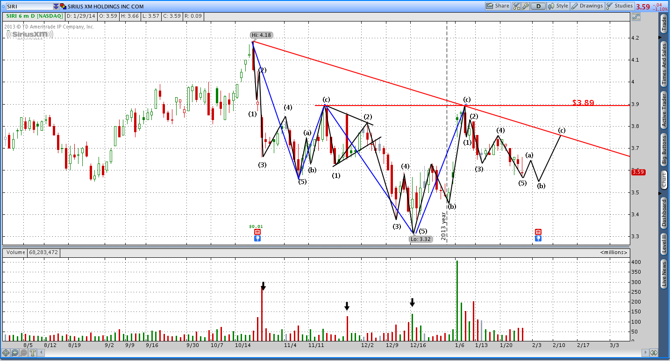 Sirius XM Holdings (
SIRI
) Elliott Wave Breakdown
But since I expect SIRI to see resistance around the red trendline, I do not anticipate SIRI printing the $3.90 during this next upswing. A $3.90 print is SIRI's last hope of remaining in my portfolio. If SIRI can't print a $3.90, that is okay because I have a few other stocks on my radar that I have been discussing in the members section at Trendy Stock Charts. If you aren't already, think about becoming a Trendy Stock Charts member today!
Disclosure: I don't like the above bearishness I am deriving from my analysis. I think it is time I reduce my risk with SIRI and sell my shares near the top of the blue channel on my first chart above which is the red trendline on my bottom chart. The shares I own only represent approximately 3% of my total portfolio. I will take a small loss on these trading shares that have a $3.87445 cost basis and put my money to work elsewhere - like AMD that currently appears to be at or near a bottom.
Disclosure: I am long SIRI.
Additional disclosure: but plan on selling my shares really soon.