Before starting with this update for the Nasdaq Composite, S&P 500 Index and the DJIA (Dow Jones Industrial Average), I want to take you back to some prior updates I had for those indices. Let's start with these 2.
This first one is when the government was going crazy and facing looming shutdowns. But more importantly, I want to look at some of the price projections I calculated for the different indices.
"Indices 9/30/2013 - More to Go "In the Long Run"
In this second update I talk about the Nasdaq and what I anticipated for a consolidation period and range; I then make a comment about its price objective based on the 20 year charts.
"Indices Update 1/20/2014 - I'm Still Bullish"
I think it is important to monitor the indices and indicator charts just as much as it is for individual stocks. Know the trend of the index that your stocks trade in at all times.
Nasdaq Composite
The Nasdaq is approaching its 52 week highs after a brief consolidation period. Is the index ready to keep its uptrend going? In order for the Nasdaq to reach new all-time highs, the sooner it gets going, the better. I am holding several stocks that trade in this index that I think will help the index reach new heights.
(click to enlarge)
Click to enlarge
S&P 500 Index
This 20 year monthly candlestick chart for the S&P shows 2 significantly higher price objectives - 2213 and 2474. The question is this - does the index decide to re-test the breakout area of 1800 before continuing its advance upwards and onwards?
(click to enlarge)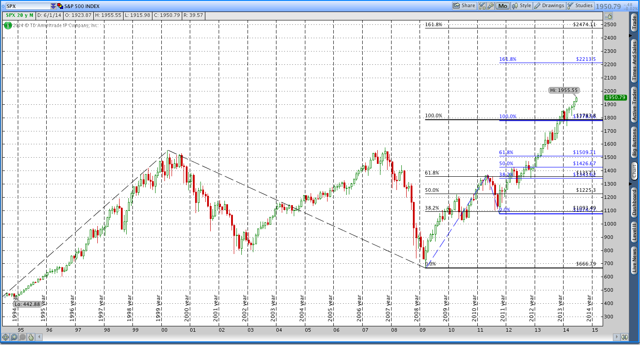 Click to enlarge
DJIA (Dow Jones Industrial Average)
This is also a 20 year monthly chart, but for some reason Think or Swim only shows approximately the last 9 years.
(click to enlarge)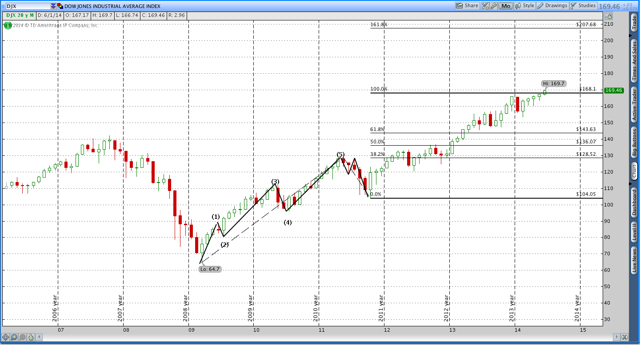 Click to enlarge
So why is this the most hated rally by traders and investors? Because most have been caught out of position for several months, if not for the last year. Stick with the uptrend for now. Always try to keep an eye out for the next 1-2 years in advance as well by looking at big picture type stuff, like we did above. It pays to know the general direction of the indices.
If you want to know the trend (as well as price objectives) for stocks covered by Trendy Stock Charts, then consider becoming a member today!