These next 2 quick stock updates for Keurig Green Mountain (NASDAQ:GMCR) and Twitter (NYSE:TWTR) are both looking rather bullish to me. Take a peek and let me know what you think! I am long on one and looking to buy some of the other - read on to find out which!
GMCR
This next 5 year monthly candlestick chart for GMCR shows the reason I went long on the stock and purchased shares at $113.50 - the Bullish Engulfing Candlestick Volume on heavier volume than the preceding month's volume was my indicator. Check in with my next update to see what sort of price targets I am looking at to sell my current holding of GMCR shares.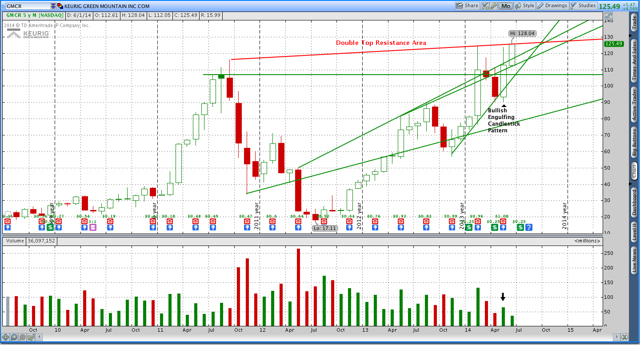 Volume needs to start increasing for the remainder of the month in order for GMCR to break through the Double Top Resistance Area noted on the above chart. If volume can exceed last months volume, the trend to some of my loftier targets just may be achieved.
Disclosure: As of the time of this writing, I am long shares of GMCR with a cost basis of $113.50; these share now represent approximately 2% of my portfolio value.
TWTR
This one year daily candlestick chart for TWTR shows a Doji Candlestick Pattern that developed today right at the top of a previous resistance area. One trading strategy would be to stay long until the right side of the channel is reached and buy some more on any pullback to the supporting trendline until then.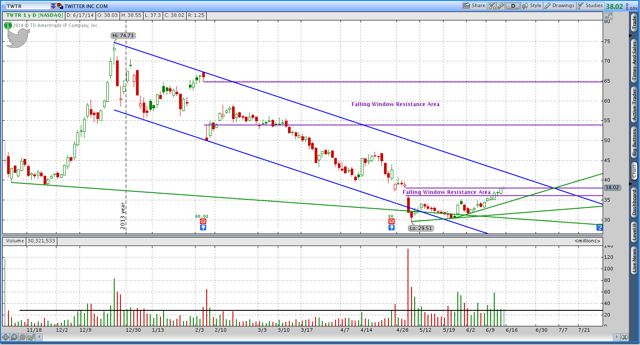 Since Doji Candlestick Patterns can act as both a continuation and a reversal pattern, it is best to wait for confirmation to determine the Doji's intent. Confirmation simply means the development of the next candlestick.
Disclosure: As of the time of this writing, I have no position in TWTR.
Consider joining Trendy Stock Charts today and you could have been one of the members that was notified of a potential bottom in TWTR two weeks and the upside potential in GMCR that led me to purchase shares 2 weeks ago!
Disclosure: The author is long GMCR.