Rather than initiate coverage on a stock and follow it until its death, I will be trying out a new method for covering a wider swath of stocks. I intend on keeping coverage on a core group of stocks (mostly what I cover now) but then also writing some articles about other stocks that appear to be trending (either upwards or downwards) under the category "Trending Stocks", like in today's title.
Trending Stocks will be highlighted but not necessarily covered on a regular basis. However if you ever want an update on a stock featured under the category Trending Stocks, just drop me a line or make a comment in the Idea Chamber and I'll see what I can do about updating the chart at that time.
It is almost embarrassing for me to say that I tried writing Celgene's (NASDAQ:CELG) update several times with the final time making it the closest to publishing on June 17, 2014. I marked that day with an arrow on the below 6 month daily candlestick chart. I sure wish I could have gotten that article published if it were not for my health issues at the time that my members are aware of. I was looking to initiate a long position at that time.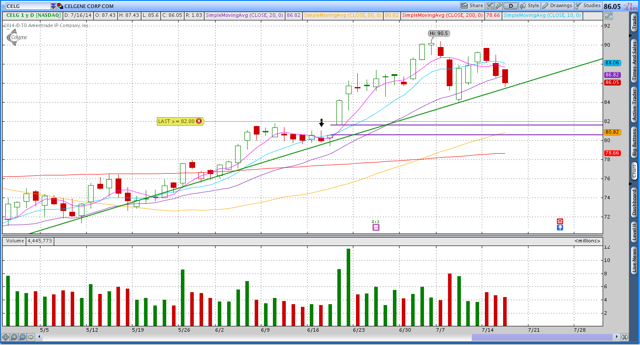 But nonetheless, things that go up must also come down at some point. CELG's time to come down looks to be happening now, so maybe the larger gains are still off in the distance.
Based on the price volume action that CELG has going on the last 2 weeks or so, it looks to me as if CELG could see some temporary weakness heading into and right after earnings, offering me an excellent opportunity to go long at that time. I say that because CELG did not make a higher high in its last uptrend as compared to the previous uptrend. CELG appears to be forming a Zig-Zag Wave Pattern, which is why I stated above that the temporary weakness could last until a few days after CELG's earnings report.
From a risk / reward ratio, the support area from the Rising Window Candestick Pattern seems to align with the 50 Day Moving Average - I like it when support areas converge around the same price point - it offers me a greater confidence in the support area. CELG did also just have a Golden Cross develop on July 2 where the 50 Day Moving Average Line (yellow line) crossed above the 200 Day Moving Average Line (arrange-red line). This is another bullish indicator that means CELG should see some support on this pullback.
But let's not forget that most breakouts also involve re-testing the breakout area - and the support area from the Rising Window Candlestick Pattern has not yet been retested since CELG's breakout.
This next chart is a 5 year monthly candlestick chart to give me a longer term perspective on CELG's opportunities and risks. This chart definitely shows me some risk with the Doji Candlestick Pattern that I see. Now, I got to remember that this is only mid-month so the candlestick can change shapes by the end of the month. I set an alert to notify me if CELG drops below the $82 so I can start reviewing its price and volume action again.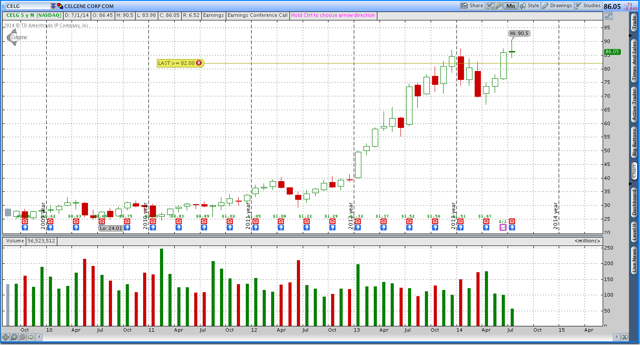 Since a Doji Candlestick Pattern can act as a reversal pattern, and the Doji is forming right above the high from the previous year, the continued development of this candlestick is something to note as the month is coming to a completion.
But when I look at CELG's monthly candlestick chart, I also see a very bullish Elliott Wave that CELG could be working on. The P&F High / Low Chart for CELG shows a bullish price objective of $89 which has been met, so I did not include the chart. But the P&F Closing Chart seems to confirm (to me at least) that I am looking at the potential bullish wave correctly. This next closing chart reflects a $133 price objective.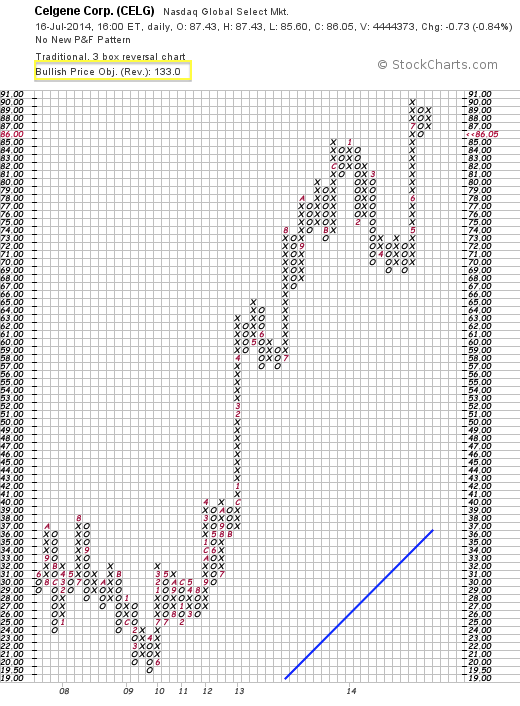 The problem with P&F charts is that they are excellent price predictors, yet they do not offer any reference to time or when the price objective may be reached. That is when it is necessary to use other methods of technical analysis.
Since there are only 5 trading days left before earnings are announced on July 24 before the market opens (next Thursday), I anticipate sitting on the sidelines until after this next earnings report and then looking for an opportunity to make a trade. Until then, patience grasshopper, patience.
Disclosure: As of the time of this writing, I have no position in CELG.
Disclosure: The author has no positions in any stocks mentioned, and no plans to initiate any positions within the next 72 hours.